If disc golf is a new idea to you, here are some basics about the sport and tips for where to play in Oconee County.
Disc golf is an Olympic sport. Like regular golf, disc golf also has 18 holes. Players throw frisbees into baskets rather than putting balls into holes in the ground.
Disc golf courses in Oconee County: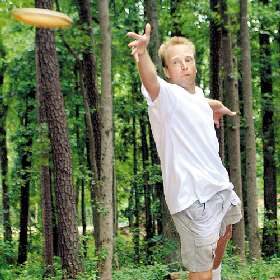 There are two "monster courses" in the works in the area. One course is underway at Chau Ram County Park in Westminster. This course will be great for professional disc golf tournaments and should bring a bunch of people to our towns. If you're interested, they need volunteers to help clear the course – email Phil Shirley pshirley@oconeesc.com.
The other new course is being built at Shaver. It is an expansion on the existing course and will be 8,500 feet long…a real "big boy" course.
There is a Glow Disc League in Seneca on Monday nights where you play in the dark. And a Sunday Doubles League too.
Twenty8West retail store in Walhalla sells disc golf merchandise. You can find out more about them on their Facebook page https://www.facebook.com/twenty8west/.