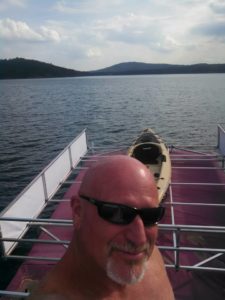 Visit Oconee SPOTLIGHT on Jocassee Adventures owner, Mike Atkins.
Mike has been a scuba instructor on Lake Jocassee since 1984 and was the first commercial diver to operate on the lake. Lake Jocassee is a "dive mecca" for divers coming from Charlotte and Atlanta. Why? Because Lake Jocassee is really clear, really deep and has big walls that go down 320 feet.
Jocassee Adventures instructors can take divers to different depths and offer a variety of training certification. If you're already certified, they offer rental gear and boat charters for $50/person that include 2 tanks, drinks, snacks and shuttle to sites for 4 hours of diving.
They have three pontoon boats that access 12 dive sites depending on what adventure seekers are after. If you go 20′ down you'll see a white sand beach in the clear water. Go down to 40′ and there's not as much visibility because of the sediment, but keep going to 100′ and its darker but clear again.
One of the premier dive sites on Jocassee is about 60 feet down where there's a sunken Chinese junket sail boat that divers can enter and explore.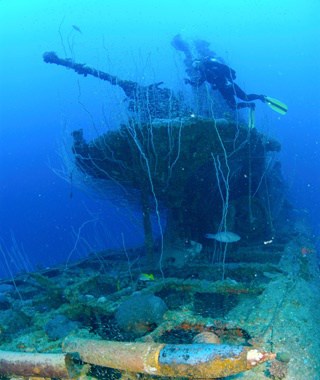 During construction of Lake Jocassee in 1973, homesteads and structures were flooded when the lake was created. Depending on the dive depth, several historic sites can be seen.
There's an underwater playground about 50-60 feet down with a basketball goal, monument, sunken ski boats, "pirates' cove", underwater fort and natural sites to see.
130 feet down, a little too deep for beginner divers, there's a graveyard. It was part of Mount Carmel Church which relocated after the lake was built. The graves were exhumed, but the grave stones remain. This site is toward the middle of the lake where there's a 130 foot mountain top pinnacle under the water that drops off 300 feet.
Experienced, skilled divers can descend 300 feet to view a still intact summer home known as Attakulla Lodge; or remains of Jocassee Camp, a girls' summer camp; and a post office.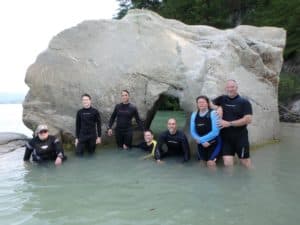 The Jocassee diving season is May 1st – end of October.
But Jocassee Adventures doesn't just do dives. They also offer: snorkeling, lake tours, sunset cruises or kayak trips where they'll take you to waterfalls and into coves.
Looking for something out of the ordinary? How about an underwater Halloween party! This popular event happens the Saturday closest to Halloween. It's BYOP where people bring their own pumpkin. They weight the pumpkin so it sinks, and participants have one hour to carve it. The best carvings are awarded 1st, 2nd and 3rd place prizes. Back on shore there's a low country boil feast waiting. Underwater Halloween Party sign up starts in May and tends to book quickly.
During the cold months, Jocassee Adventures operates monthly "Hot Hole" dives on Lake Keowee.
For Scuba certification and to see more about what they offer, check the Jocassee Adventures website.