National Travel and Tourism Week
May 7-15, 2023
National Travel and Tourism Week is an annual celebration that began in 1983. The week-long tradition is a way to recognize the U.S. travel industry's role in stimulating economic growth, cultivating vibrant communities, creating quality job opportunities and elevating the quality of life for everyday Americans.
Across the country people, places, business and organizations will highlight the essential role that travel plays in driving economic growth and innovation through the theme #TravelForward. 
Driving the Economy
Travel serves as a catalyst for a productive U.S. economy and helps power the success of other industries. "The travel industry fuels every industry—our industry's success is the nation's success," said U.S. Travel Association President and CEO Geoff Freeman. "This week is a prime opportunity to elevate the message that travel is essential to moving America's economy forward."
The U.S. travel industry generated a $2.6 trillion economic output in 2022 and supported 15 million jobs–which fueled communities, small businesses, and working families across the country. 
Travel spending also generated nearly $160 billion in federal, state, and local taxes in 2022—revenue that helped fund critical public services while saving each U.S. household an average of $1,270 in taxes.
---
Local Impact
Visit Oconee SC is proud to be part of the tourism industry. We strive to help visitors plan the best trips possible to outdoor destinations, shops, lodging, dining and places within our small towns. Travel and tourism is a major player statewide. And close to home, the industry drives Oconee County's economy and helps support local communities. Annually, the travel industry results in $75,000,000 directly impacting Oconee County, SC. Wow!
In honor of 40 years of National Travel and Tourism, check out 40 cool places to explore within Oconee County: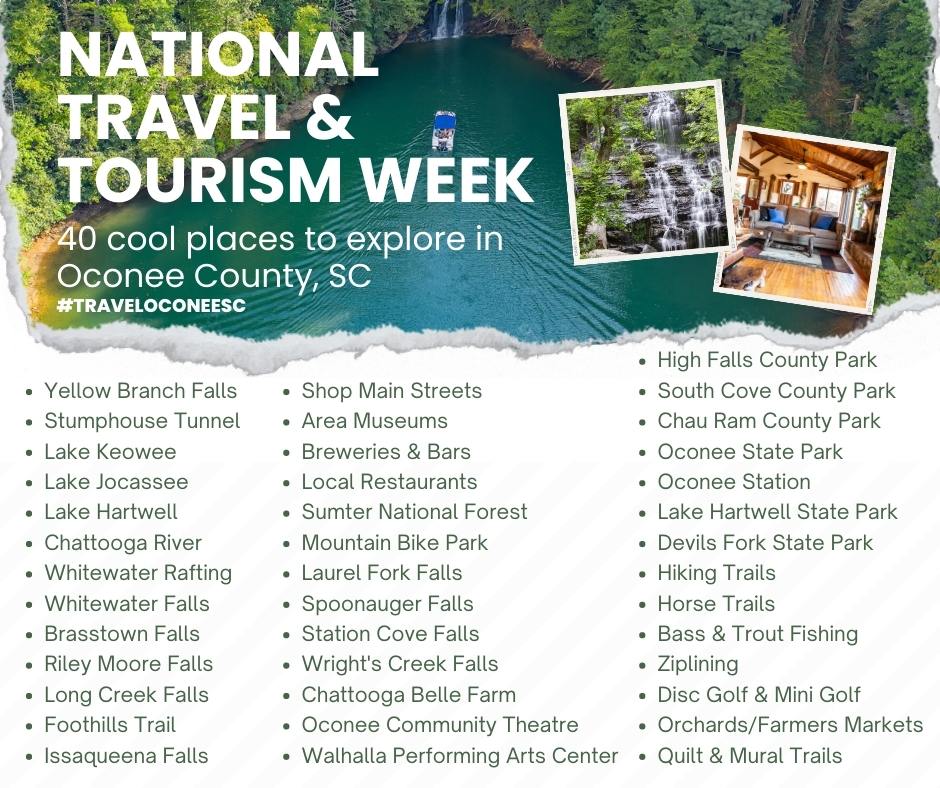 All sorts of travel and tourism destinations are found in Oconee County, SC!