Kit Parks of Active Travel Adventures discovered adventure travel after she turned 50 and she has been around the world on a quest for active adventures ever since.
Kit recently visited Lake Jocassee and got the inside scoop about the best ways to experience the lake.  She posed the question:
What makes Lake Jocassee so special? 
Brooks Wade, of Jocassee Lake Tours, sums it up saying the lake is isolated and spectacular!  There are more waterfalls per square mile than any other place in the continental United States.  Wow!
There are only 37 houses on the 97 miles of shoreline around the lake.  Its incredibly steep terrain has kept it relatively undeveloped and fairly immune to heat waves and bug infestations that many lakes experience in the summer months.
Upon arrival at Devils Fork State Park (the only public access to the lake) you might think its going to be a crowded day out on the water.  But once you leave the dock and get out on Lake Jocassee its not crowded at all.  Devils Fork State Park is handicap accessible and Jocassee Lake Tours can accommodate wheelchairs and people with special needs.
Boat Tours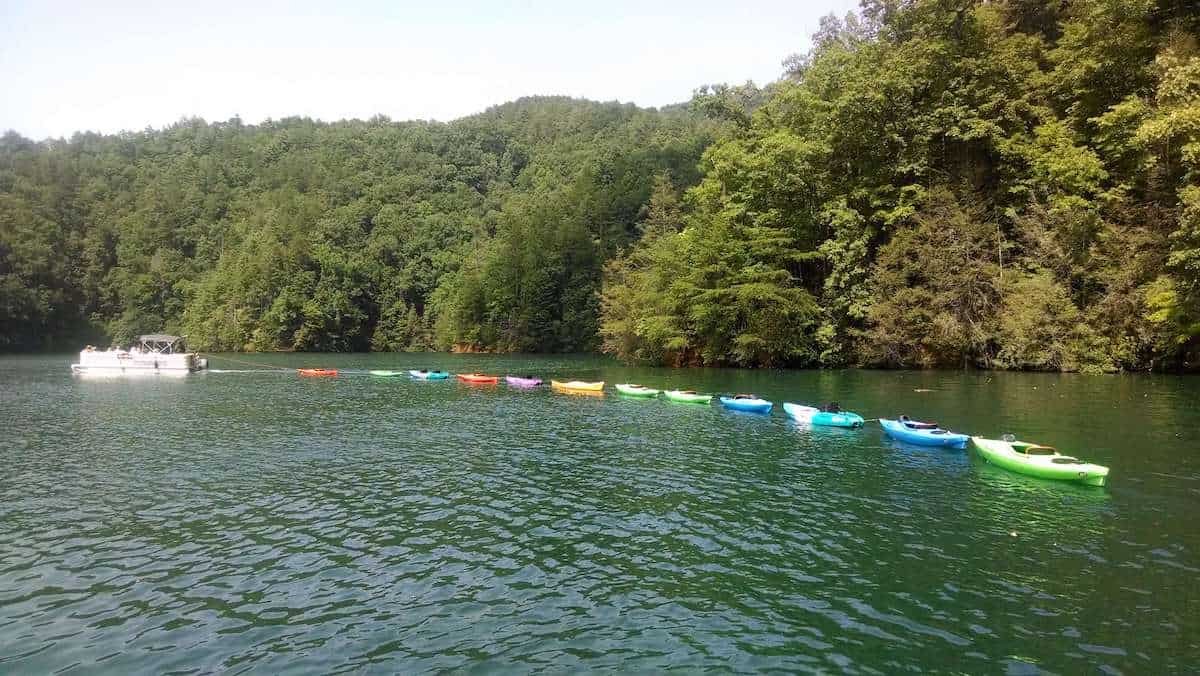 If you're looking for somewhere great to go that isn't found in a brochure, consider the upper reaches of the Thompson River.
It's a beautiful area and the wildest part of Lake Jocassee!  The place is difficult to get to without boat assistance.  A fun way to spend the day is renting flatwater kayaks and exploring the area with Lake Jocassee Tours.  They'll provide a pontoon boat to tow the kayaks and paddle around with guests for a leisurely 2-3 hours exploring and swimming.  Then tie the kayaks back to the motor boat to get everyone back to the dock at Devils Fork State Park.
Fishing on Lake Jocassee
According to the South Carolina Department of Natural Resources, Lake Jocassee is the only lake in South Carolina that has trout.  It has earned the title "Trophy Trout Lake".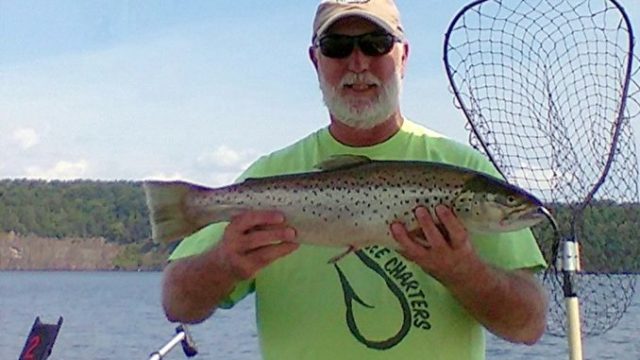 Lake Jocassee holds 5 state records for largest:  Brown Trout, Rainbow Trout, Smallmouth Bass, Spotted Bass, and Bartram Bass.
The lake is 100 ft. deep in places so having the right equipment is key.  People don't have much success from the bank, but fishing by boat is great!  If you have a fishing license, you can charter guides who have the gear necessary for a good catch.  Sam Jones of Jocassee Charters is a successful guide and James Couch does night fishing trips.  Both are known to catch good quality fish.