Andrew Pickens Ranger District
Located in Oconee County, SC, Andrew Pickens Ranger District is part of the Sumter National Forest. The district includes 85,000 acres of public land. This land is primarily undeveloped and used by people for a wide range of outdoor activities.
What is there to do in the Andrew Pickens Ranger District of the National Forest?
Plenty!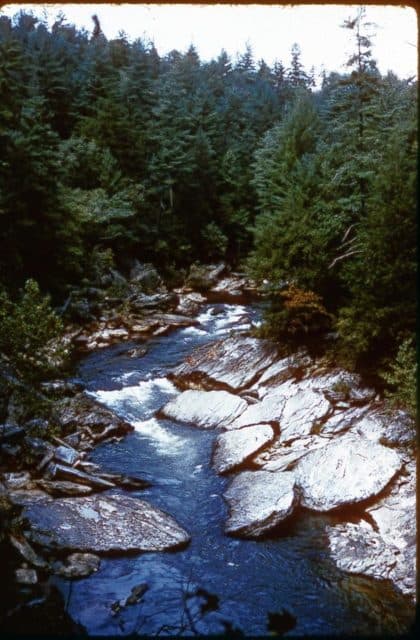 This photo of the Chattooga River was taken in 1968 around the time of the signing of the Wild and Scenic Rivers Act by Lyndon B. Johnson. 55 years later, the river looks very much the same but the trees are larger.
Chattooga River
The U.S. Forest Service manages the Chattooga River and the land that borders it.

Andrew Pickens Ranger District handles the flow of people going down the lower sections of the river.
The Wild & Scenic Chattooga River flows

through three states and the Ellicott Rock Wilderness.

The river is one of the few remaining free-flowing streams in the Southeast and offers outstanding scenery.

The setting is dense forests and undeveloped shorelines that characterize the primitive nature of the area.

No motorized vehicles are permitted within a corridor about 1/4-mile wide on either side of the river.

Man-made facilities are minimal, consisting primarily of hiking trails.

Visitors must fill out a permit to be on the Chattooga River and commercial outfitters schedule their trips so as not to overlap with each other.
---
Andrew Pickens Ranger District FAQs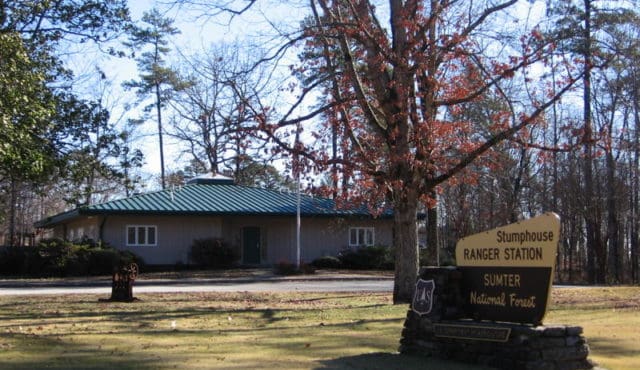 Stumphouse Ranger Station is the headquarters for the Andrew Pickens Ranger District. It has a small interpretive center, gift shop, maps and area information.
Robbie Sitzlar is the District Ranger and Howard Morrison is Recreation Coordinator for the area. Call the office with questions regarding activities within the district (864) 638-9568.
Q: What are the USFSP signs that can be seen all over?
A: These stand for "United States Forest Service Property" and indicate when you cross into or out of the National Forest.
Q: Why does the Forest Service burn the forest?
A: They do prescribed "controlled" burning to control fuel loads in the forest and encourage new growth forage food source for wildlife.
Q: How can I be involved?
A: Twice a year the Forest Service coordinates a Trash Pickup and River Sweep. They partner with organizations and rely heavily on volunteers to come out and help clean up litter. Read more about the clean up efforts here.