Away from the office and ready to explore!
Guest Author: Charlotte Waters
As the person from Visit Oconee SC who handles our Visitors Guide, Facebook and Instagram posts, I tend to stay behind the computer.  I grew up in Oconee County and spent my summers and weekends hiking to various waterfalls with my family. I have fond memories of those days!  When I grew up, I moved away and traveled the world for many years.  Not long ago I came home and returned to my roots, though I took my sweet time getting back in the woods.  Just recently I've made it a point to get back outdoors to visit the wonderful waterfalls I remember.  It's fun being the person in photos…not living vicariously through someone else's adventure!
Challenging, but worth it
Two suggested hikes for beginners who dream of hitting harder trails:  Yellow Branch Falls & Riley Moore Falls.
I consider myself a beginner hiker but I always like a challenge.  These particular waterfalls have been on the top of my bucket list. I found them both to be physically demanding but I loved the experience and feeling of accomplishment!
Yellow Branch Falls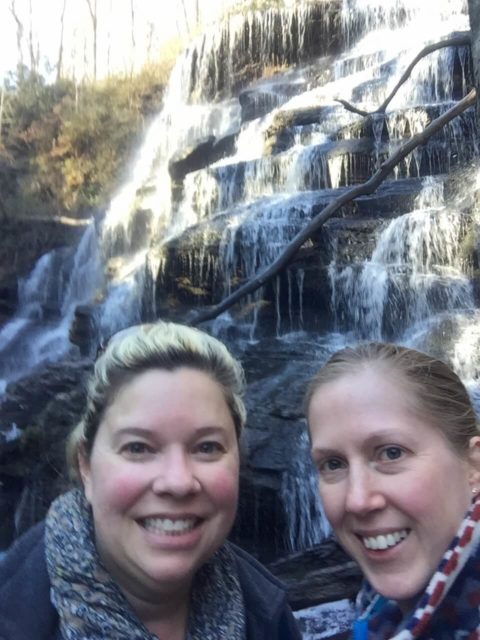 Yellow Branch Falls is the most popular waterfall in Oconee County.  It is amazing!  But it gets congested in the spring/summer. My friend and I went during the winter, which is an excellent time to go there.  You don't have to worry about bugs or heat, the trail isn't overcrowded, and there's plenty of space on rocks below the waterfall to enjoy the view.
But don't get me wrong, hiking to Yellow Branch Falls is a wonderful adventure any time of year!
It requires hiking 1.5 miles to reach the waterfall.  The trail is continually up and down the mountainside. You must cross several streams and at one point you either need to walk through water or walk across a large log over a creek.  The hike is strenuous but there are places along the trail where you can rest, catch your breath, and have a water break.  Be sure to bring water. Wear appropriate shoes for hiking over roots, and uneven terrain.
It takes approximately two hours to do this hike.  (45 minutes to reach the falls, 30+/- minutes to sit on rocks at the base of the falls and appreciate the beauty, then 45 minutes to walk back out.)   I recommend packing lunch or a snack to enjoy while sitting at the base of the waterfall.
Yellow Branch Falls is an impressive 60 ft. cascade over rock ledges.  This falls is worth the hike.  Plenty of selfie opportunities for sure!
---
Riley Moore Falls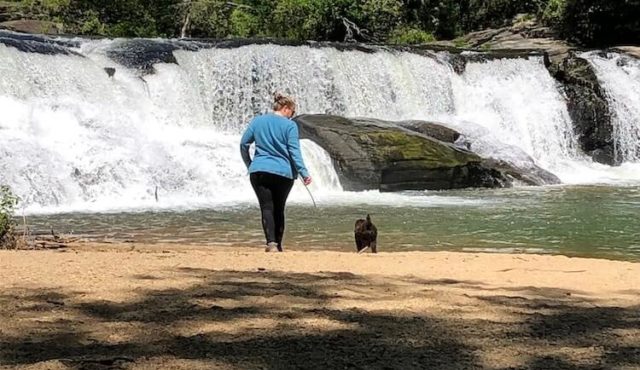 Last week I ventured out to Riley Moore Falls.  It is breathtaking!
Once the site of a gristmill, this waterfalls measures 12 ft. high, 100 ft. wide and is a great family destination. It is a good swimming spot for kids of all ages.
Climbing out of Riley Moore Falls can be difficult.  Take your time and stop to catch your breath.  It feels great to reach the top and know you wouldn't mine going again ….. another day!
Riley Moore has two locations for parking. Depending on your vehicle, the first option is likely the better choice.
Parking area on the gravel road up past the trailhead (.7 miles to falls)

From your vehicle, walk down the gravel road to the trailhead.
From trailhead continue hiking downhill to reach the Chauga River where you'll see Riley Moore Falls.

 You can keep driving past the gravel parking area and park closer to the trailhead (.3 miles to falls)

This is not recommended unless you have a four wheel drive vehicle.
There are several spots that a low-clearance vehicle will bottom out.
---
Safety Tips
Remember to always let someone know where you are going when hiking to any of the waterfalls in Oconee County.
Cell service through the forest is very spotty.
There is a good chance you won't have cell service on many roads leading to the trails nor when you are near the waterfalls themselves.
Wear appropriate hiking shoes!  (Flip flops and slip-on shoes are not "appropriate".)
Bring drinking water and snacks.
Be sure to take out what you take in.
Happy Trails!
Charlotte Waters
Sales/Marketing Manager for Visit Oconee SC