People of the past and present whose stories will impact generations
The museum is focused on the rich, sometimes turbulent history, culture, and contributions of local African Americans. The museum's exhibits and events blend technology and tradition to create a meaningful and educational experience for all ages.
Bertha Lee Strickland Cultural Museum is directly connected to the Lunney Museum; both museums are located on adjacent property in Seneca.
A bit of history
Miss Bertha, as she was known, went to work for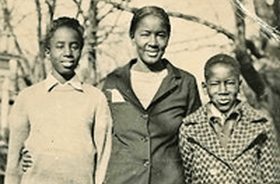 Mrs. Lunney in the 1920's when she was 13 years old. She started working as a laundress for Mrs. Lunney and stayed with her for 47 years. They had an interesting relationship where it has been told that Mrs. Lunney called the same person, at the same time every day, for twenty years and said the same thing, "I'm firing that Bertha!" But Bertha continued to work and remained her personal maid until Mrs. Lunney died in 1969. In her will, Mrs. Lunney gave Miss Bertha the home she had lived in all the years she worked for the Lunney's. Miss Bertha raised her own 2 children in the home and passed it on to her son.
Oconee County is one of just two counties in South Carolina with a single digit population of African Americans; only 7.7% of residents living here are African American. It is interesting to realize that even though they were few in number, African Americans who lived in Oconee's rural communities had the tenacity to build ten Rosenwald Schools in the county.

How it came to be
In 2009, Seneca City Administrator Greg Dietterick realized that nothing was being done to preserve African American culture in this area. He had the concept for creating a museum to educate the public and preserve the heritage of African Americans who lived in Oconee County. Mr. Dietterick tracked down Miss Bertha's son, Milton, and persuaded him to sell the property to the City of Seneca for the purpose of establishing the Bertha Lee Strickland Cultural Museum.
Since opening in 2016, there have been 4 traveling exhibits: Places in Time; The Waymakers; Church Folk and Colored Soldiers. The current exhibit is: Segregation, Integration, Assimilation. Director, Shelby Henderson, is working on a permanent exhibit: Bertha's Kitchen, which she hopes to open in the near future.
They welcome group tours and will gladly open the doors outside of regular hours. Call (864) 710-9994 or email: blscmuseum@gmail.com to set up a time. Visit blscm.org to learn more.
HOURS
Tuesday – Saturday
11am – 4pm
Closed: Sunday & Monday
Free admission