What is a "Private River Trip"?
It's when individuals raft or kayak the river using their own equipment and personal gear. They are responsible for all aspects of the trip, including shuttle vehicles to the river put-in and afterward from the river take-out point.
The Chattooga River is a very popular destination for private river trips.
People love the Chattooga for the unspoiled scenery, and peaceful solitude experienced when floating downstream. You'll find cliffs, thundering falls, huge boulders, rocky channels, circular potholes, deep pools, and flat water for swimming.
The Chattooga is one of the only free-flowing rivers left in the Southeast. The river flow is dependent on rainfall, not controlled by a dam. Being on the Chattooga gives people an appreciation for nature's simple beauty. Downstream in Section IV, exciting rapids are why thrill seekers and adrenaline junkies return again and again.
Tips
People with their own rafts, kayaks, and gear most likely know how to coordinate a private trip. These hints may help for planning a trip on the Chattooga, so everyone in the group has the best day possible:
Be mindful of the water level

The Chattooga River water level fluctuates day to day depending on how much rain the area receives
The water level determines where to put-in and take-out for the section of river you are doing
Water level affects the length of time needed to run that stretch

Check the weather forecast

Afternoon rain showers are common in the area, especially during the summer months.
If you're with cold-natured people, pack extra clothing in case you get caught in the rain. Commercial outfitters do not run this stretch.

Photo credit Chanda Morrison

The U.S. Forest Service regulates river access.

There are self-serve permit stations at each river put-in.
You are required to fill out a permit that includes everyone's name who is going on the river that day.
In case something unforeseen happens, emergency responders can view the permit and know who to look for on the river.
You are required to wear a PFD (Personal Floatation Device/whitewater life jacket) and helmet when rafting or kayaking on the Chattooga.

If you plan to bring a phone during the trip, keep in mind, there is no cell service within the river corridor. This means driving to and from the river, in the parking lots, and on the river, you will not get a phone signal.
You may see the three commercial outfitters running trips during your time on the water. The companies try to follow a set schedule. They generally stop at designated beaches for lunch and to let their guests swim.
Pack it in/pack it out. Be sure to collect trash and wrappers from the food and beverages you bring and take everything with you.
River Sections
GoPaddleSC.com is a good resource for information about the Chattooga River.
Popular Chattooga sections for private trips: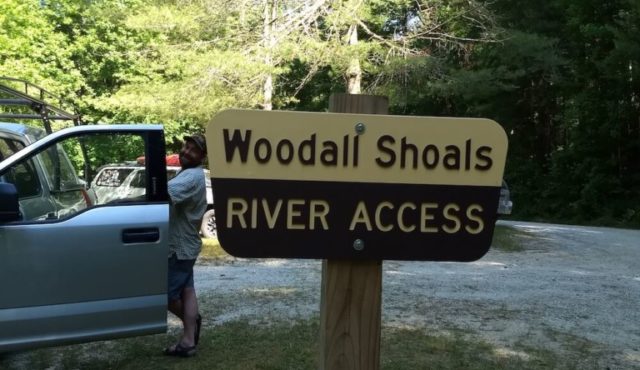 "Thrifts to Woodall"
Approximately 7 hours start to finish
Put-in at Thrifts Ferry (parking area off Hwy. 76)
Take out at Woodall Shoals (the parking lot is at the end of Woodall Shoals Rd.)

Many people consider Woodall to be one of the toughest take-outs. The trail is steep and feels long, especially after a long day in the sun! Factor in the fitness level of your group for the carry up.

Shuttle

15-20 minute drive from Thrifts Ferry parking lot to Woodall Shoals parking lot

Be mindful that you'll be on windy dirt roads that are barely wide enough for vehicles to pass each other.
It might seem like you're "in the middle of nowhere," but these roads see a good deal of traffic, so watch out for each other.

Trip time approximation

30-45 minutes to unload and carry gear 1/4 mile to the river
You could spend as much time as you want, but generally, it's 5+ hours on the water, stopping for lunch and swimming
30-45 minutes to carry gear 1/4 mile from river to parking lot afterward
"Thrifts to The Bridge"
Put-in at Thrifts Ferry (dirt road to the parking area off Hwy. 76)
Take-out at The Bridge (Bull Sluice river access off Hwy. 76 just before crossing into GA from SC)
The shortest trip you can do
Approximately 2 hours on the water; allow for time to carry to and from the river
A shuttle is about 5-10 drive from point to point
"Bridge to Woodall"
Put-in at The Bridge (Bull Sluice parking lot off Hwy. 76 just before crossing into GA from SC)
Take-out at Woodall Shoals
Approximately 2 hours on the water; same load and carry times as stated above
A shuttle is 15-20 minutes each way