Convenient For Travelers and Handicap Accessible!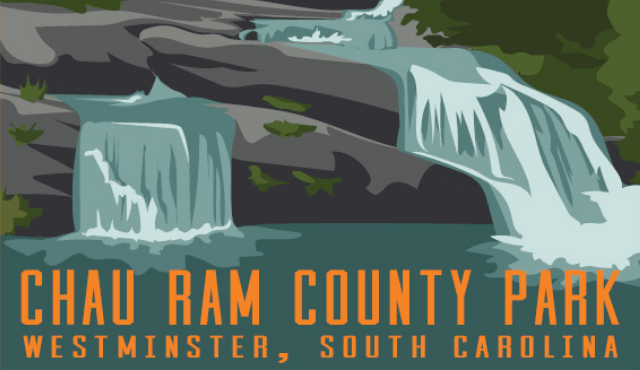 Located just a few miles outside of the City of Westminster, Chau Ram County Park is a wonderful setting with lots of amenities for the public to enjoy.
For a $3 entry fee, an entire carload of people can enjoy the park. The park has over 400 acres of woodland, huge boulders for kids to scamper over, beach areas, picnic places, and miles of trails to explore.
Fun ways to enjoy the park: hiking, tubing, fishing, swimming, camping, splashing in the falls, playing on the playground, or just chilling any way you like.
---
See a Waterfall From Your Car
Most of the waterfalls in Oconee County require a hike to and from in order to view them–a limiting factor for some visitors to the area.
One of the best things about Chau Ram County Park is that many of the attractions are handicap accessible and conveniently located near parking areas.
---
Park Amenities
Handicap accessible picnic shelter, waterfall viewing, and restrooms
Ramsey Falls is a 40′ waterfall that cascades over large boulders where Ramsey Creek flows into the Chauga River
160′ suspension bridge spans across the river
Four rental picnic shelters
Playground
Restroom facilities located throughout the park
26 campsites with water and electricity
Three+ miles of hiking trails
Over a mile of the Chauga River runs through the park
Life Jacket Zone with free use of life jackets if needed for river play
New Additions!
Chau Ram County Park has undergone construction of a new building that houses a retail store, restrooms, and park offices. The addition also includes 60 much-needed parking spaces to accommodate more visitors.
Disc Golf
A course has been constructed behind the new building and the park's retail store offers disc golf equipment.

---
Park Highlights
---
If you frequently visit Oconee County parks, consider purchasing an Annual pass for $25.
Annual Passes are available at each of the county parks (Chau Ram, South Cove and High Falls) or at the county treasurer's office at 415 S. Pine St. in Walhalla on weekdays from 8:30 a.m.-5 p.m.
---
Historic Past
If you hike the Cabin Trail you'll come across what remains of an old CCC cabin that was built in the 1930s. The cabin did not survive the test of time. The structure was unsafe and most of it was demolished except for the stone foundation and fireplace.
Years ago the Boy Scouts breathed life back into the cabin when they added benches for outdoor gatherings. But this historic site, which has remained uncovered, continued to suffer from the elements and is no longer in use by Boy Scout troops. Chau Ram park rangers would love for other groups or individuals to take it on as a project to help make it serviceable again.
---
Sign up for our newsletter to stay informed for more great outdoor opportunities when you visit Oconee!