Discover Oconee: The Blue Wall
One of Oconee's most treasured natural wonders, the Jocassee Gorges, is located within a region that Native Americans referred to as "The Blue Wall."  The wall is technically an escarpment, where the mountains steeply drop off towards the foothills of Upstate South Carolina.  The Blue Wall is part of the southern range of the Appalachian Mountains.  When viewed from a distance, this mountain range has a hazy blue hue and is known to us as The Blue Ridge Mountains.
Spanning three states (North Carolina, South Carolina and Georgia) and encompassing 859,000 acres, the Southern Blue Ridge Escarpment is a region containing some of the highest natural diversity of rare plants and animals found anywhere in the world!
One of our tourism partners, Jocassee Lake Tours, produces a newsletter titled The Blue Wall Weekly.  Owners, Brooks and Kay Wade, are on the lake many times a week exploring and leading guests to amazing places unique to this region. Kay offers insight about nature and seasonal occurrences along the Southern Blue Ridge Escarpment and has given us permission to share content from their newsletter.
---
December 26, 2021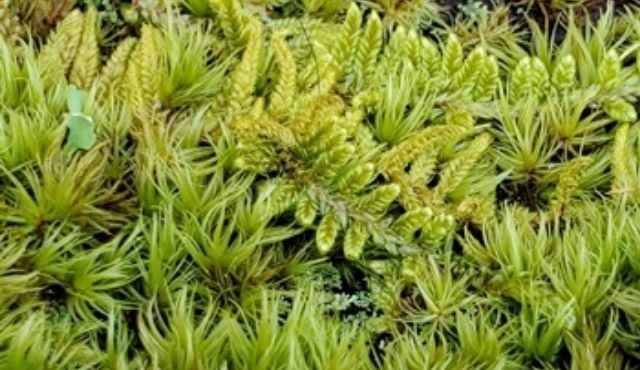 Small Wonders
"On a warm and breezy Christmas day, Mica and I head to the woods. We're in search of small wonders, and we are not disappointed. Mica follows her magnificent canine nose to delicious scents in every direction while I simply sit on a fallen tree and contemplate why I'm so content, simply sitting on a fallen tree in the bare winter woods. I catch sight of a group of tiny mushrooms sprouting from a nearby stump. I look closer, and there's the a tiny snail gliding its tighly coiled shell around a branch. Anyone would be charmed. I move a piece of broken limb to reveal a tiny, beautifully camouflaged salamander, and I carefully replace the broken limb exactly as it was. I comb through a marvelously green patch of moss looking for tiny elves, or gnomes, or forest fairies, but they quickly hide. Such is the nature of small wonders."
By Kay Wade, JLT Owner & Guide
---
December 20, 2021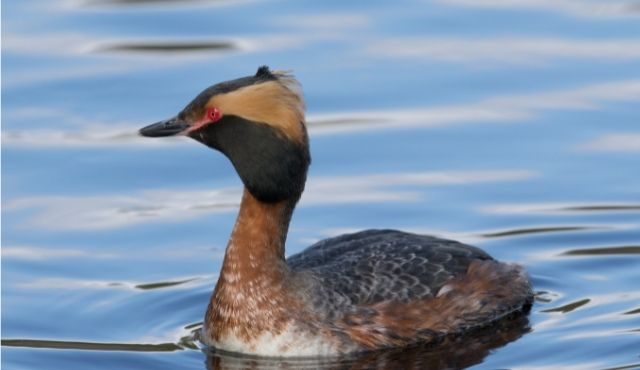 Jocassee Winter Birds
"The Horned Grebe (Podiceps auritus). It's not just about the loons this time of year, you know, although they are the star of the show. Though not related, horned grebes share much of the same behaviors with loons. Baby horned grebes ride on their parents' backs, just like loons. They both feed on fish and crustaceans, but since the grebes are much smaller, they also feed on aquatic insects. Unofficially, horned grebes are the world's cutest water birds. If a bird can be precious, well, this is the one, the one you want to catch and take home with you. They are oh so shy, but if you know just the right spots around the lake, you can kind of sneak up on them before they flush, thereby catching a good look at the water dance, their delightful means of getting out of your way. It's quite a thrill, as is their call, which sounds like they are just cracking up in laughter! "
By Brooks Wade, JLT Owner & Guide
Give it a listen here:
https://www.allaboutbirds.org/guide/Horned_Grebe/sounds
---
December 13, 2021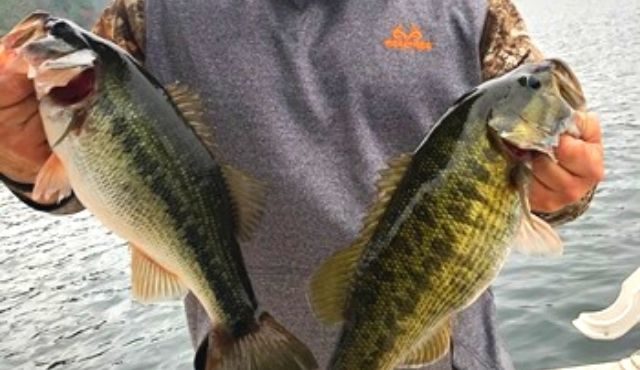 It's that time again
"The water temperatures are finally dropping and the fishing is starting to pick up. We are seeing massive schools of shad and blueback herring bait fish moving up the rivers and creeks that feed Jocassee. For the dedicated angler who is not afraid to battle winter patterns, this could present you with the best chance of putting large numbers of not only trout but many bass species in the boat as well. This week has been one of the most productive I've ever seen personally for bass and a very nice 4lb brown trout to go along. It's officially time to suit up with some rain/cold gear and get on the water for an exciting day of fishing. Not to mention all of the winter bird life and general wildlife that we get to view as we are trolling the lake!"
By Zach Maddox, JLT fishing guide
---
December 6, 2021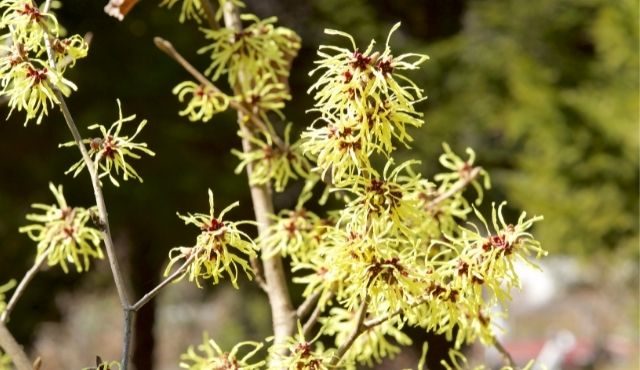 Thanks/Giving
"This past Sunday afternoon, I had an opportunity to accompany Brooks and Mica out on Jocassee for a couple of hours to look for loons.  We saw several small groups as we left the dock, heading toward Devils Fork Creek.  3 were feeding in Howards Creek (upper end of DFC), so we kept pace with them as they moved through the water, heading further upstream.  I happened to look over on the northeast facing shore and was delighted to see the hillside dotted with yellow blooms of American witch-hazel, Hamamelis virginiana.  We floated close to the bank to check out the blooms and saw not only witch-hazel but Rhododendron maximum, Tag alder, Oconee Bells and Usnea (beard lichen) growing on a dead hemlock tree;  all within about a 6' area.  Most of these plants and the lichen have tremendous beneficial qualities.  Witch- hazel is used as an astringent, Usnea is anti-inflammatory, used for wounds, and is very sensitive to pollution (indicative of good air quality).  Tag alder, Alnus serrulata, is a nitrogen fixer (builds good soil), is considered an anti-microbial and produces a beautiful orange dye from the bark.  Rhododendron maximum– although highly toxic, has been used by Native Americans to make spoons, furniture and for firewood which produces lasting heat and good charcoal.  These plants are givers!!!  Later in the week, we guides had another great opportunity for a training workshop on Wilderness Renewal. After the classroom portion, we headed out on the lake for more time in nature.  Dan and Sherrie brought and shared their delicious, homemade Persimmon  bread (another gift from the trees). Not even a crumb was left in the container.  Thanks guys!!   When we look, we realize we're surrounded each moment by gifts.  The plants are givers, people are givers; nature continually shares with us.  Food for all wild life, shelter, clean air, beauty, etc.!!!  Each moment of each day provides opportunities to grow and learn and fellowship with friends that deeply enrich our lives.  My heart is full of gratitude for all of these gifts…a lot of which are provided by Jocassee.  She's just like that!!!   Hope to see you out there."
By Sheryl White, JLT Guide 
---
November 28, 2021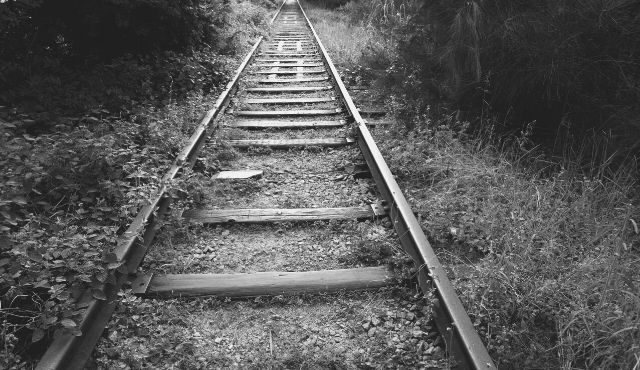 Past history
"Not all that long ago, men in these parts used picks and axes and crosscut saws to build a logging railroad, from Pickens, SC deep into the mountains of the Jocassee Gorges. As one crew leveled a path into the sharp contours of the Blue Ridge Escarpment, another crew split and laid railroad ties for the steel rails. Shay locomotives called 'Sidewinders' would soon, and for a very short while, chug out of steep ravines pulling heavy railroad cars loaded with the eastern US's last old growth trees, whose girth occasionally exceeded the height of the men who laid down these mighty giants. One good flooding rain washed out the railroad, bankrupted the timber company who built it, and left Pickens,  SC wondering what happened to the promise of the largest hardwood lumber company in the United States."
By Kay Wade, JLT Owner
---
November 21, 2021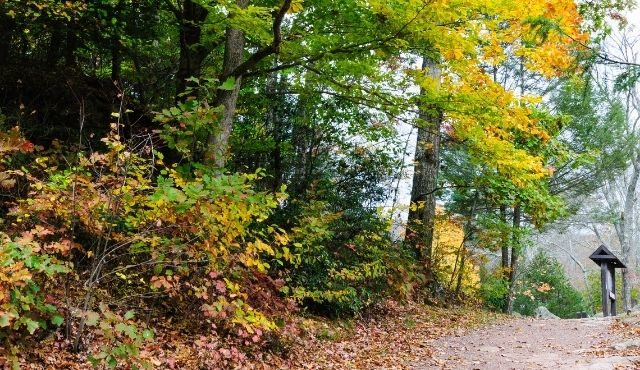 Winter Walking
"There is this walk within Devils Fork State Park, between the two remote ramps, that I save for winter each year. It's just a mile and a half back and forth between the ramps, and yet possesses a nice bit of vertical climb, so the walk is pretty good early morning exercise for myself and Mica, my deliriously happy dog on these walks. No traffic at first light, and plenty of squirrels to chase.  That's the magic formula for Mica. For me it's the early morning light streaming through the forest, and the first calls of the loons as they come in from their rafts of safety at night, well out into the basin, seeking their first meal of the day, wailing out to locate their companions. The loons weren't there this morning, as they are just now arriving from their summer breeding ponds. They'll be there soon though, and I will know then that 'our loons', the ones that ply this shore every morning through the winter months, are here for the season, this fine season of solitude, long shadows, and the grace of the loons."
By Brooks Wade, JLT Owner
---
November 14, 2021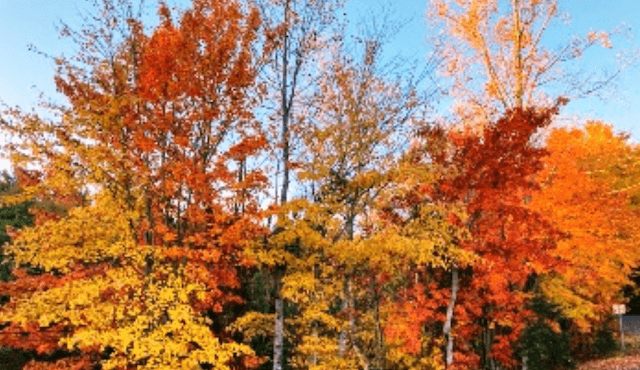 Field Notes
"Today was a drizzly, grey day; too wet to be comfortably out on the lake, but perfect for driving the road to the remote boat ramps at DFSP.  Having passed it hundreds of times, I finally made this drive upon the suggestion of my friend and mentor, Kay Wade.  She had said that the fall colors were so exquisite there as to be "almost painful".  I drove the long tunnel of what felt like miraculous color as slowly as possible, drinking in the richness and subtlety of hues somehow popped into contrast by the dull grey skies and glistening evergreens of pine, mountain laurel, rhododendron, and clubmoss.  There was a thread connecting her words to my experience.  It was literally breathtaking, as in my breath was taken away, with a whisper of heartache in there somewhere. And then I remembered the Japanese concept of "mono no aware", pronounced "mono no ah-wah-ray, which I learned watching Beetle Queen Conquers Tokyo.  This film is an entrancing documentary about the Japanese and their millennia-long love affair with insects. Mono no aware suggests that "true beauty is found in that which does not last and includes the gentle sadness felt as it fades".  There it was.  I had found the thread, spanning time, a vast ocean, and very different cultures; the thread that connects us all.  As the film so beautifully concludes, "all of life and nature is cohesive.  All of its imperfections, all of its fleeting beauty is part of a whole."  That whisper of heartache I felt was indeed based on an awareness that I might drive that same glorious road tomorrow and tonight's rain will have pounded all of those jewel-toned leaves to the forest floor.  Luckily, here in the Gorges, we have over 90 species of trees (as opposed to the 6 species that factor in New England's famed fall!), many of which drape the Jocassee Lake landscape every autumn in a tapestry of vivid, sometimes incandescent color.  Imagine that thread weaving through the reds of dogwoods as they deepen to brown, piercing through sourwoods that vibrate from bright red to pink, pricking through the oranges of maples, the golden of hickories, locusts, and walnuts, weaving in the purples of black tupelo — more trees and colors too numerous to list!  Ripple after ripple, like a tapestry of beauty, however brief, being shaken, spreading out over the land and coming to rest, finally, in the browns and greys of winter.  And so I sleep tonight, like the winter, resting in the peace that I have witnessed a spectacle; a spectacle that, although soon to fade, will return again next year."
By Creseda Riccardi,  JLT Guide
---
November 7, 2021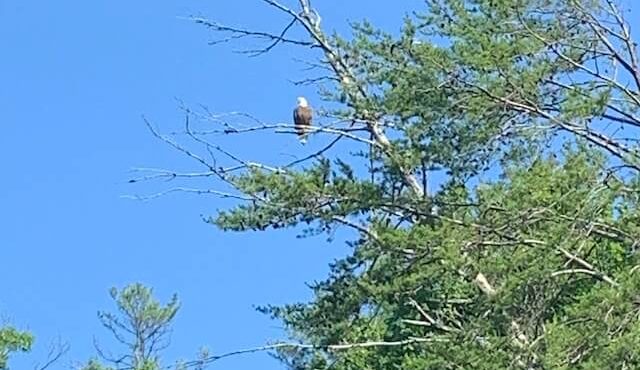 The Otter, the Eagle and the Great Blue Heron 
"Imagine this scene: looking up at Whitewater River from Lake Jocassee, a huge bird swoops in from the left, a second huge bird swoops in from the right, and both birds land on the same rock in the middle of the river, not 50 feet from where we sit. A boulder obscures our view of their rendezvous. Two bald eagles? My friend says no… one of the birds is a great blue heron, the other is a very young bald eagle. Bald eagle emerges, improbably trying to flap its way from rock to rock, up the middle of this surging river, dangerously close to frothing whitewater. I fear for its safety. Meanwhile, great blue heron is now peeking from behind a different rock, behind a different boulder. How did it get there without my seeing? (My friend says it slid down a short waterfall.) Now, with attention on the heron, what should appear on the scene but a river otter? Otter has climbed in front of the rock the heron is hiding behind (are you getting all this?) with a fish in his mouth! Were all three vying for this one hapless fish? Otter happily proceeds to devour fish. Heron appears a bit nonplussed. Young eagle has made it to a good launching spot, where he pauses, makes a dramatic turn, and flies directly over our boat. One truly never knows what wonders one will see on Lake Jocassee."
Written by Kay Wade, JLT Owner & Guide
In Otter News, a rare sight: Otters phtographed in Lake Keowee.  Click HERE to see Laurie Metzger's cool video!
---
November 1, 2021

A Double Entry:
Calm
"We once had a guest on Lake Jocassee who, near the end of her time on the lake, turned to a friend and said, 'Do you hear that tinkling sound?  That's the sound of stress falling off my shoulders.'  I'll never forgot those words.  We have a friend who scientifically measures physical changes triggered in the human body when people spend time in nature.  Lower blood pressure, less stress, better emotional attitudes, improved mental clarity.  This day, mostly cloudy with occasional light rain, has still presented a breath of fresh air to a multitude of people sightseeing along the base of the Blue Wall.  We sense a current of deep appreciation for today's glory of autumnal beauty, rain or not rain.  No stress.  Every face we see is smiling.  What a gift."
By Kay Wade, JLK Owner & Guide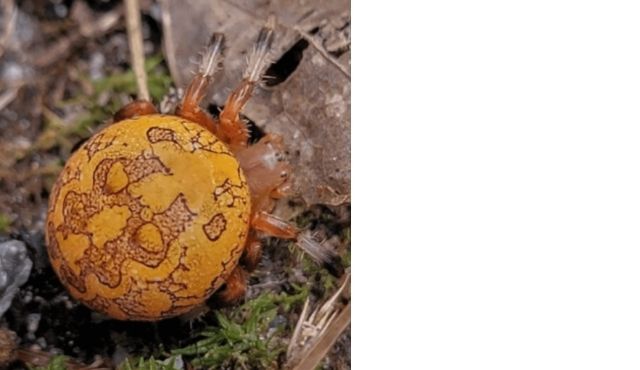 Sensory Overload!
"Wow…4 years have passed since I began working with JLT.  In that time, I can't tell you how many pictures I've taken of Jocassee, but I can say that not a single one has ever fully captured  what I see and feel each time I'm here.  Sure… you can snap a picture, but it can't nail the warmth of the sun on your skin or the deep, fresh breath you take as the breeze hits your face.  The hush of the evening as you're quietly watching the sun drop behind the mountains, or the rush of a waterfall just out of sight… not to mention the way it smells (petrichor?)!   It's difficult for a picture to catch gossamer strands reflecting the sunlight as baby spiders float past you over the water to start a new life or to describe the sweetness of a sun-warmed muscadine just picked from the vine.  The vivid contrast of the tree line against a brilliant, Carolina blue sky which almost hurts your eyes.  We try hard to share these things with you each week.  We hope you get a tiny glimpse into this remarkable place… and we'll keep sharing, but one way to be sure you do, is to come and keep experiencing it for yourself!  See you on the water!"
Written by  Sheryl White, JLT Guide
---
October 24, 2021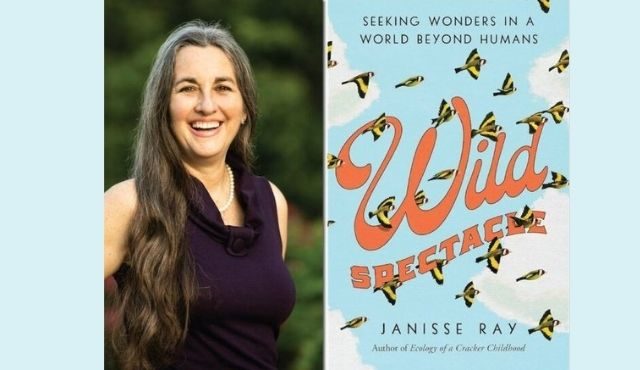 Jocassee is a wild place
"Yes, the lake is manmade, but tell that to the loons, the grebes, the gulls who call the lake home all winter. Lake Jocassee serves as a blue avenue into the wildest regions of the Jocassee Gorges. I live here because this place is wild, not overburdened by the human footprint. And I read the writings of Janisse Ray because she is one of the south's great writers about wild places. Her first book, Ecology of a Cracker Childhood, brought her immediate fame, and she has continued to write about the wild South ever sense. Her newest book, Wild Spectacle: Seeking Wonders in a World Beyond Humans, is due to be released this week, and I can't wait to read it."
Written by Brooks Wade, JLT Owner & Guide
---
October 17, 2021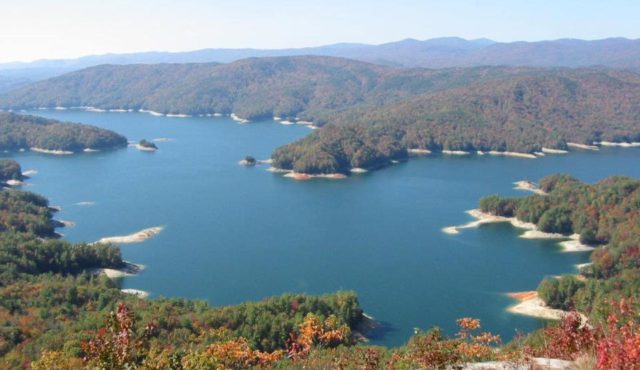 Anticipation
"That's what fills me this time of year. So much is ready to happen, ready to explode. All the elements for a spectacular fall color show are aligned. Ample rainfall, cool, crisp mornings, followed by bright sunny days. That's just the ticket for eye-popping fall color. There is no other place on earth that can match the southern Appalachians this time of year, and Lake Jocassee is the jewel in the crown. And don't you know the migratory birds know it! We've not spotted even one migratory waterbird yet this year, but the cold front forecast to come through this weekend could change all that. I'm fully expecting to see our first loons and Bonaparte's gulls this coming week. Alas, with every change of seasons there are things we must bid farewell. We took what I imagine was our last swim yesterday, saying goodbye til next year to the satin caress of Jocassee waters.
 THE PEAK. To answer the question we are asked a thousand times this time of year, Kay and I have lived here for 12 falls, and the 'peak' in each one was right at the end of October and the first ten days of November. This year all the talk is about an early peak, but things seem rather normal to me, and right on course for the cusp of October/November. On the other hand, the Jocassee Gorges has the greatest diversity of hardwood trees in the country, each tree with its own timetable of preparation for winter, so peak can have a different meaning here. It's more like a slow climb to the peak and  back down the slope to the mellow glory of early winter."
Written by Brooks Wade, JLT Owner & Guide
---
October 11, 2021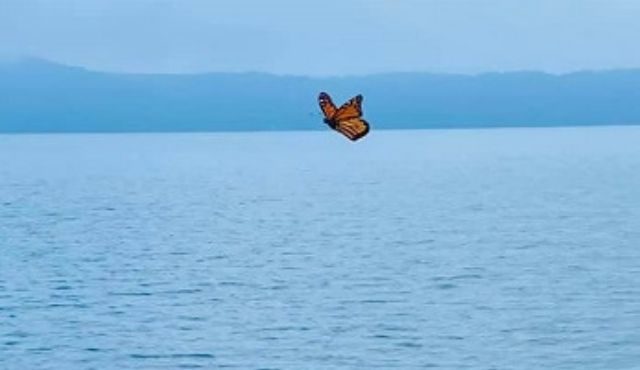 Field Notes
"As the rain poured down in torrents this past week, I was wondering what the waterfalls on Jocassee must look like.  Well, lucky me got an exceptionally cool family of 3 who were desperate to go on the lake – rain or shine!  I love adventurous people!   We ended up having a 4-hour window of spectacular weather Thursday afternoon AND we had the whole lake to ourselves.  In that short period of blissful time, we boated into the Gorges to see several breathtaking cataracts.  Oh my, if I just could have truly captured the sounds, the sights and the vibration of the enormous volumes of water that were gushing out at Mill Creek, Laurel Creek, and Devils Hole!  When we weren't next to a wild waterfall where we could barely hear ourselves think, we were gently floating in the calm jade green water counting monarchs.  We counted 140-ish monarch butterflies who were taking advantage of the dry fly time.  On Saturday, we counted 160 something before we stopped counting and started laughing because there must be a few hundred of these winged tigers! How cool is it that Lake Jocassee is a flyway for monarchs migrating to Mexico?  How amazing is Lake Jocassee year-round?  So much to come in the next few months – don't miss out on the fun and the beauty!"
Written by Kerry McKenzie, JLT guide
---
October 4, 2021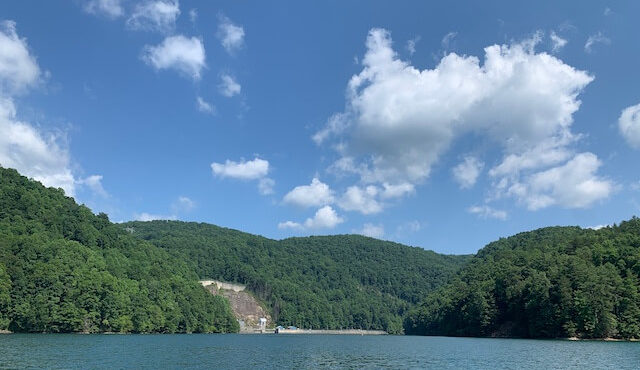 Field Notes
"As part of our Jocassee Wild Naturalist course, we had the pleasure of spending the day with Dr. John Hains, retired Clemson professor and former biologist with Duke Power Company.  Stream and Lake Ecology was the subject of the day. After a short classroom session we headed out on the lake.  The weather was perfect as we explored and learned about Jocassee's spillway, dam, water intakes, some of the data that Duke Energy collects from their research buoys and Bad Creek Hydropower Plant.  We took a short hike along the Thompson River where Dr. Hains discussed the numerous habitats where so many species live; explaining just how biologically rich and diverse this  area  is.  So many great questions were answered, new friends made and fun was had by all.   Thank you again Dr. Hains for sharing your knowledge with us. Each of us use this lake in different ways for different reasons, from fishing to paddling, swimming, waterfall viewing or being shuttled up lake to the Foothills Trail access areas; sometimes forgetting that this 'Pump Storage Facility's' main purpose is for cooling waters for the nuclear power plant and hydroelectric power generation, not just our recreation.  For those of you who've been smitten by Jocassee and want to better understand this fascinating place, join us, become a Jocassee Wild Naturalist. Take one class or the whole course and truly discover the wonders of Jocassee for yourself."
Written by Sheryl White, JLT Guide
---
September 27, 2021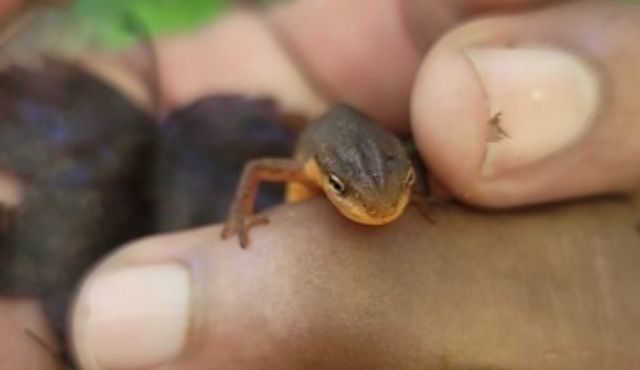 Gentle Sounds
"On this sparkling September afternoon the sun is warm, the breeze is cool, and the sky is cloud-free Carolina blue.  Mica and I venture to the new access at the end of Bootleg Road in Devils Fork State Park, down to where Lake Jocassee laps against rock shoreline.  Brightly colored kayaks hug the shore with little sound but rhythmic dipping of paddles, left, right, left, right. One single turkey vulture glides in slow, lazy circles overhead.  A murmur of light-hearted voices reaches across the cove from the Roundhouse Point ramp, where a 10×10 canopy has claimed a bit of territory for some local college students. Gray squirrel chatter is answered by goldfinch twitter.  Below, and out of sight on a strip of sandy beach, we listen to the make-believe stories of children creating their own special make-believe world, no adults required. Gentle sounds, for a gentle day."
By Kay Wade, JLT Owner/Guide
Did you know?
Friends of Jocassee (FOJ), has sponsored a webcam at Devils Fork State Park!  You can check out the weather, the parking situation, etc. It's fun to just watch. Click on the link below.
Announcement from Sherrie Whitten, JLT Guide and FOJ President
---
September 20, 2021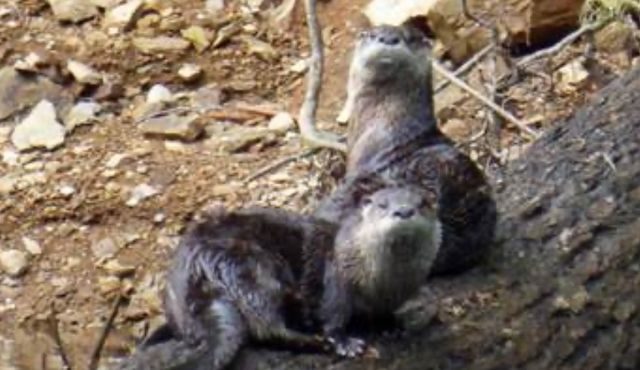 Hello, Fall Equinox!
"If I had to pick a favorite month on Lake Jocassee I would immediately reply 'September!'   Oh, the sweetness of September where you can TASTE muscadine, pawpaw, and persimmon as you cruise along the shoreline, FEEL the air and the water at just about the same temperature making swimming sublime, SMELL the fall air approaching and the campfires from the state park, SEE playful otters, a curious bobcat, thirsty deer, hungry eagles and osprey, and extremely cool spiders, HEAR SILENCE – the summer hustle and bustle has disappeared!  I float on my back.  I giggle from my soul.  I whisper 'thank you, September!'
True Story – my mom, Jean McKenzie, took an early morning paddle on her birthday and spotted 3 otters on the shoreline and was able to get an incredible photo of one on a dock.  What a gift!  Then 2 days later my dear friend, Chris Maier, was paddling along that same shoreline and saw (maybe the same) 3 river otters.  The three playful otters took a liking to Chris and swam close to his kayak popping their heads up and down.  Chris was to 'in the moment' to snap any photos, but the joy in his voice and the light in his eyes when he was telling the story was just as good – if not better – than being there with him at that time!
Jocassee Wild Child Outdoor Education has a mascot called Odyssey, the Blue Otter.  I think he has a message for all of us – 'Stay Wild!'"
Written By Kerry McKenzie, JLT Guide
---
September 13, 2021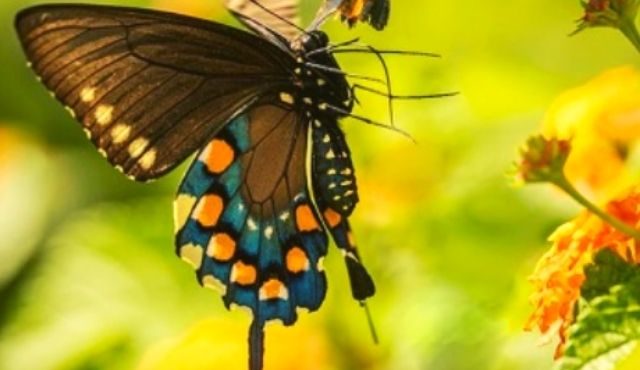 Calm‌ ‌would‌ ‌be‌ ‌the‌ ‌word‌ ‌for‌ ‌mid-‌September‌ ‌at‌ ‌Jocassee.‌
"Dry‌ ‌for‌ ‌the‌ ‌most‌ ‌part,‌ ‌in‌ ‌the‌ ‌absence‌ ‌of‌ ‌tropical‌ ‌weather.‌ ‌Cool‌ ‌at‌ ‌daybreak,‌ ‌swimmably‌ ‌warm‌ ‌by‌ ‌noon.‌ ‌The‌ ‌throngs‌ ‌are‌ ‌gone-football‌ ‌and‌ ‌school-‌ ‌so‌ ‌gone‌ ‌too‌ ‌are‌ ‌the‌ ‌long‌ ‌lines‌ ‌to‌ ‌get‌ ‌in‌ ‌the‌ ‌park‌ ‌on‌ ‌Saturdays‌ ‌and‌ ‌Sundays.‌ ‌It's‌ ‌time‌ ‌for‌ ‌fall‌ ‌migration,‌ ‌so‌ ‌it's‌ ‌time‌ ‌to‌ ‌be‌ ‌looking‌ ‌up!‌ ‌Time‌ ‌to‌ ‌watch‌ ‌for‌ ‌ducks‌ ‌flying‌ ‌overhead‌ ‌while‌ ‌out‌ ‌on‌ ‌the‌ ‌big‌ ‌water‌ ‌of‌ ‌the‌ ‌basin,‌ ‌time‌ ‌to‌ ‌see‌ ‌monarchs‌ ‌flying‌ ‌by‌ ‌on‌ ‌their‌ ‌way‌ ‌to‌ ‌the‌ ‌mountains‌ ‌of‌ ‌central‌ ‌Mexico,‌ ‌time‌ ‌to‌ ‌see‌ ‌raptors‌ ‌overhead,‌ ‌heading‌ ‌to‌ ‌the‌ ‌tropics,‌ ‌and‌ ‌maybe‌ ‌even‌ ‌time‌ ‌to‌ ‌see‌ ‌our‌ ‌first‌ ‌Jocassee‌ ‌loons‌ ‌of‌ ‌the‌ ‌season.‌ ‌It's‌ ‌a‌ ‌few‌ ‌weeks‌ ‌early‌ ‌for‌ ‌that,‌ ‌but‌ ‌two‌ ‌were‌ ‌spotted‌ ‌on‌ ‌Lake‌ ‌Keowee‌ ‌this‌ ‌week,‌ ‌and‌ ‌one‌ ‌on‌ ‌Jocassee.‌" ‌
Written by Brooks Wade, JLT Owner & Guide
---
September 6, 2021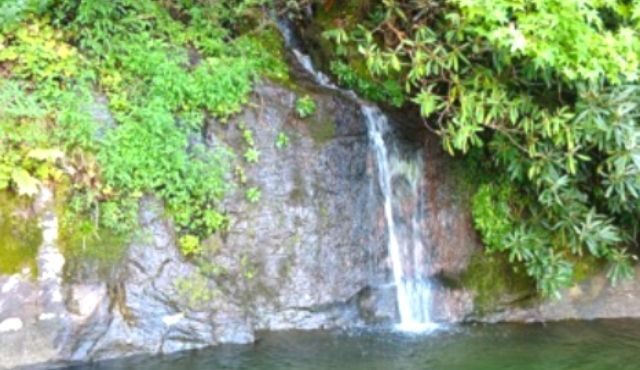 Trickle Falls
"If you come out with us at any given time of the year, you'll see a big waterfall or two while you're here, but one thing I find fun to do is to stop at what JLT guide, Cap'n Dan calls 'Trickle' falls. This tiny falls can be found on the right shoreline as you head into the Horsepasture basin, (Laurel Fork side of the basin) on the upper lake. This is an excellent falls for those timid souls… especially wee ones who I encourage to put their hands into the cool, falling water.  You can gently rest the front of the pontoon against the rock wall and let kids of all ages get up close and personal with this falls.  There's branch lettuce and native coral bells growing on the rock, lots of Rhododendrons around to admire, and the morning sun comes streaming through the branches above the stream, illuminating all the spider webs in the trees, making the trapped moisture glisten and sparkle in the light.  If you look up the hill on the left side of the wall, there's a beautiful tree, sitting on top of a rock, like it's the guardian of the mountain.  The cameras come out and the wows, oohs and ahhs put a smile on everyone's face. Now, the deep water beneath the boat breaks the fall of the stream that once flowed freely into the valley below.  I can't help but imagine what that looked like.  Oh to have seen it then!"
Written by Sheryl White , JLT Guide
---
August 30, 2021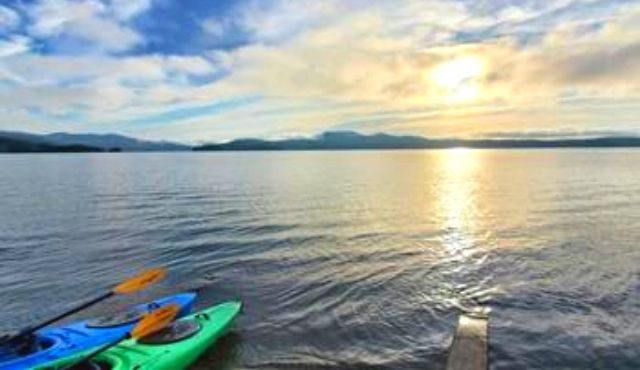 It's summer!
"It took a long time getting here this year, but it has definitely arrived, with a bang, I would say. July was unusually mild. At daybreak on the 4th of July the temperature at the lake shore was 60 degrees, too chilly even for an early morning swim. Some guests found the water too cold for a swim while on our tours. In July, for pete's sake! That is usually the circumstance in June, not July. Afternoon thunderstorms were infrequent, the humidity was barely noticeable. Then mid-August arrived, with booming afternoon storms, humidity that reminds me of Florida summers, and blazing heat. But the water! Oh, the Jocassee water. Swimming this month has been otherworldly. It's the only place to be until the cool breezes of fall arrive. And I'm in no hurry for that. Not when immersion is so sublime."
Written by Brooks Wade, JLT Owner & Guide
---
August 22, 2021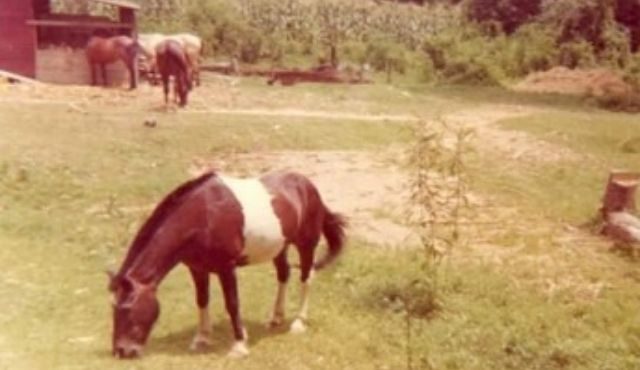 Remembering a special friend
"Sadness runs deep and wide as the lake itself as we bid farewell to one of Jocassee's greatest champions. This week saw the passing of Debbie Fletcher, author, mother, grandmother extraordinaire, and friend. Debbie's book Lake Jocassee gave us an intimate insider's look at the building of lakes Keowee and Jocassee as part of the Keowee-Toxaway Project. But it was Whippoorwill Farewell: Jocassee Remembered which showed us Jocassee Valley—before the lake–through the eyes of a little girl. This was a little girl who wistfully watched the "camp girls" from Jocassee Camp for Girls ride horses down the dirt road in front of her grandfather's house, and who took summer baths in a swimming hole in the Whitewater River, and who slept on a screened porch with the sound of the river–and the whippoorwills–lulling her to sleep. In Debbie's words, the word 'remember' means 'to put back together, to re-member.' Debbie, you will be remembered."
Written by Kay Wade, JLT Owner & Guide
Did you know?
Had it continued in operation, this year would have been the 100th anniversay of Jocassee Camp for Girls. The camp opened in 1921 and operated in Jocassee Valley until 1970. In 1971 the camp reopened in a new location on the newly built Lake Keowee before closing for good in 1976.
---
August 8, 2021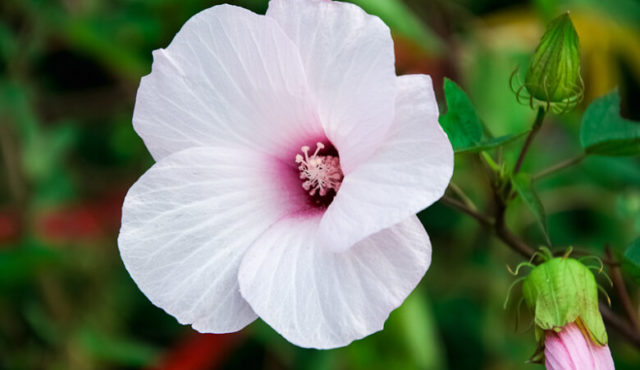 Slow down and see more
"Slipping in and out of backwater coves across Lake Jocassee offers a quieter experience, with unexpected rewards. On this solitary afternoon the sun is bright and warm. I hug against a deep curve of mountain, nosing the boat into every dip and cranny, covering ground at approximately the speed of a brisk walk. Sunlight glints off a perfect spider web hung artistically between two bare branches. In almost every fold of the mountain I hear running water, but only occasionally do I glimpse its movement through thick evergreen shrubbery. I have time to admire the brilliant red cones of numerous Fraser magnolias and August flowers rarely seen in this part of South Carolina. I swim while the boat floats languid, unmoored. It's peaceful over here, away from wakes of other boats. Slower I go, and more I see."
Written by Kay Wade, JLT Owner & Guide