Discover Oconee: The Blue Wall
One of Oconee's most treasured natural wonders, the Jocassee Gorges, is located within a region that Native Americans referred to as "The Blue Wall."  The wall is technically an escarpment, where the mountains steeply drop off towards the foothills of Upstate South Carolina.  The Blue Wall is part of the southern range of the Appalachian Mountains.  When viewed from a distance, this mountain range has a hazy blue hue and is known to us as The Blue Ridge Mountains.
Spanning three states (North Carolina, South Carolina and Georgia) and encompassing 859,000 acres, the Southern Blue Ridge Escarpment is a region containing some of the highest natural diversity of rare plants and animals found anywhere in the world!
One of our tourism partners, Jocassee Lake Tours, produces a newsletter titled The Blue Wall Weekly.  Owners, Brooks and Kay Wade, are on the lake many times a week exploring and leading guests to amazing places unique to this region. Kay offers insight about nature and seasonal occurrences along the Southern Blue Ridge Escarpment and has given us permission to share content from their newsletter.
Excerpts from The Blue Wall Weekly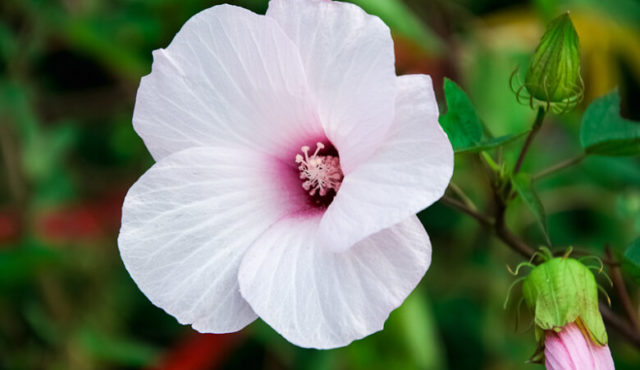 "Slipping in and out of backwater coves across Lake Jocassee offers a quieter experience, with unexpected rewards. On this solitary afternoon the sun is bright and warm. I hug against a deep curve of mountain, nosing the boat into every dip and cranny, covering ground at approximately the speed of a brisk walk. Sunlight glints off a perfect spider web hung artistically between two bare branches. In almost every fold of the mountain I hear running water, but only occasionally do I glimpse its movement through thick evergreen shrubbery. I have time to admire the brilliant red cones of numerous Fraser magnolias and August flowers rarely seen in this part of South Carolina. I swim while the boat floats languid, unmoored. It's peaceful over here, away from wakes of other boats. Slower I go, and more I see." – Kay Wade