Durham Hall – A timeless setting with an interesting past!
Built at the turn of the twentieth century on Main Street in Walhalla.  The Durham Hall building has been home to various businesses including: a hardware store, a meat market, Morgan's Music and Appliance, Seneca Furniture and Landvision Title.
In 2017 the building underwent a renovation.  The new owners were amazed and thrilled to discover the  "Bull" Durham ad painted on one of the brick walls.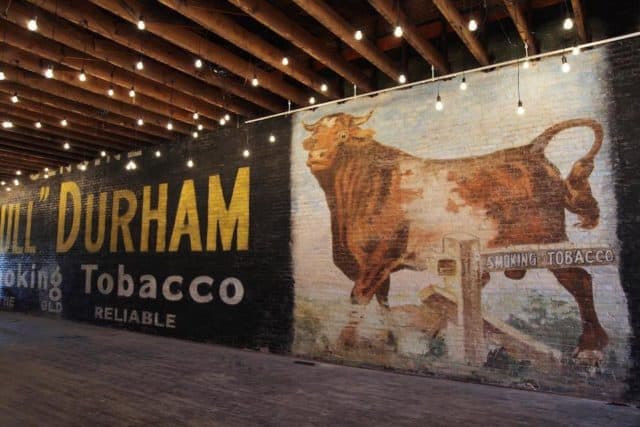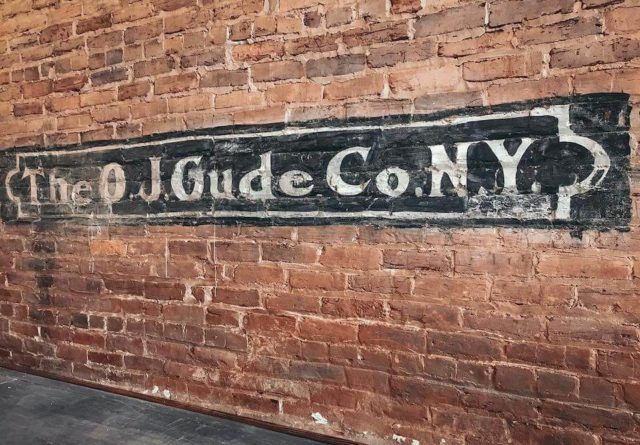 Fun Facts
O.J. Gude was known as the Godfather of Time Square.
He teamed up with Mr. Wrigley, from Wrigley Gum, to make the first ever "lit-up" advertisement.
The ad was used at baseball fields across the country, which led to coining the term "Bullpen" – still in use today.
If you look closely, you can see the fingerprints of the men who laid each brick for the wall.
The orange line that can be see on the right side of the ad is actually part of a frame around the entire ad.  As the building was altered over the years, the frame was hidden above the ceiling and below the flooring.
To the right of the painted ad, you can see a diagonal black line.  That was from a staircase that led to an apartment prior to the building being built.  You can see where a door and window used to be.
The open rafter ceiling, the hardwood floors and metal railings (designed for the original ladder system by F.E. Myers and Sons, Ashland, OR) are all originals from circa 1913.
The entire storefront of Durham Hall was built after the ceiling and flooring were in place.
The storefront is made of cast iron, and the cornice on top of the building is made of sheet metal.
---
The Venue
Durham Hall has 2,500 square feet of space inside and 3,000 square feet in the courtyard.
Durham Hall offers historic charm and lends itself to weddings, receptions, corporate meetings, holiday gathering, anniversary parties, birthday celebrations, baby and bridal showers, and more.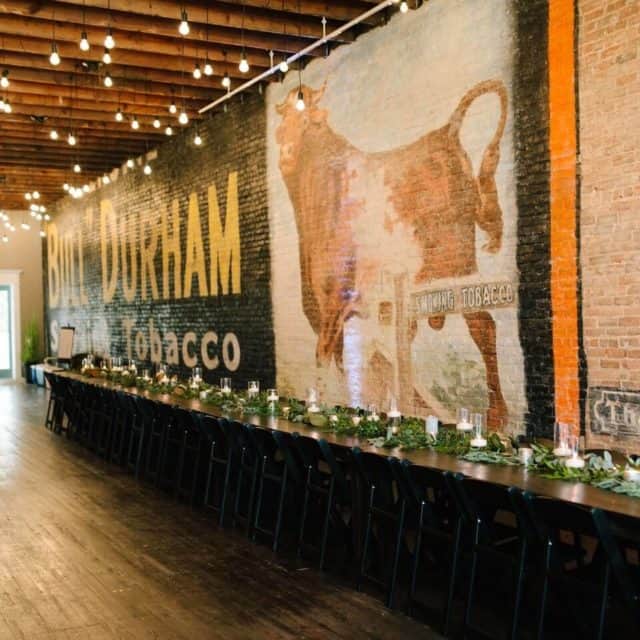 Get your team out of the office and meet up at Durham Hall.  The combination of historic charm and flexible layout allow you to host memorable events.