More Miles of Trail at Stumphouse Mountain Bike Park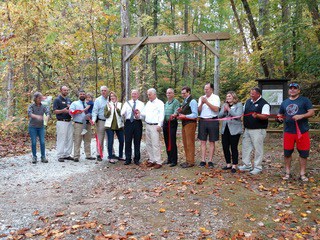 PHASE II ribbon cutting ceremony took place on October 29, 2019
Collaborative efforts made it possible to finish Phase II of the expansion at Stumphouse Mountain Bike Park.
Phase II added 6 more miles of trail to the park system, which means there are 10 miles of trail accessible for mountain biking and hiking at Stumphouse Mountain Bike Park.
SEE more trail photos
Regarding use of the trail:
Everyone using the trails is asked to follow the principles of Leave No Trace—that is, leave only footprints and tire tracks, and take only pictures.
Cyclists are asked not to ride when the trails are wet.
Part-time city employees maintain the common grounds in the parking and picnic areas, but volunteers are needed to help maintain the trails.  To volunteer, contact Palmetto Conservation, Upstate SORBA, or Oconee Hiking Club.
Article courtesy of The Journal newspaper 10/30/19