The Oconee Bell is one of the rarest wildflowers in the world.
In the United States, Oconee Bells only bloom in the Jocassee Gorges region and around the steams of Lake Jocassee and Lake Keowee.
These dainty flowers can typically be seen blooming near Lake Jocassee at Devils Fork State Park mid-March to mid-April.
Enjoy a day of family friendly activities and see this rare gem for yourself!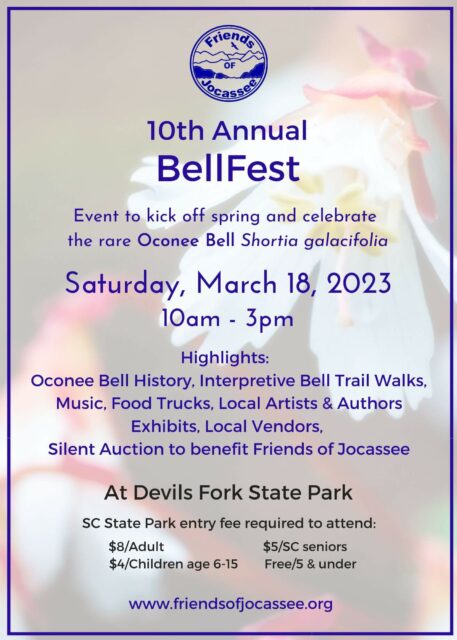 BellFest celebrates the Oconee Bell.
BellFest is an annual event hosted by Friends of Jocassee.
Friends of Jocassee is a non-profit 501(c)(3) organization with a mission to provide support for Devils Fork State Park, Keowee-Toxaway State Park, SC Department of Natural Resources and the Foothills Trail.
Friends of Jocassee's main fundraiser is the annual BellFest which is held at the beginning of the Oconee Bell bloom season.
---
Great Places Worth Protecting
In 2013, National Geographic put out a special edition titled "50 of the World's Last Great Places: Destinations of a Lifetime" which included the Jocassee Gorges region and the rare Oconee Bell wildflower.
Being featured in a national publication led to greater awareness for this region and we have experienced an influx of tourism at Devils Fork State Park–which is the only public access point for Lake Jocassee. Devils Fork State Park has limited parking, which can be considered good and bad. Good in that Lake Jocassee and day use areas experience less traffic than other state parks; bad in that a restricted number of people are allowed enter the park on any given day. When the parking lot is full, people are turned away. Check this site to see whether when Devils Fork State Park is at capacity.
Funds raised by Friends of Jocassee are used to protect Oconee Bells and enhance recreation on and around Lake Jocassee and the Jocassee Gorges.