Foothills Trail Interactive Map
The Foothills Trail stretches from its western terminus in Oconee State Park (Oconee County, SC) and extends north for 77 miles to Table Rock State Park (Pickens County, SC).
In the fall of 2020, hiking enthusiast, Andrew Gleason, thru-hiked the entire Foothills Trail for the purpose of obtaining GPS locations along the way.  He spent months compiling the data and created a user-friendly google map to help other hikers plan the best route for their journey.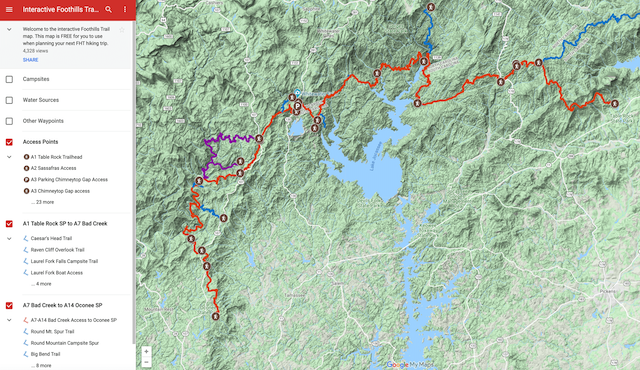 The fact that it's "interactive" means users can select the features they want to see at various points along the trail including:
Trail access points
Water sources
Waypoints
Cell service areas
Color coded campsites

DARK GREEN are designated campsites
LIGHT GREEN are good campsites close to water
ORANGE are dry campsites, no water nearby
BLACK are located in a no camping zones
Bonus: It's free!  Thank you, Andrew Gleason 🥾
---