If hiking is your game, then discovering all or part of the Foothills Trail is what you can find in Oconee County.
Hikers from all over the country come to enjoy the solitude and scenery of this National Recreation Trail, which was listed as "one of the best long trails (50+ miles) in Backpacker Magazine in 2011.
Stretching from its western terminus in Oconee State Park and extending to the north and east for 77 miles to Table Rock State Park, nearly half of the Trail is located in Oconee County and can be accessed from numerous trailheads on SC Highway 107 and SC 130.
Heyward Douglass is the Executive Director of the Foothills Trail Conservancy. The Conservancy was begun 43 years ago at the Foothills Trail Conference when different groups worked to put together a long distance trail in the foothills of the Blue Ridge in South Carolina. One of those groups was the Department of Parks and Recreation at Clemson University, who wanted a local long distance trail to have for teaching purposes. Today the mission of the Foothills Trail Conservancy is to protect and maintain the trail.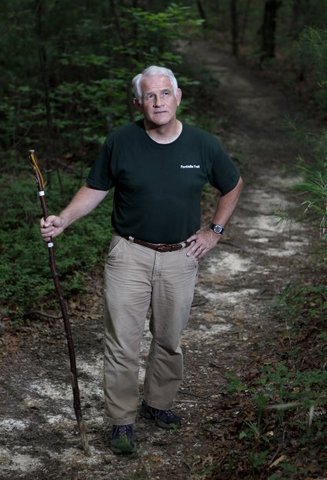 The Foothills trail can be through-hiked in a week, and connects up to the Bartram Trail by the Chattooga River. Following the Bartram Trail to Wyah Bald in North Carolina, the hiker can connect to the Appalachian Trail. Which is exactly what Heyward Douglass once did, to prove it can be done. But there are also shorter 5 to 10 mile day hikes available along the length of the trail.
The Foothills Trail Conservancy publishes a map and guidebook that divides the trail up into 14 shorter segments, and shows access points (trailheads). The guidebook can be purchased at the Conservancy's website, the Oconee County Convention and Visitor's Bureau at 105 S Broad Street in Walhalla, or the hiking outfitters in the area.