Looking For Easy-Going Adventure and Spectacular Sights?
Long Creek, SC might be just what you're after!
You'll find undeveloped rolling countryside, zero traffic and plenty of places to explore! Long Creek is a tiny place that doesn't have the usual trappings we've all come to expect. The country roads will lead you to waterfalls, river access points, apple orchards, and sweet spots to enjoy the natural outdoors.
Come for the day, or better yet, plan to spend all weekend in Long Creek!
Play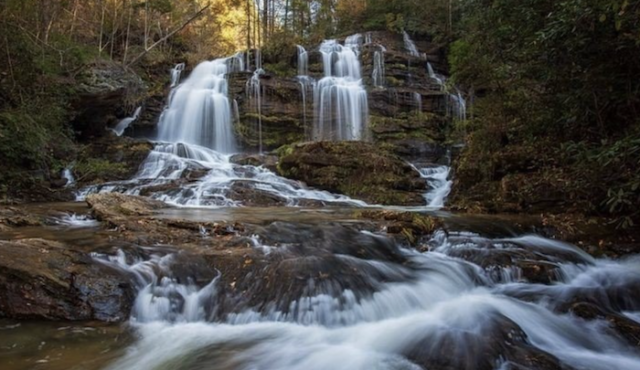 River Experience 
The Chattooga River is famous for whitewater rafting, kayaking, and fishing.  But trails to various sights along the river means there is great hiking too!
One of our favorite destinations is Long Creek Falls.  It's a strenuous 40-minute hike each way, but the trail takes you to an amazing waterfall next to the Chattooga River.  Much of the terrain is evergreen, and it's a glorious setting for sure!
An easier option is walking 1/4 mile to view the river from the Chattooga River Access point (parking lot off Highway 76).  Go right on the trail to view huge boulders at the Bull Sluice rapid, or take the left trail to enjoy a nice sandy beach area.
Stay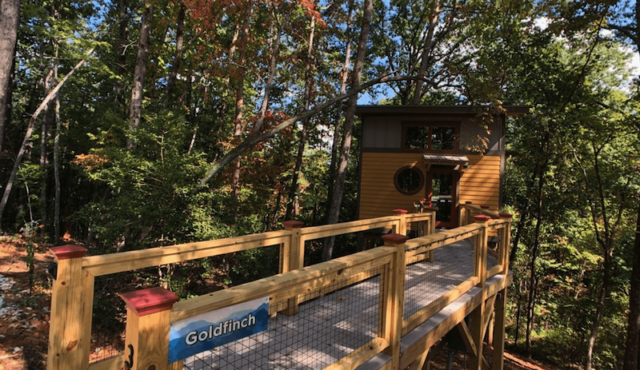 Cozy Up
Wildwater's adorable Goldfinch treehouse is the perfect spot for love birds! This one-bedroom, one-bath space sleeps two and includes a kitchenette and deck overlooking the forest.
If there are more than two of you, Wildwater has a variety of rental accommodations in Long Creek, including: larger cabins, a luxury rental house, and yurts.
If you're coming to Long Creek with a bigger group, check out Moresun Bunkhouse, which can sleep 12.
Eat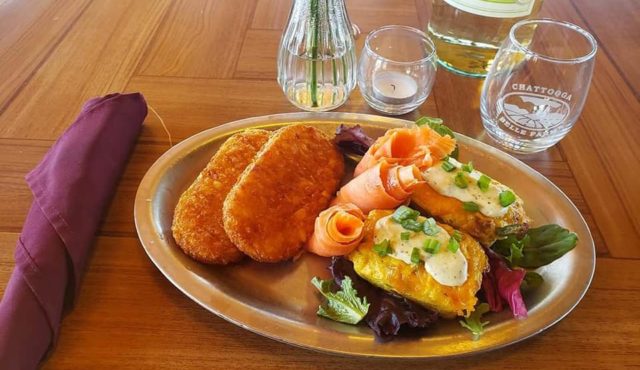 Breakfast Date
In the morning, head over to The Gauge Coffeehouse or Belle's Bistro at Chattooga Belle Farm for breakfast. You'll be amazed by the scenic view and thrilled with tasty offerings such as brunch specials like Croque Madame sandwiches, seasonal vegetable frittatas, and mimosas!
Belle's Bistro is open Thursday-Sunday from 11 AM-2 PM.  Brunch is served Saturdays & Sundays.
---
Travel Tips For Heading to Long Creek, SC
This is a rural area near the Georgia state line.
It's in Oconee County, but Clayton (the nearest town) is in Rabun County, GA.
Home of the Wild and Scenic Chattooga River, which is the border between SC and GA.
Verizon is the main service provider, but cell reception is patchy.
You most likely will not get cell service if you're in the river corridor.
Many places do not have WiFi.
You'll be on two-lane roads that might seem in the middle of "nowhere," but there are plenty of people you could potentially run into, so stay alert.
LONG CREEK RESTAURANTS
Belle's Bistro (at Chattooga Belle Farm)
Serves lunch and brunch (Saturday & Sunday)
Open 11:00am-2:00pm Thursday through Sunday
Humble Pie
Pizza, sandwiches, salads, drinks
11:00am – 8:00pm Thursday through Sunday
11:00a, – 9:00pm Friday & Saturday
Live music Sunday, Monday, Wednesday and Thursday nights (summer season)
The Gauge Coffeehouse
Espresso, bagels and burritos
7am – 7pm 7 days a week
Brasstown BBQ Gathering Place
Fridays & Saturdays from 4:00-8:00pm
CASH ONLY (they don't take cards)
Willie's Tavern
5:00-9:00pm Monday – Tuesday
5:00-11:00 pm Wednesday – Sunday
---
Visit Long Creek, SC, for simple pleasures and memorable excursions!