Brasstown Falls is Better Than Ever!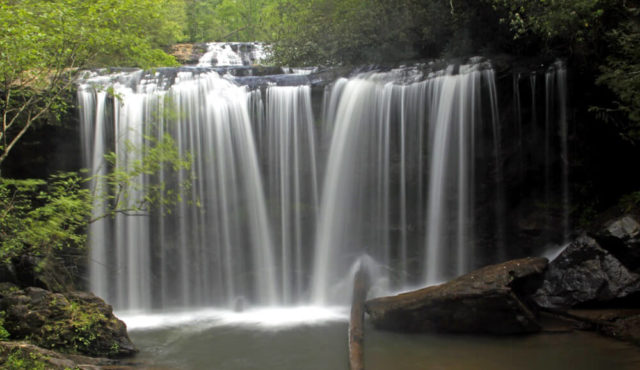 One of Oconee's most visited waterfall trails has undergone major improvements.
For years, the trails leading to three scenic waterfalls, known collectively as Brasstown Falls, had been overused and were quite dangerous.
Even though the trails were unsafe, people continued to travel them having to scramble along sketchy narrow paths, climbing over gnarled tree roots, and clawing their way along the edge of rocky cliffs in order to reach the famed waterfalls. But not anymore!
Trail Upgrades
Like many of the waterfalls in our area, Brasstown Falls is located in the national forest. We're grateful the U.S. Forest Service saw fit to improve these trails! What used to take close to two hours (round trip) of physical effort where one misstep could be disastrous, is now a pleasant, relatively easy walk that takes less than an hour.
The trail builders did a great job upgrading the trails. It took months of clearing better paths, building log stairs and ladders, in addition to constructing a bridge and viewing platforms. At one point there are 50+ earth and timber steps along the trail. Getting to all three of the waterfalls is now a safer experience with more accessible places for the public to enjoy the amazing scenery!
---
Getting there
Google directions are vague and there is not good signage leading to the trailhead.
You can access the trailhead from Brasstown Road in Long Creek, SC.
More specifically:
Drive 2.6 miles down Brasstown Road
When the pavement ends continue 1.3 miles on the dirt road
Go right when the road forks
Go .4 miles to the parking area and see the trailhead
The road is narrow so be prepared to slow down for oncoming vehicles.
You likely won't have cell service on the drive nor the hike.
The hike is approximately 1.5 miles (round trip) to reach all three waterfalls. Upper Brasstown Falls is accessed from the left spur of the trail; Middle and Lower Brasstown Falls can be accessed from the main trail.
---
BBQ Bonus!
If you hike to Brasstown Falls on Friday or Saturday, consider stopping at Brasstown Creek Gathering Place for dinner (you'll pass the restaurant on the way to the trailhead). It's a lovely setting with outdoor seating next to Brasstown Creek. The barbecue is delicious and they have a good selection of sauces, sides, and homemade desserts.
Keep in mind: This place is just open FRIDAY & SATURDAY evenings and CASH ONLY.