Magnificent Women of the Upstate
The women highlighted in this show have impacted the arts in the Upstate in a significant way!
From painting, collage, weaving and photography to stained glass and sculpture…These Magnificent Women of the Upstate are the lifeblood of our art community. Without them and their artistic contributions, this area would not be as vibrant as it has become. The depth of talent in this exhibit–as with previous Gateway Art Center shows–can easily compare to any metropolitan area anywhere in the U.S.!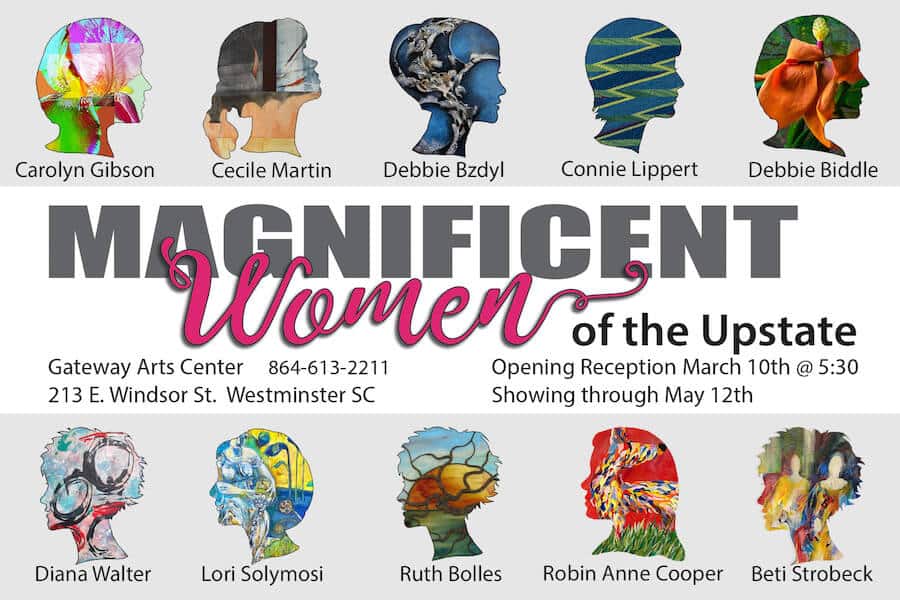 Featured Artists
Carolyn Gibson photography collage
Cecile Martin printmaking/collage
Debbie Bzdyl abstract painting
Connie Lippert weaving
Debbie Biddle photography
Diana Walter mixed media/assembly
Lori Solymosi figurative painting
Ruth Bolles stained glass art & enamel jewelry
Robin Anne Cooper painted canvas collage
Beti Strobeck  figurative/expressionist painting
---
Gateway Arts Center
Art that will touch your heart and stimulate your mind!
213 East Windsor Street
Westminster SC 29693
Gallery Hours
Tuesday and Friday: 11am – 5pm
Saturday: 11am – 3pm
Other Hours: Call for appointment (864) 613-2211
Email: gatewayartscenter213@gmail.com
Instagram: @gatewayartscenter213