This putt-putt course is an oasis with elaborate water garden and koi ponds
Miniature golf is back!  The Oasis Ranch might not sound like your typical putt-putt place, and it's not!  This lushly landscaped course will make you think you're on a tropical vacation, but it's actually in Seneca, SC (not far from Clemson University). Check it out!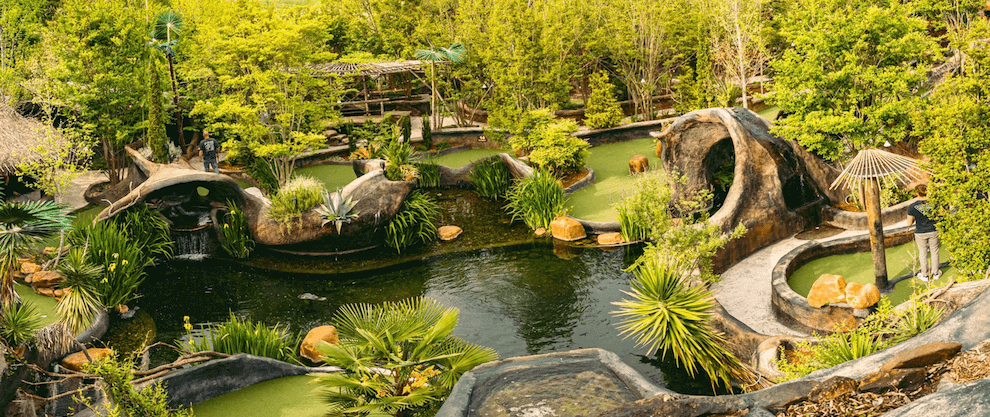 Built by John Woodruff, this course was a labor of love and took seven years to build.  It's obvious a lot of time, energy and engineering brain power went it designing the entire facility.
This 18-hole mini golf course winds through shaded gardens, koi ponds and has water features that will amaze the senses!  Much of the architecture seems inspired and reminiscent of the Flintstones.  This is where you might expect Fred & Wilma to take Pebbles for an afternoon adventure.
The course is family friendly and much of the site is wheelchair accessible.  There are plenty of ledges and rock walls conducive to sitting if you have to wait for players to finish a hole before your group can start.  Most of the course is shaded by large established trees and overhead structures.  There is so much to see and experience throughout the course. Every hole is unique and challenging in a good way.  All ages will get a thrill playing a round of mini golf here!
It's Neat at Night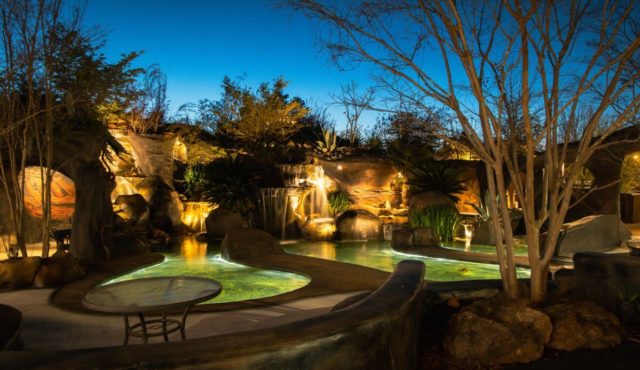 Come with friends or enjoy date night with a round of golf when the sun goes down.  Lights throughout the course create an out-of-this-world atmosphere which makes each hole fun and exciting.
---
Cost
Price is for 18 holes of Mini Golf
Adult Round: $12.00
Ages 18 and up
Kids Round: $8.00
Ages 5-17
Little Kids Round: $0.00
Kids 4 and under play free!
Garden Pass: $5
Stroll around and enjoy the view
There's an event space available to rent for special occasions.
Hours of Operation
Tuesday-Thursday
9am – 9pm
(Last start time is 9pm)
Friday-Saturday
9am – 10pm
(Last start time is 10pm)
Sunday
11am – 9pm
(Last start time is 9pm)
Closed Monday