The Palmetto Conservation Foundation is a non-profit organization that was founded in 1989 with a mission is "To conserve South Carolina's natural and cultural resources, preserve historic landmarks, and promote active outdoor recreation on the Palmetto Trail and other greenways."
The Palmetto Trail

South Carolina's premier hiking and biking trail.
When complete, this trail will stretch 500-miles across 14 counties from Walhalla in Oconee County to Awendaw in Charleston County.
The Palmetto Trail is a free, public resource available to residents and visitors of all ages and abilities for active outdoor recreation. It will link the mountains to the sea through a series of passages that connect as many public lands as possible. A goal being to reach a generation that is connected to their devices – and get them active outdoors.
Terminus in Walhalla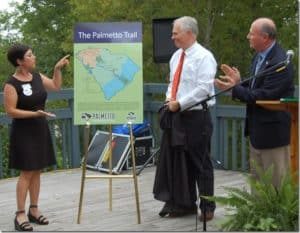 In 2016 Walhalla city officials requested an extension of the Palmetto Trail into Oconee County in order to promote healthy living and to stimulate the local economy.
A downtown terminus will provide residents with access to active outdoor recreation; and business leaders are delighted with the economic prospects of having Trail visitors in their city.
With the new extension, thru hikers could take approximately 35-50 days to walk the entire length of the Palmetto Trail.
The Stumphouse Passage
Because the trails are multipurpose, hikers and bikers are cautioned to follow trail directional signs and posted protocol for right of way.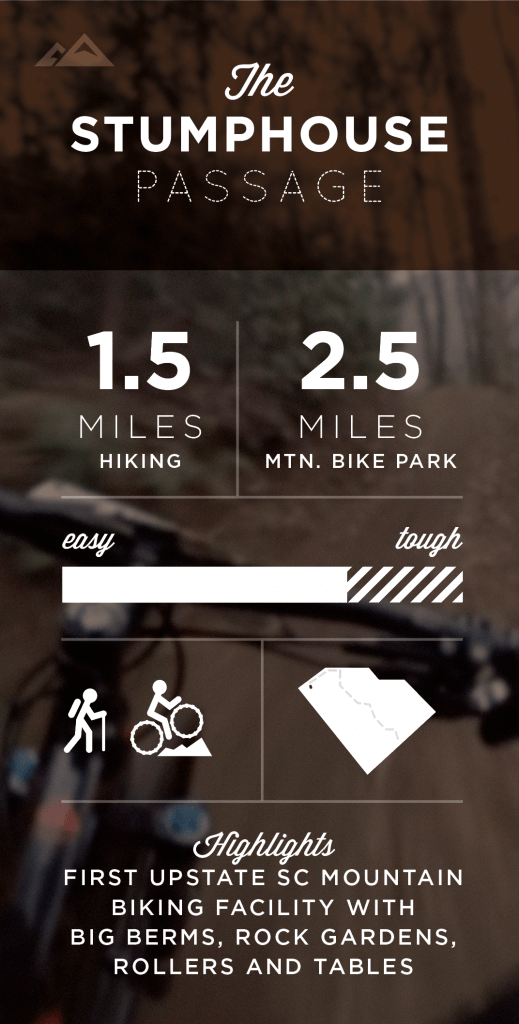 Stumphouse Mountain Bike Park
In August 2018 Walhalla city leaders received a generous contribution from Upstate Forever Land Trust and affiliate Oconee Forever to help fund continued trail building in the new Stumphouse Mountain Bike Park.
The land conservation organizations presented a $25,000 check to match project funding the city received from the S.C. National Heritage Corridor Grant Program. Construction will expand the state-of-the-art mountain biking and hiking trails in the park. The first four miles opened in May 2018 and included 1.5 miles of the mountains-to-sea Palmetto Trail, which anchors the park. The funds were raised from Oconee Forever's annual "Rally in the Valley" event featuring bicycling, music and local food.
When completed, Stumphouse Mountain Bike Park will feature more than 20 miles of beginner through advanced mountain biking trails to delight riders of all levels. Read more
We can't wait to see more dirt digging and the resulting trail systems!
For more info go to palmettoconservation.org.