A mountains-to-the-sea expedition along the Palmetto Trail
This summer the SC 7 Expedition will set out a second time to experience our state's natural wonders and raise awareness for floodwater prevention and resiliency across South Carolina.
This 30 day expedition will follow the Palmetto Trail from the mountains to the sea.  The Palmetto Trail spans 350 miles across South Carolina extending from northwestern Oconee County to the Intracoastal Waterway in Charleston County on the east coast.
The SC 7 Expedition is spearheaded by Tom Mullikin, Chairman of the SC Floodwater Commission.  Tom is a former U.S. Army JAG officer who has led members of the U.S. armed forces and veterans of the U.S. Army Special Forces community on various expeditions around the world.  Tom currently serves as Chair of South Carolina Governor Henry McMaster's SC Floodwater Commission (SCFC).  This commission aims to develop real solutions to the Palmetto State's floodwater threat.
The SC 7 Expedition is a boots-on-the-ground opportunity to experience and appreciate natural resources located across the state, with the intent of recognizing which areas need environmental protection and flood mitigation.
---
So named "SC  7" to highlight the seven geographic wonders found in South Carolina:
Chattooga River
Sassafras Mountain
Jocassee Gorges
Congaree National Park
Edisto River
ACE Basin
Bull Island
---
An Epic Adventure
The expedition begins July 1, 2021.
Tom, his followers and support team, will set off from Oconee State Park, which is part of the Oconee Passage of the Palmetto Trail.  The SC 7 Expedition will continue throughout the month incorporating various modes of travel including: hiking, biking and horseback riding to eventually reach South Carolina's coast on July 30, 2021.
Along the route there will be opportunities to discuss topics such as conservation, resiliency, adult and childhood fitness, outdoor therapy, floodwater-mitigation issues, and more to stimulate action long after the expedition ends.
Hikers, kayakers, climbers and nature enthusiasts are encouraged to join the expedition along the way to experience the amazing 7 Wonders found in our beautiful state!
---
SC 7 Expedition in Oconee County, SC:
Day 1 – Thursday, July 1
Hike the Oconee Passage of the Palmetto trail (3.73 miles)
Day 2 – Friday, July 2
Explore Stumphouse Tunnel and Issaqueena Falls; hike a portion of Ross Mountain Passage from Stumphouse Park to Ross Mountain Road (3.0 mile hike)
Day 7 – Wednesday, July 7
Raft the Wild & Scenic Chattooga River
Read more about the SC 7 Expedition, and find out how to participate along the way.
---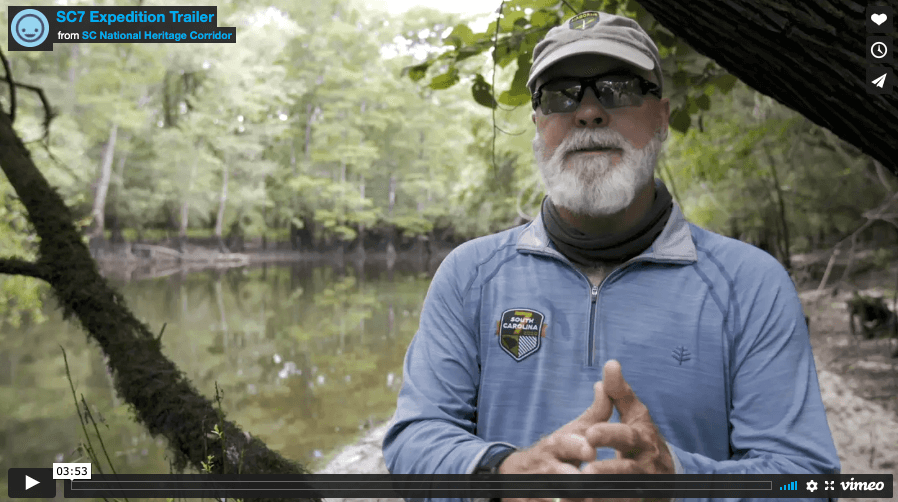 ---
Scenes from the 2020 SC 7 Expedition Kick Off at Oconee State Park