One of Oconee's Special Gems!
Located on the banks of Lake Keowee, South Cove County Park is a scenic setting with tons of amenities.
Visitors are pleasantly surprised by how much there is to do at this wonderful county park.   It's just $3 per vehicle to enter the park ($5 for boat trailers), so an entire carload of passengers can experience a full day of fun at a very affordable price.
The park provides many amenities and programs geared to all ages and interests.
There's plenty to do at this lakeside park!
Gates open 5 AM – 10 PM
Two tennis courts
Eight pickleball courts
Volleyball court
Two playgrounds
Handicap-accessible fishing pier
Night fishing pier
Three boat ramps
Sandy beach for swimming
Visitors Center/Park Office and Store
Check with the park office for the free use of fishing equipment or a large checkerboard.  Tennis and pickleball courts are first-come, first-serve, and the office also has paddles and balls free to use. (Note: a pickleball club uses the courts Monday, Wednesday, and Friday mornings.)
Camping
South Cove is an awesome place to set up your tent or park an RV. The park has 86 campsites (of which 41 are waterfront) located on a 15-acre peninsula overlooking Lake Keowee. The campsites have water and electricity and two nearby bathhouses. If you're bringing an RV, there's a dump station near the park entrance. You can rent campsites online at Reserve America or by calling (855) 622-6727.
---
Day Use Rentals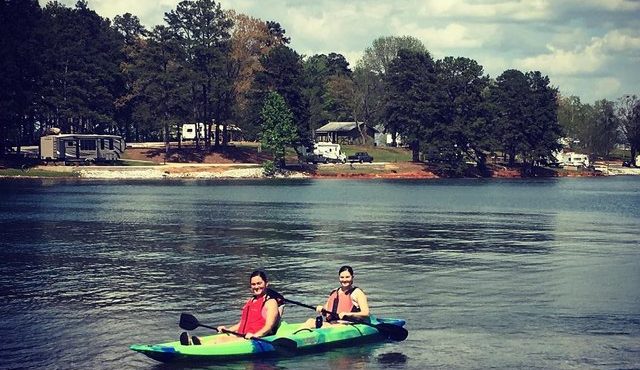 Unlimited Outfitters rents kayaks, paddleboards, and pontoon boats for an hour, four hours, or all day long.
Their booking process makes it easy to rent, sign waivers, and pay online. You can reserve before you arrive, on the way to the park, or even while onsite. They are minutes away and will have you out on the water as soon as possible. Unlimited Outfitters is pet-friendly, so you can bring your dog along.
Each rental includes a life vest, paddle, and whistle. Riders must be at least 12 years old to paddle on their own kayak or paddleboard. They also have tandem kayaks for two paddlers, which allows younger children to sit at the front.
---
Night Fishing
Our local newspaper, The Journal, recently did a story about this and has permitted us to share the article.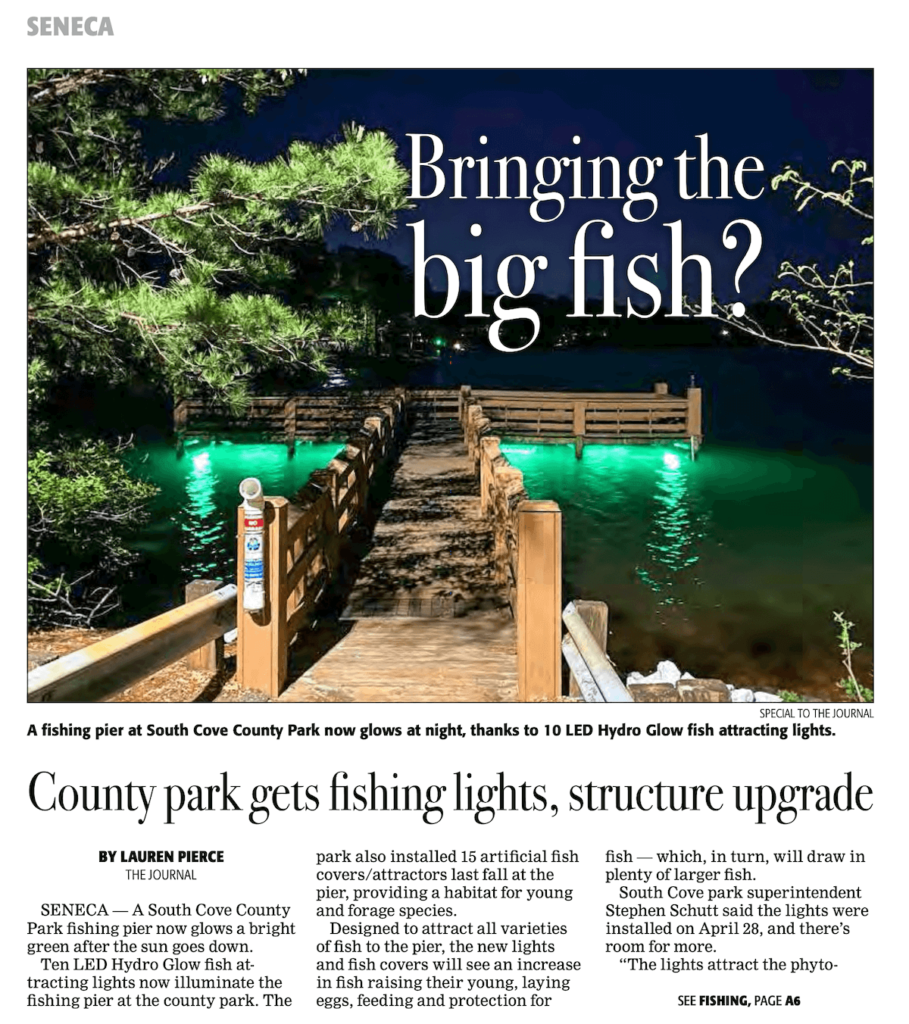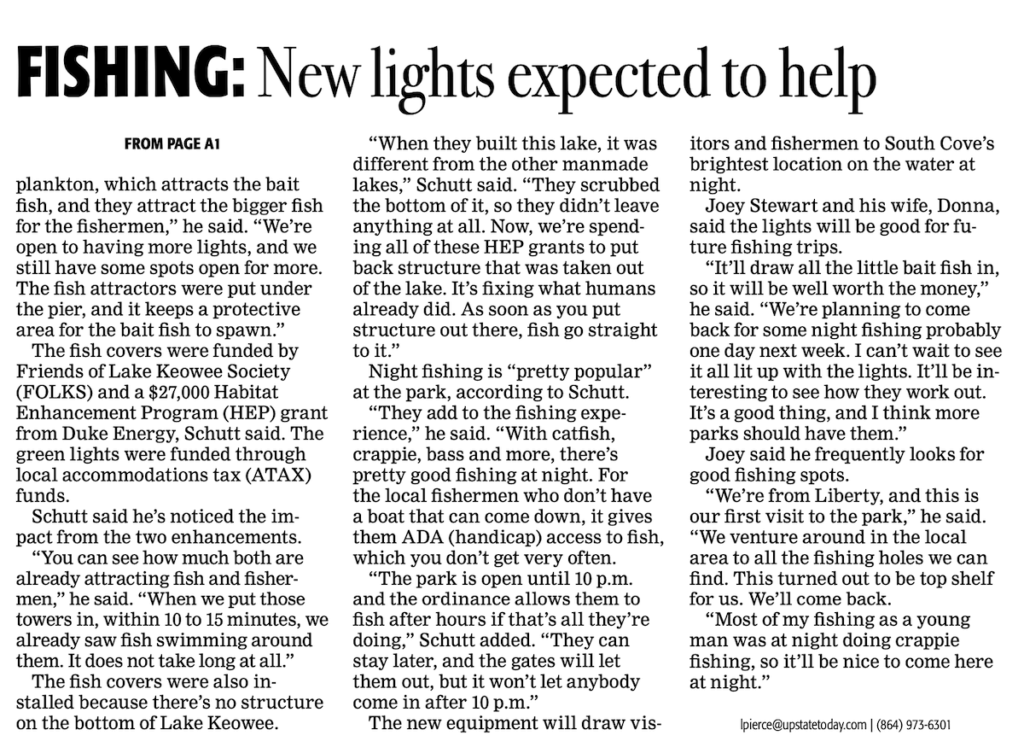 ---
Annual Pass
If you're sold on the fact that South Cove is a great place, consider purchasing an annual park pass.
The cost for an annual pass is $25 (Oconee County residents) or $50 (out-of-county visitors).
The annual pass is free for 62+, veterans or disabled (Oconee County residents) or $40 (visitors 62+, veterans or disabled).
Bonus: The Annual Pass can be used for entry into all three of our county parks!