Backyard Business
I recently visited a local entrepreneur who has a hobby business just a couple miles from my office.
Jason Flowers owns Walhalla Hammocks and Outdoors which specializes in functional and durable camping gear.
Jason has a full-time job with the School District of Oconee County but his passion is sewing. He sews camping hammocks, tarps, quilts, travel bags and pillows in a studio behind his house.
He mostly sews made-to-order hammocks. It takes about 6-8 hours to construct a hammock. But it really depends on which type of hammock the customer orders. Jason talks to each customer to find out what exactly they're looking for and he wants to know a person's body type and travel lifestyle before making them a hammock.
The lengths of hammocks range from 10′, 11′, 12′ and 13′ long. The most common size is 11′ and can accommodate heights up to 6'3″.
It takes four yards of fabric for a single layer hammock. Some hammocks have double layers with a pocket to insert a camping mat. Most of the hammocks he makes have a zipper and allow the users to zip it around themselves to keep bugs out. Hammocks are constructed with weather-resistant zippers that are 21′ long. Hammocks have loops on each end for inserting carabiner clips to hang in trees or around poles. For serious hikers, looking for the lightest possible hammock to carry while backpacking, he'll construct a single layer hammock that weighs 24 ounces.
All hammocks come with a ridgeline and ridgeline organizer. I didn't understand the concept of a ridgeline until he demonstrated rigging a tarp over one of the hammocks.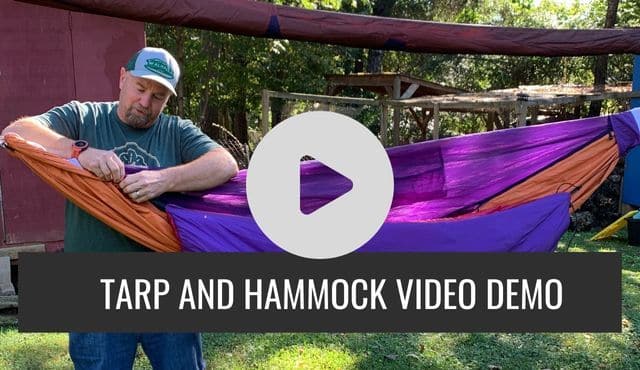 I was pleasantly surprised by how roomy and comfortable the hammock was. Depending on how you rig it, the hammock stretches so you can lay nearly flat. The ridgeline is an awesome feature that keeps the zipped bug net taut and away from the top of your body. And the integrated pockets above the hammock are great for storing a phone, flashlight, glasses and more.
---
Quilts, Tarps and Bags

In addition to hammocks, Jason sews under quilts (which hang underneath hammocks) and top quilts (which are 1/2 a sleeping bag that has a foot box). He sews quilts using Clima Shield insulation–which is the same as used in North Face sleeping bags–and it's considered appropriate for zero degree temperatures.
He makes ground mats so people have a place for their stuff while they're sleeping in the hammock as well as stuff sack suspensions. And he offers assorted sizes of tarps for various purposes. There's a hex shape that is open on both ends. Rectangle tarps have sides that can be folded if needed. Winter tarps have a zipper door and snaps.
Jason strives to find uses for all his fabric remnants so he makes a variety of bags and pouches using small scraps. You can purchase duffle bags, "zipper brick" bags, tiny bags, big bags and travel wallets.
---
Shop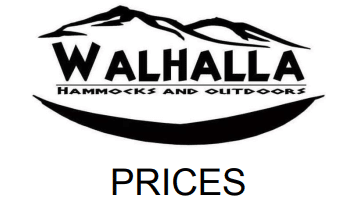 You can find a selection of Walhalla Hammocks and gear at Keowee Outdoors on Hwy. 130. Close to Christmas, Jason is planning to sell items he has in stock, so check his Instagram account for where he'll be.
Pricing fluctuates depending on grade of material selected and there are lots of ways to customize his items.
Customers can choose from 12 fabric colors and up to 18 color combinations including various thread choices. He often makes hammocks with school or university colors.
It's possible to have logos or wording embroidered on hammocks, tarps, bags, etc. Jason works with a local seamstress who does custom embroidery if requested.
There's a 4-6 week lead time necessary for custom orders.
To place an order, you can reach Jason on Facebook and Instagram.  
---
Bottom Line
It was great to meet Jason Flowers and see what he does.
The reality is Walhalla Hammocks and Outdoors is a one-man show and this guy doesn't want to over commit himself. He's made over 300 hammocks during his career, and he's not looking to grow his business. He does it because he likes it and makes hammocks and gear when he has the time.
---
---
Author: Chanda Morrison
Hi! I've worked for Visit Oconee SC since 2013. I handle this website and write articles for the blog. I produce our monthly email newsletter highlighting tourism opportunities, events and outdoor recreation in Oconee County, South Carolina.
I live in Mountain Rest, one of the more rural parts of Oconee County. I grew up in an Atlanta suburb, but have lived in Mountain Rest since 1999. I appreciate the slow pace and easy going lifestyle found in Oconee County, SC. I have three daughters and my husband owns a custom woodworking business. I enjoy promoting local happenings, waterfall hikes and playing on the Chattooga River.