More Miles of Trail Open to the Public
10 miles of multi-use hiking and biking trails at Stumphouse Mountain Bike Park.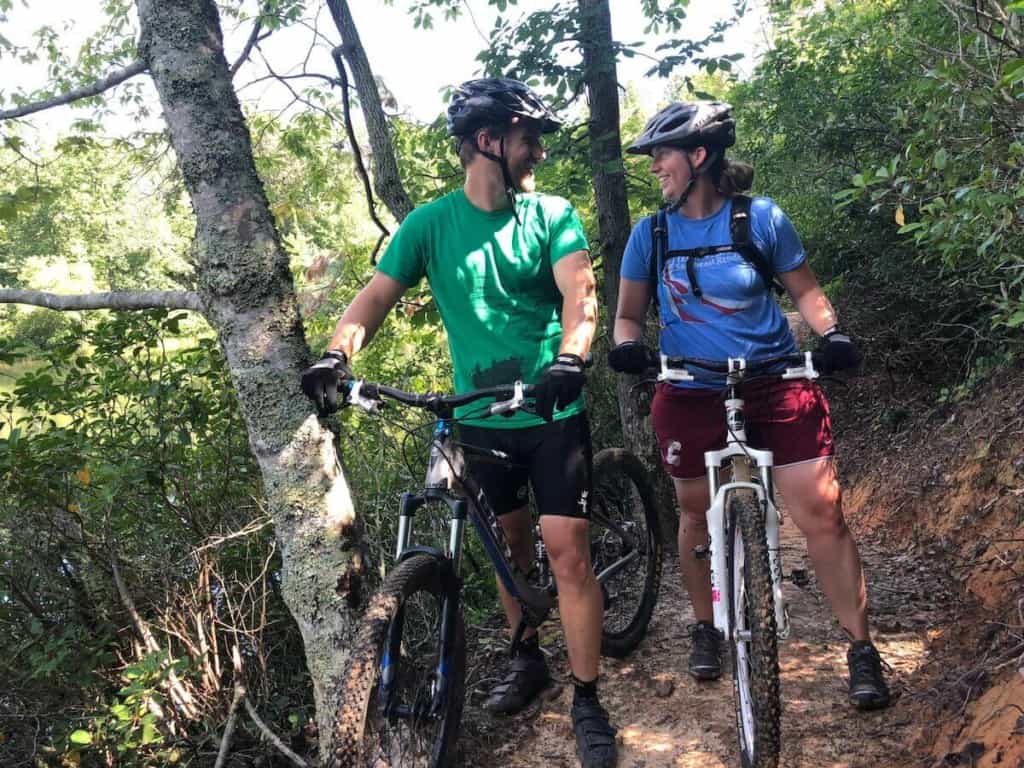 ---
Trail FAQs
What is the milage of the different trails?
6.5 miles on the purple Boundary Trail
0.75 miles on the black diamond Flow/Jump Line Trail
Additional trail miles will be added once trails are named
What types of natural characteristics and obstacles does the trail offer for mountain biking?
The trails at Stumphouse Mountain Bike Park offer mountain bikers authentically challenging, skills-based progression opportunities on public land.
The trails were built for modern riders who seek adventure and opportunities for developing their mountain biking skills.  Environmentally sustainable design and construction was the goal.
The trails were built with super elevated earthen (bermed) turns, numerous styles of earthen jumps (table tops, gap jumps) and various rolling grade dips that provide a range of riding experiences.
"B" Line (side trails off main trail) have been constructed that lead to natural elements (such as boulder fields), and provide expert level riding as well as skill progression opportunities.

Rock features, which provide a texturized trail tread, add variety to the overall user experience. Rock was incorporated in creek crossings as hardening, and provides a "splash effect" that riders enjoy.
Rock was incorporated within some bermed turns on the "B" Line trail, but there are bypass trails around these for riders who prefer to skip these advanced elements.
Wooden bridges have been incorporated where appropriate along the trail.
The trails at Stumphouse Mountain Bike Park are considered to be highly flowy, and offer a "more technical the better" experience for riders.
Follow-up read: Riding Stumphouse Mountain Bike Park article by Upcountry South Carolina.
---
Trail Use:
Everyone using the trails is asked to follow the principles of Leave No Trace—that is, leave only footprints and tire tracks, and take only pictures.
Cyclists are asked not to ride when the trails are wet.
The trails are multipurpose, hikers and bikers are cautioned to follow trail directional signs and posted protocol for right of way.
Part-time city employees maintain the common grounds in the parking and picnic areas, but volunteers are needed to help maintain the trails.  To volunteer, contact Palmetto Conservation, Upstate SORBA, or Oconee Hiking Club.
---
Park Expanded with completion of Phase II
On October 29, 2019, the Grand Opening of Phase II occurred with  six additional miles of trail officially opened to the public.
Completion of Phase II resulted in 10 total miles of trail being accessible for mountain biking and hiking at Stumphouse Mountain Pike Park.
We are grateful to all the partners who contributed to the Phase II expansion!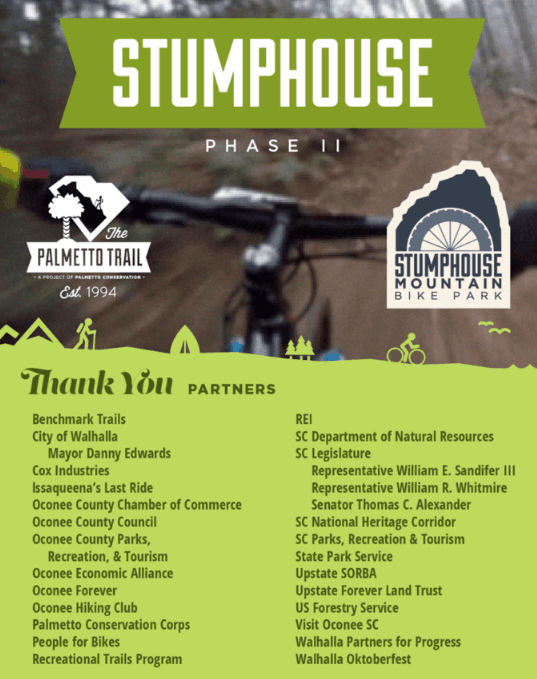 Article from of The Journal newspaper 10/30/19