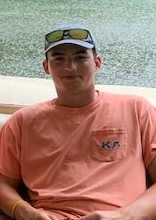 Hey!  My name is Clay Crenshaw.  I'll be a senior at Clemson in the fall, and I've had the opportunity to be an intern for Visit Oconee SC.  They've had me on all sorts of adventures to get a feel for the area so I can help with social media throughout the summer.
Last week I got to go rafting on Section III of the Chattooga River with Wildwater (pretty good day in the office right?). Prior to this, I had been rafting before on trips out West with my family, but this was my first time rafting on the Chattooga. I went in with cautious optimism, glad I wasn't sitting behind a desk all day, but thinking that the rapids on this particular section of the river wouldn't pack the punch I had experienced on previous trips.
The day started with a ride to our river access point on a rickety old school bus driven by a man who only ever stopped playing his banjo to steer the bus. Once we were on the river, our guides gave us the opportunity to swim down one of our first rapids. I had never intentionally swam down a rapid on a rafting trip before, but we had several opportunities throughout the day to do just that. At our first swimming opportunity, almost everyone on the trip jumped at the chance to take a swim and briefly escape the June heat. Despite countless hidden rocks lurking under the surface, I never got the sense that anyone on our trip felt unsafe while gliding belly up through the rapid. All 25+ people on our trip from kids younger than 10 to their grandparents trusted our guides and their knowledge of the river.
After stopping for lunch, we went over Bull Sluice, our only class IV rapid of the trip. This was far and away my favorite part of the day. Bull Sluice is easily accessible from highway 76 and given its notoriety, tends to attract a crowd. We found out pretty soon the crowds that gather here are like NASCAR fans, always hoping for a crash. To the disappointment of the spectators my raft successfully made it down, so we joined them in hoping to see some of the other rafts on our trip take a tumble. It's safe to say we weren't disappointed, and got to watch several of our fellow rafters take a swim. After everyone gave Bull Sluice their best shot, we took group photos and made our way downstream to the iconic rickety old school bus.
Rafting this section gave me a real appreciation for the character of the river. The folks at Wildwater do a great job of having a little something for everyone on all their trips. Overall, my experience on Section III was fantastic and I would recommend it for anyone who has ever had any inkling to go whitewater rafting. It's an absolutely gorgeous stretch of water with enough excitement to keep everyone in the family engaged. The best part is if you leave wanting more, I've heard Section IV is sure to deliver.