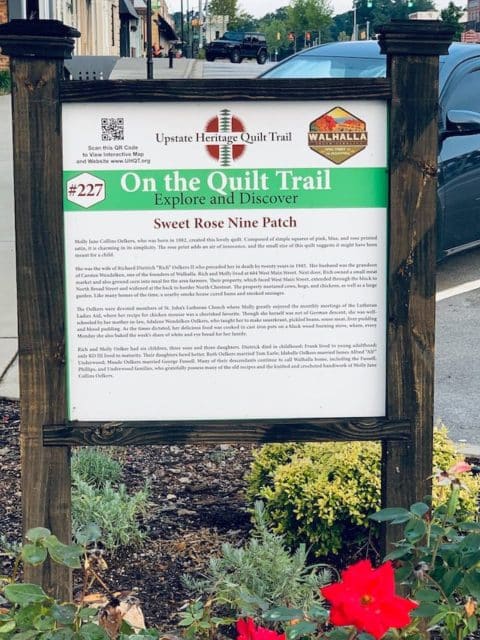 Every Quilt Tells a Story and Every Story Leads to a Discovery
Upstate Heritage Quilt Trail (UHQT) is a non-profit, all volunteer organization. Their mission is to celebrate area heritage through artistic quilt panels that tell a story with color and design reflecting the timeless tradition of quilting.
Each quilt has a history. And many of the quilt descriptions listed on the UHQT website, and through signage, offer details about family ancestors and historical references that can't be found anywhere else.
Since 2019, UHQT has created 288 (and counting!) quilt panels that lend artistic value to the buildings on which they are displayed. Quilt panels can be seen on homes, historic buildings, parks, schools and businesses throughout Anderson, Oconee and Pickens Counties. UHQT has recently expended to include Greenville County. View the Upstate Heritage Quilt website to learn the history of each quilt panel and see a map of panel locations.
Self-Guided Quilt Tours
The Upstate Heritage Quilt Trail committee compiled suggested itineraries for experiencing the quilt trail at a self-guided pace. These tour itineraries will take you to panels located in Oconee County:
---
The Process
Individuals submit a request and pay to have a quilt panel painted. A team of UHQT volunteers works together to replicate fabric quilts and paints the designs on weather-resistant panels that are installed in various places around Upstate South Carolina.
There are three quilt production studios in Upstate South Carolina. The Oconee County studio is in the Old Oakway Intermediate School in Fair Play, SC. It takes a talented team to create the quilt blocks — and they aren't necessarily quilters. They are members of the community and they are all ages with various interests and backgrounds. It's not unusual to find production team volunteers providing a quilting education program at local schools. They supervise during the design process and often have students participate in creating a quilt block panel for their school.
What does it cost to have a quilt panel made?
The Upstate Heritage Quilt Trail is a non-profit organization and their primary source of funding is through the production of quilt panels. The cost of a quilt panel covers the materials used and all manner of project-related expenses for administration, studio rental, utilities, promotion and production. Many designs are unusual sizes and have numerous colors so the price varies depending on a particular design.
Cost for 5-color panels:
2′ x 2′ panel is $173
4′ x 4′ panel is $316
8′ x 8′ panel is $661
A requirement of Upstate Heritage Quilt Trail is there must be an existing fabric quilt in order for a block to be replicated into a display panel.
Many people want to a quilt panel created and installed on their home or building they own. But unless there is a sewn fabric quilt, the UHQT production team will not create a panel.
In some cases UHQT will put people in touch with a someone who might be willing to sew them a fabric quilt. Once there is a completed fabric quilt, the production team gets to work laying out a pattern on the panel with rulers, pencils and tape. Once the design has been layout, volunteers paint the panel and sometimes a quilt owner can help paint their panel in the studio.
---
Quilt Tour App
You can download the PocketSights Tour Guide mobile app from either the Apple Store or Google Play. It's possible to search the app using "City of" Anderson, Pickens, Walhalla, or Westminster. Then choose the UHQT Tour for the city you want to visit.
The interactive map prompts you to select a route to over 270 quilt block sites.