Walhalla Performing Arts Center seeks public funding
The acts and talent that grace the stage at WPAC are phenomenal!  WPAC is a valuable asset to our community!
While no one disputes that great performances happen in the acoustically superb, visually stunning auditorium, the leadership of WPAC acknowledges the need for upgrades to enhance the patron experience.
It has been an ongoing (expensive!) process to renovate the former dilapidated grade school auditorium. Read more about this historic venue in our article Spotlight on Walhalla Performing Arts Center.
In 2003, after extensive upgrades to the building's interior, exterior and infrastructure, the facility was reborn as the Walhalla Performing Arts Center. Over the past 19 years, it has been quite a fete keeping up with repairs and operating costs associated with this 100-year old structure. All the operations at WPAC are supported through ticket sales, fundraisers, grants, foundations, donor support & rental income.
Facilities Upgrade Campaign
This year, WPAC is embarking on a fundraising campaign to enhance the facility even further.  The goal is to create an awe-inspiring experience in balance with the building's historic charm. An infusion of funds are needed to enhance the concession area, restrooms and other areas to better serve the audience and attract world class entertainment for decades to come.
Please consider donating to the WPAC Facilities Upgrade Campaign.
---
WPAC First Annual Auction 4/1/22
At The Oconee Country Club in Seneca on Friday April 1st at 9:00am.
Auction items will be available to view and bid online from Wednesday, March 30th until the auction ends on Friday, April 1st.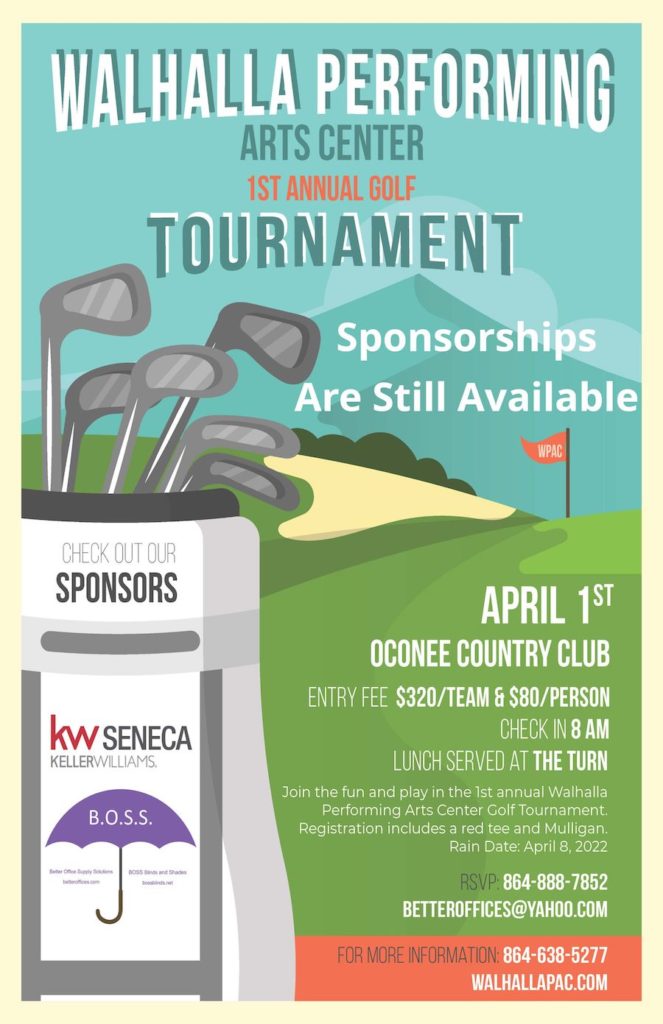 ---
The WPAC is a stand alone 501(c)3 non-profit organization, governed by a volunteer board of directors.