More than a waterfall, Stumphouse Park is a great place to spend the day!
Issaqueena Falls is one of Oconee County's most popular destinations and is accessible from inside Stumphouse Park. The park offers family-friendly activities and amenities, including a covered bridge over a creek, an eerie Civil War-era tunnel, dual-use hiking/mountain biking trails, picnic areas, and plenty of nature!
---
Travel Tips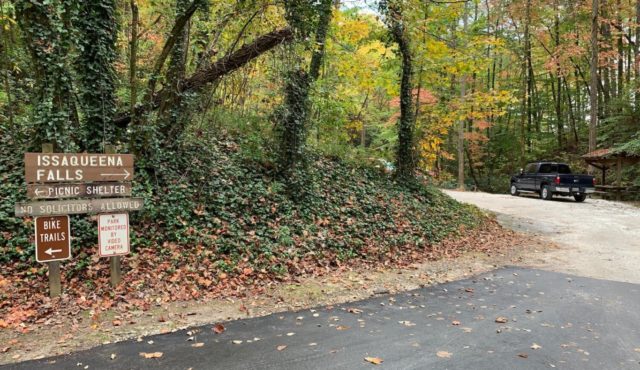 The park can be confusing to new visitors, so we hope these insider tips help you navigate the area upon arrival.
Stumphouse Park is maintained by the City of Walhalla.
Park admission is $5 per vehicle via a self-pay station. It might be tempting to blow on by, but the money helps employ staff and maintain the park.
From the pay station, you'll wind down a hill.
Turn right for Issaqueena Falls, picnic tables, bike trails, and the Blue Ridge Railroad Trail; continue straight to park closer to the entrance for Stumphouse Tunnel.
You will see signs (pictured here) and need to turn again to reach parking areas.
You can get to amenities from either parking area, but the parking lot on the right is closer to Issaqueena Falls and the trailhead for the Blue Ridge Railroad Trail.
The parking area to the left is closer to the bike trail entrance, bathrooms (handicap accessible), large picnic shelters, picnic tables, gazebo across the creek, and trash receptacles.
Legend of Issaqueena
The falls are named for a Creek maiden who hid on one of the falls' ledges to avoid capture during an Indian attack. You can read more about this on a sign near the trail (photo below).
This amazing video is from one of our favorite drone videographers, Casey Shoub, a.k.a. Upstate Outdoor Adventurer. Casey was able to film overhead and really captured the splashing water and lush green forest surrounding the waterfall. The natural setting is likely similar to what maiden Issqueena experienced centuries ago.
Issaqueena Falls
If you can park in the parking area to the right, you will be close to the falls, but there aren't many spaces. You may want to drop off anyone in your group with limited mobility, then park in the lot on the left side (this won't set you back much as it is a short walk between parking areas).
From the parking lot (right side), it's an easy 5-minute walk to a viewing platform that looks out over the top of Issaqueena Falls. In the winter months, you'll be able to get a pretty good view of the falls from the platform. But when the leaves return in spring and summer, you won't be able to see as well.
It is possible to walk down to the bottom of the waterfall. It is tempting to want to get a better view, and there is a well-traveled dirt path, but it is quite steep, difficult, and dangerous! You'll have to climb over huge rocks and walk over exposed tree roots. This is not a recommended hike for people with small children, dogs, or mobility issues.
Amenities
When you turn left at the signs for Picnic Shelter and Issaqueena Falls, you'll find these amenities. You will also be closer to the entrance to Stumphouse Tunnel, which is up the hill from the picnic pavilion.