Maybe you're wondering whether to visit Lake Jocassee this time of year?
Good question!
Kay Wade from Jocassee Lake Tours puts it this way: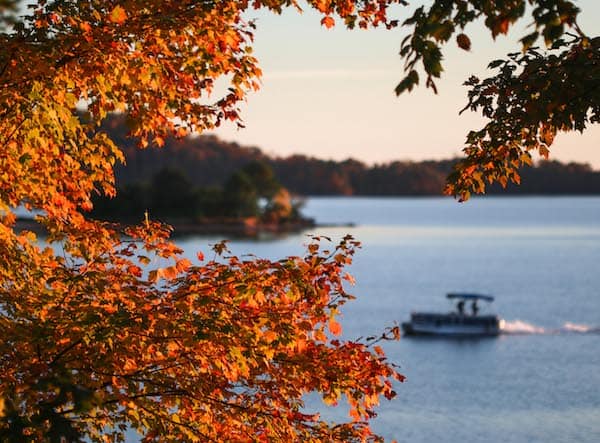 Peace
What is this magic of Lake Jocassee that unknots our anxiety and loosens our stress, replacing it with tranquil calm?
Maybe it's the reflection of water dancing under overhanging rock.
Maybe it's the sharp clean scent of pines.
Maybe it's the thrill of seeing—and hearing– a belted kingfisher swooping across a shadowed cove.
Maybe it's the way sunlight hits a patch of reddest red in a black gum tree.
Maybe it's the calming sound of falling water cascading over mountain rock.
Maybe it's the charm of a silvery-blue butterfly resting peaceably on a human hand.
Maybe it's the wild and haunting call of a loon across deep water.
Maybe it's the awe of being surrounded by mountains more ancient than memory, and by water more ancient than mountains.
That tinkling sound, as one guest put it, is the sound of stress falling off our shoulders. -Kay Wade
---
Kay Wade and her husband, Brooks, publish a weekly newsletter highlighting outdoor activities along the Blue Ridge Escarpment.  Above is an excerpt from The Blue Wall Weekly October 19, 2020.