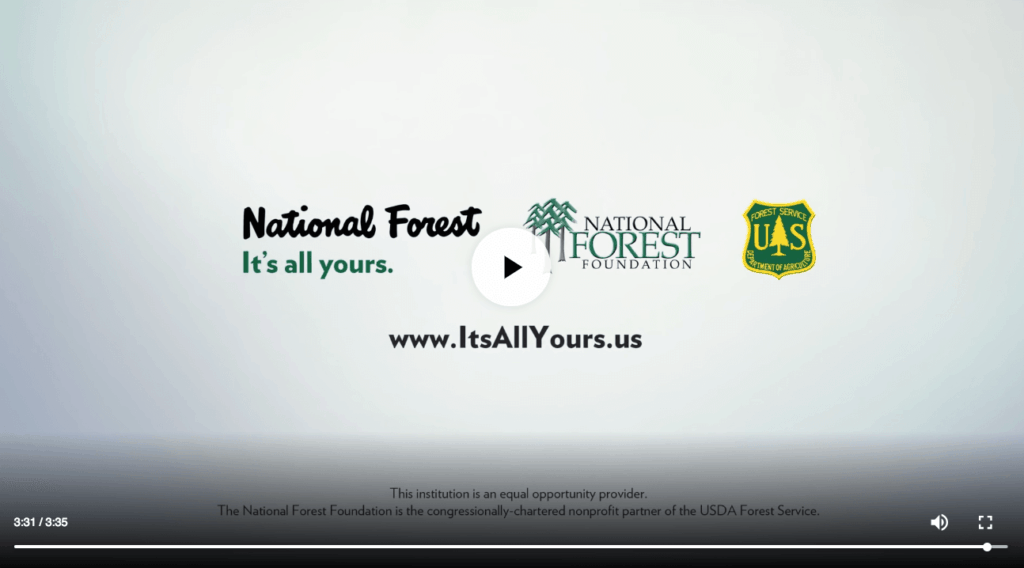 The Andrew Pickens Ranger District in Oconee County, SC, is part of Sumter National Forest
Visit Oconee SC Top 5 Hikes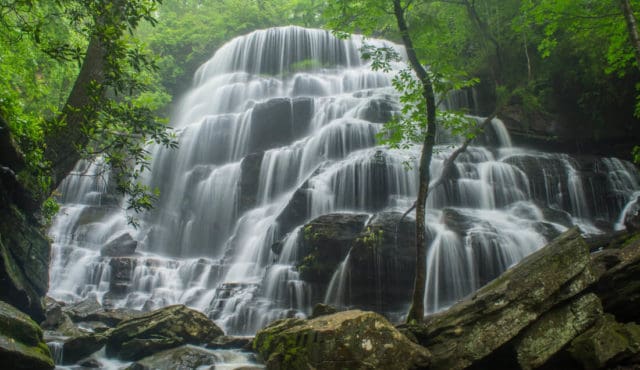 An easy 2.5 mile hike from the Yellow Branch Picnic Area
At the end you'll find a beautiful 50-foot vertical waterfall with many cascades
Picnic area offers a short 0.4 mile Nature Trail following Yellow Branch creek that is easy adventure for young children
Watch for pickerel frogs, salamanders and other wildlife along the way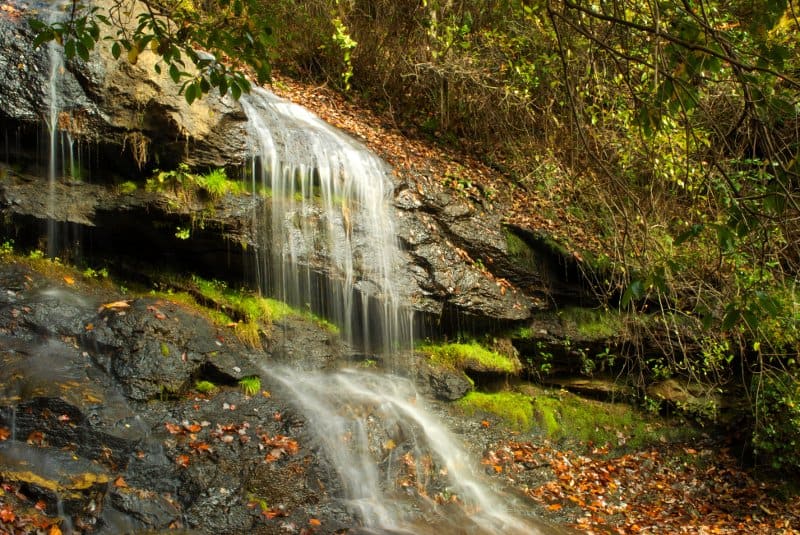 One of the finest beginner trails in Oconee County!
A moderate 3.5-mile hike with a 75-foot waterfall tucked away along the route
If you start at Cherry Hill Campground, the trail drops 1,100 easy feet over its length
If you seek a more challenging hike, start at the southern trailhead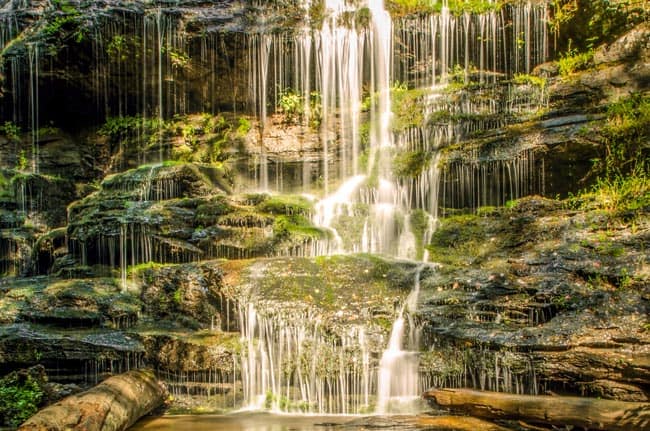 A stepped 60-foot waterfall, forms from headwater atop Station Mountain
An easy 30-minute hike through a gorgeous Appalachian cove takes you to the waterfall
In the spring and summer, countless wildflowers bloom along the trail. You may see trillium, mayapple, pink lady's slipper orchids, bloodroot and redbud.
This is a great hike for the family!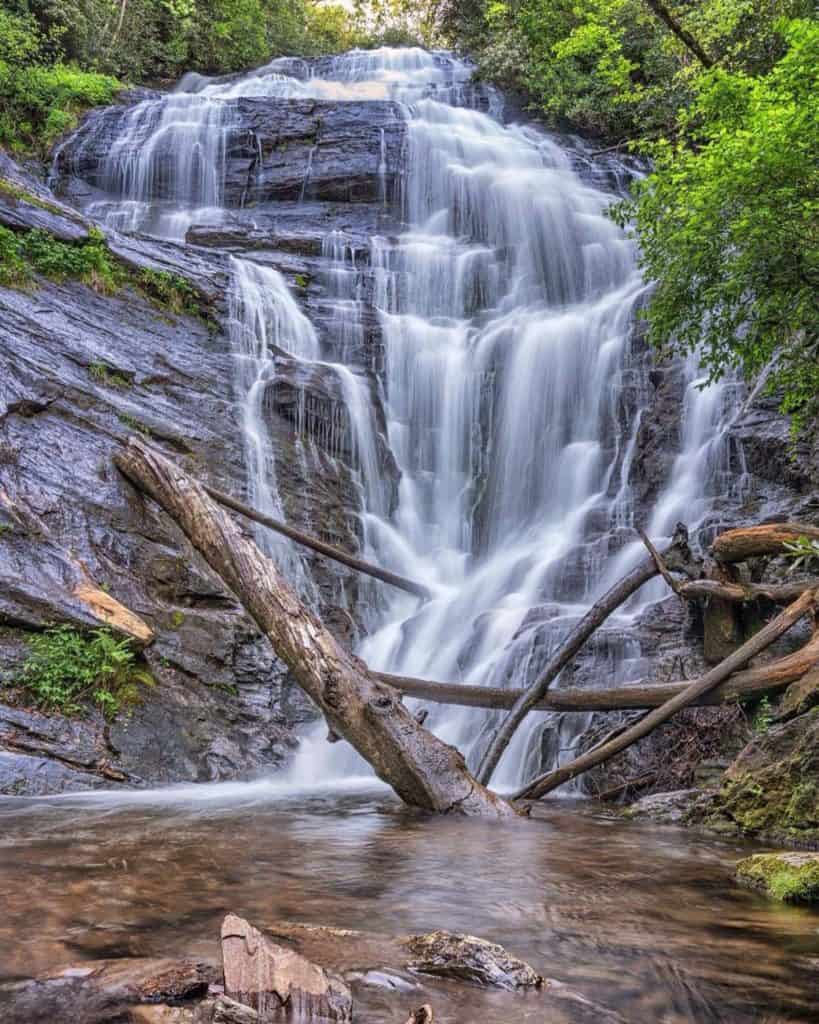 Tumbles 70-feet through a luscious laurel-filled gorge on King Creek
After a moderate 30-minute hike, you will reach a spot where you can relax and enjoy the spray from the falls
Perhaps it is the backward slant of the rocks, but in any case the drop appears to be much higher than 70 feet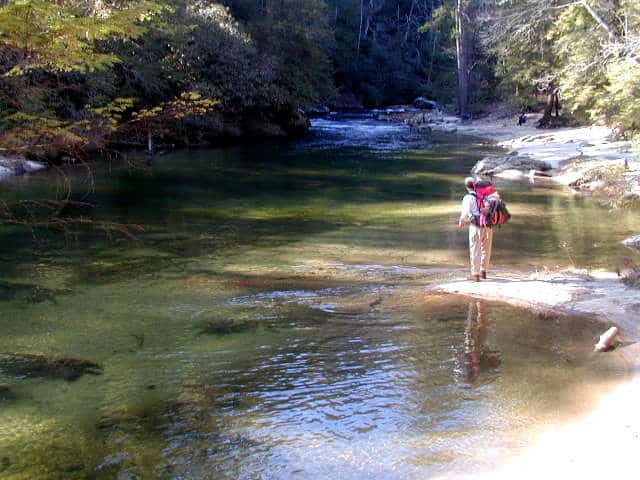 Meanders for 15.5-miles along the spectacular Wild and Scenic Chattooga River
An epic hike you will never forget with the journey itself being the destination
Connects to a system of trails in Georgia and North Carolina
Many access points for easy day-hiking or pack it in for a night under the stars
Local outdoor adventure store, Twenty8West in Walhalla, sells clothing, accessories and gear to make your hike a success.

WATER Consider a hydration bladder for your pack. Specialty backpacks can comfortably carry an extra 3 liters and as you use up your water, you won't have to deal with the bulk from empty containers.
HIKING SOCKS A good hiking sock is paramount. Padded merino wool blend socks are made specifically for hiking. Darn Tough and Fits are brands that make quality socks to prevent bunching up or "hot spots" that cause blisters.
FOOT CARE KIT No matter if you're hiking a short 1 mile "there and back" trip to see a waterfall, or grinding out the miles on the Foothills Trail, you need to keep your feet happy! Blisters happen, but to the unprepared, this can be disastrous. Moleskin applied to a area of friction will prevent a blister form forming, or can be trimmed to pad and off load an already formed blister.
PROTECTION FROM THE ELEMENTS This one calls for a little forethought. Sunny? sunglasses, hat, and sunscreen. Are you a bug magnet? A five dollar bottle of bug repellant can become priceless when compared to the constant swatting and itching that can occur, not to mention decreasing the risk of Lyme disease and West Nile. Rain in the forecast? Cold, wind, snow… you get the picture.
CAMERA Capture the joy and beauty only found when you step away for the day to travel into God's great outdoors.
Go on, go hike in YOUR National Forest!
Go to our HIKING page to see more great places to hike it and like it!