Lake Jocassee – Salem, SC
One of the areas most sought after destinations!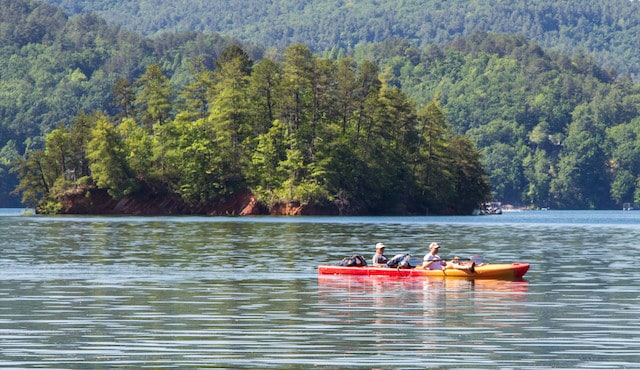 Lake Jocassee is a beautiful southern lake known for its undeveloped shoreline and clean water. The lake is bordered by glorious green forests and offers refreshing outdoor pursuits that you can enjoy all summer long.
No matter how hot it gets, you can beat the heat in the clear, cool lake. Let the kids swim at the sandy beach. Rent stand up paddleboards, flatwater kayaks, life jackets, or water gear.
Love to fish? Fishing guides can take you to the best fishing spots. The lake's visibility makes it popular for scuba diving, and several companies offer Jocassee dive trips.
Not the type to get wet? Don't sweat it. Go hike in the shady woods along the Oconee Bells Nature Trail, Bear Cove Trail, or access the Foothills Trail. Or don't do anything at all. Just sit, relax, and enjoy being at Lake Jocassee.
Lake Jocassee Points of Interest
Tourist Tips
Lake Jocassee is only accessible from inside Devils Fork State Park
Summer Hours: 7am – 9pm
Park Office is open 9am-5pm
Park admission is required

Adults $8/Seniors $5 (age 65 & older)/Children $4 (ages 6-15)/Under 5 free

A limited number of parking spots mean this place fills up early!

Vehicle capacity (as of May 1, 2020): 172 trailers, 115 single cars
Get there by 9:30am for the best chance of parking
You can pay a fee to reserve a spot online; parking reservations must be made at least 2 days in advance

You'll be a good ways out.

If you plan to stay at the park all day, pack a picnic lunch, or purchase snacks from the park store.
Drive Times
Lake Jocassee is popular with visitors traveling from these cities
From Greenville, SC: 1 hour 20 minutes
From Columbia, SC: 3 hours
From Charlotte, NC: 3 hours
From Atlanta, GA: 3 hours
From Charleston, SC: 4 hours 30 minutes
From Raleigh-Durham, NC: 5 hours
Area Lodging
You can find neat places to stay, but keep in mind: the area is not saturated with hotels or tourist attractions, which is a good thing! Overnight accommodations typically book months out.
The closest options are located within Devils Fork State Park (rental villas, RV and campsites).  Private RV sites and dozens of vacation rental homes are located near the lake (on Airbnb or VRBO search "Salem, SC").