Lofts Over Main is conveniently located within walking distance to restaurants, bars, and stores in the heart of Walhalla, SC. This location is just a few blocks from Walhalla Performing Arts Center, which makes it the ideal place to stay if you're in town for a show.
Historic Charm with Modern Amenities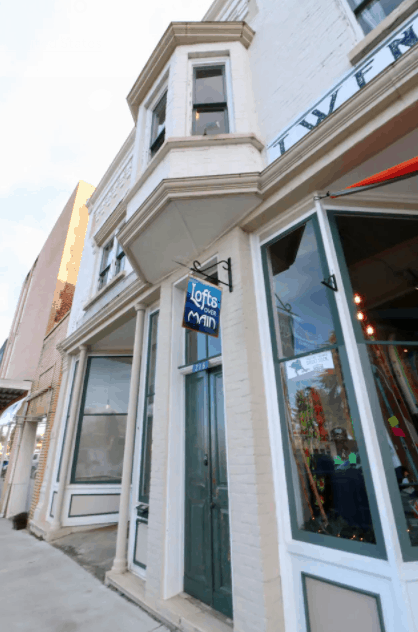 The Lofts are two unique lodging spaces located above the Twenty8West outdoor store.
Lofts Over Main is owned by Jared & Meghan Ketterman and was renovated in 2017. The owners updated the rooms and added elements that lend historical charm and old-time ambiance. Each loft has modern amenities, including WiFi and a full kitchen.
The building dates back to when German immigrants developed the town. In their past lives, these rooms were shop keepers' quarters that housed families who owned and operated stores below.
Jared Ketterman purchased the building in 2015. When he bought the building, the upstairs was in disrepair. For decades the space had been used for storage and was severely neglected. Initially, Jared focused on renovating the first-floor space with the intent of opening an outdoor store providing gear to adventure seekers. Once that space was completed, he set out to salvage the apartment spaces upstairs with the vision of offering them as vacation rentals.
---
The Lofts
You can choose to stay in the Chattooga Studio or the Walhalla Studio. Both lofts are wonderfully appointed and offer a comfortable and romantic night's stay. These rooms are ideal for couples who want to be within walking distance to the new businesses popping up in downtown Walhalla. Lofts Over Main is the only place you'll find centrally located to the sights and sounds found in this small town.