The Walhalla Civic Auditorium has undergone a rebranding process.  The venue is now known as the Walhalla Performing Arts Center and anticipates attracting even more theatrical stage performances.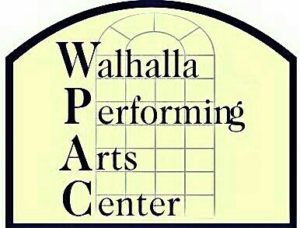 The auditorium offers 453 seats including 140 seats in the balcony.
The 100 seat reception hall is available for rental & serves as the bar & concession area during events.
Above the auditorium, there is a second floor what has 14 viable classroom size rooms.  This part of the building has not been updated with new wiring, but there are plans to modernize the rooms to create studio spaces.
History
Originally a grade school built in 1903, the auditorium was added in 1913. When the building no longer suited school district needs, it sat empty until a group of citizens began discussing how to breathe new life into a wonderful building.
In 1993 the Walhalla Auditorium Restoration Committee created a charter, obtained a lease and a 501(c)3 designation and restoration began.
The first performance happened in August 2003 when Emile Pandolfi played to a full house.
People instrumental in repurposing this venue:
Russ Price City of Walhalla
Brent Taylor City Administrator
Phil Shirley Oconee County Parks, Recreation & Tourism
Educators who once taught in the building including Maxie Duke & Jean Phillips helped bring the idea of an arts facility to fruition