Truly a rare southern belle, these petite wildflowers grow in very few places.
You can find them blooming in just the right conditions here in Oconee County!  The bloom season is the middle of March through early April.
Wow!
Oconee Bell, Shortia galacifolia, and sometimes referred to as Acony Bell, is said to be one of the rarest wildflowers in the United States.
Discovered by French botanist Andre Michaux in 1787, the Oconee Bell grows only in a few isolated locations in the southern Appalachians.
In fact, Oconee County, SC is one of only seven counties in the whole country where the delicate flower is found growing wild.
90% of all Oconee Bells bloom in the Jocassee Gorges region.
When the area was flooded to fill Lake Jocassee in 1973, approximately 60% of the Oconee Belle population was lost.
Streams that feed Lake Jocassee, and upper Lake Keowee, still have abundant populations of the plant.
Our Native American ancestors, the Cherokee, considered Oconee Bell to be a lucky omen since it grew close to the waters edge.
According to Cherokee legend, it was the Oconee Bell that led them to the valley of the "Lost Maiden," otherwise known as Jocassee.
Gillian Welch honors the Acony Bell in a song on her album Revival.
In 2012 the Oconee Bell was highlighted in a special publication of National Geographic magazine.
---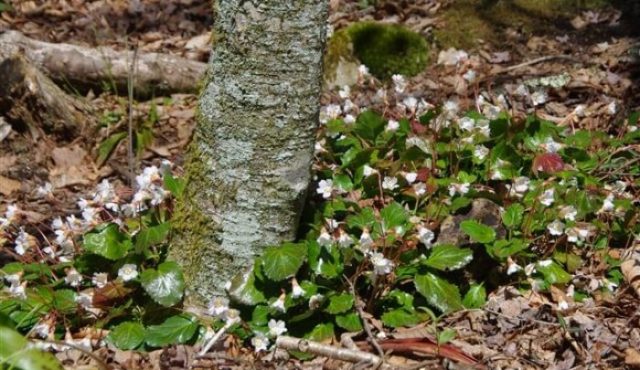 You can see Oconee Bells growing wild along the Oconee Bell Trail at Devils Fork State Park.
The Oconee Bell Trail Guide is a free online resource with plant illustrations and information that is useful when hiking along the trail at Devils Fork State Park.
HEADS UP
Devils Fork State Park is very popular.  Expect long lines when entering the park from 11:00am-4:00pm on weekends and holidays.
Once the parking lot is full, visitors are turned away. The park opens at 7:00am.  ARRIVE EARLY for the best chance of park entry.
Admission required to enter Devils Fork State Park:
Adults $8/ Seniors $5 (age 65 & older)/ Children $4 (ages 6-15)/ Under 5 free
---
Video "A Refuge for Oconee Bells" produced by Naturaland Trust