The Ross Mountain Passage is the 30th passage to be completed along the Palmetto Trail!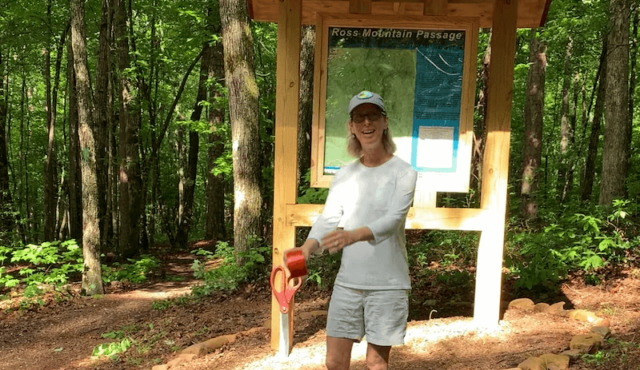 On June 9th, the staff from Visit Oconee SC attended the dedication and ribbon-cutting that officially opened this 4.9-mile passage.
What Is a Passage?
"Passage" is the term given to each section of trail along the 500-mile Palmetto Trail that spans the state of South Carolina from the mountains to the sea.
The Ross Mountain Passage connects the Stumphouse Passage and allows access to the Stumphouse Mountain Bike Park, to Oconee State Park and the Oconee Passage.
---
Ross Mountain Passage Details
You'll traverse through hardwoods within the Sumter National Forests' Andrew Pickens District. Ross Mountain refers to the fact that part of the trail skims the slope of Ross Mountain (elevation 1,804 feet). Ross Mountain Passage is well marked with plenty of signage. The passage meanders through the shady forest, offering numerous spur trails to explore.
Length: 4.9 miles
Connects to: Oconee Passage and Stumphouse Passage with access to trailhead along the Foothills Trail
Dual-use: Hiking and mountain biking
Difficulty: Moderate to difficult
Restrictions: No motor vehicles; no equestrians
Trail markings: Trail signs and yellow blazes
FYI: Water is not available on this trail. Pack food and water. The water from creeks must be treated or filtered.
Fees: Admission required into Oconee State Park

$6/Adult
$3.75/SC Seniors
$3.50/children 6-15 yrs.
Free 5 yrs. and younger
---
Photos Taken Along a 1-mile Stretch of the Ross Mountain Passage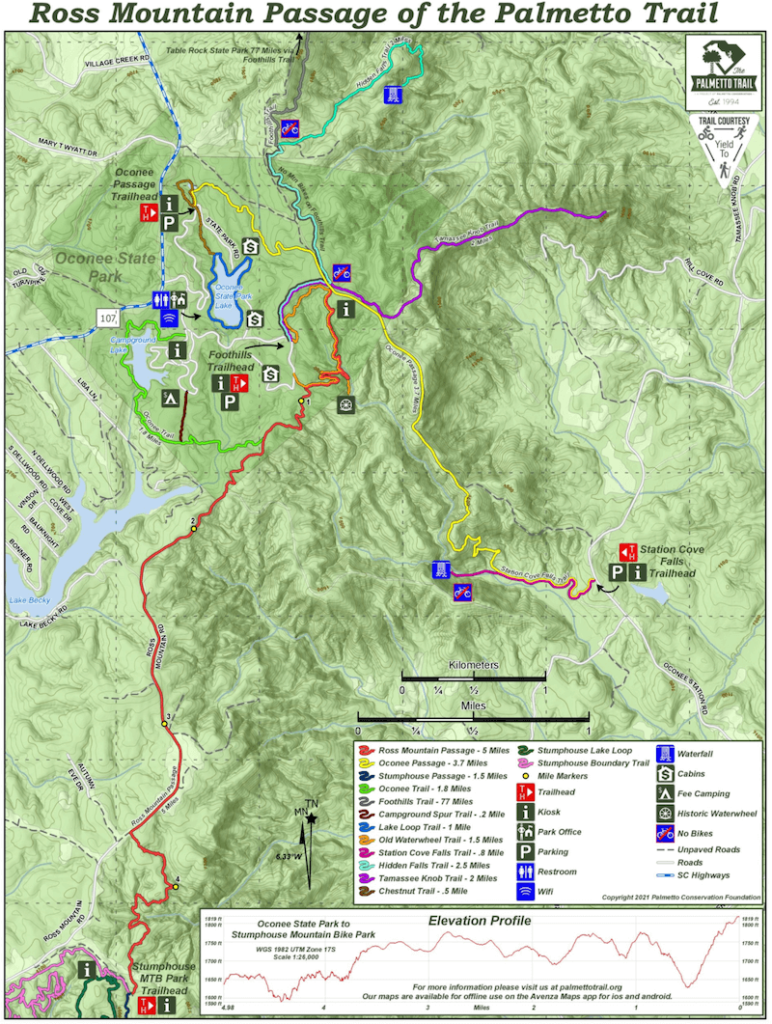 ---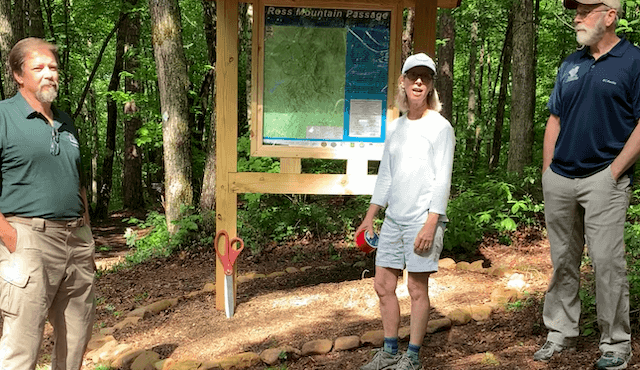 Within Oconee State Park, you can visit the historic water wheel site that the Civilian Conservation Corps constructed and connect with the Foothills Trail. In addition, various trails within the park lead to a campground, cabins, and a day-use area. Hikers can choose to stay in the park or travel onward to the Oconee Passage of the Palmetto Trail.
624 State Park Road in Mountain Rest, SC (864) 638-5353
HOURS
Sunday to Thursday 7 am – 7 pm
Friday to Saturday 7 am – 9 pm
Park Office is open Monday to Sunday 9 am – 5 pm
For Reservations: reserve.southcarolinaparks.com/oconee
722 King Street in Columbia, SC (803) 771-0870