Looking For a Place to Horse Around?
Chattooga Trails Bed and Barn is a terrific destination offering a variety of accommodations and amenities suited to the horse crowd. This is the only private horse camp in South Carolina.
When you stay at Chattooga Trails Bed and Barn, you won't need to load the horses onto trailers or ride them on paved roads, and you'll have direct access to trails from the property!
Bed & Breakfast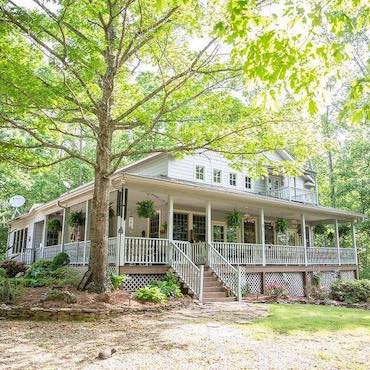 If you're looking for all the comforts of home, you can stay in the main house. Kes and Jay Crumpler welcome you into their home and have a wonderfully wooded retreat for you and your horse companions!
Rooms
Accommodates 12. There are two bedrooms upstairs along with a common area. One room has two full-size beds; the other has a queen bed with a sitting area and porch.
For families or groups, there's a basement apartment that sleeps six. It has a full kitchen, living room, bathroom, and a large bunk room with a queen bed and two twin beds that each have a pull-out trundle.
On weekends, if you rent a room, you have the option of enjoying a home-cooked breakfast (advance notice required and additional charge). Get rooms and rates here.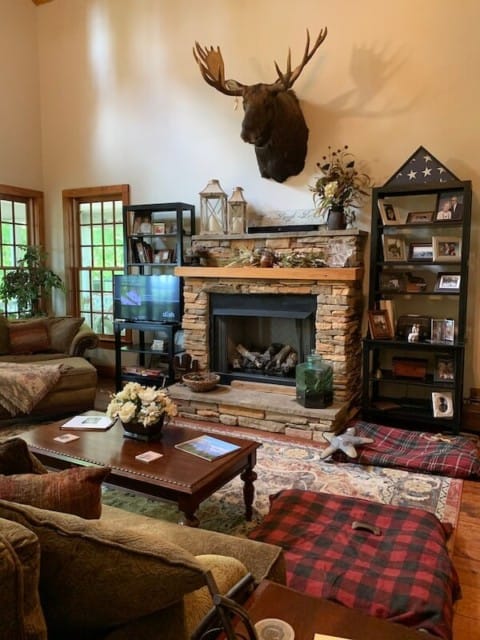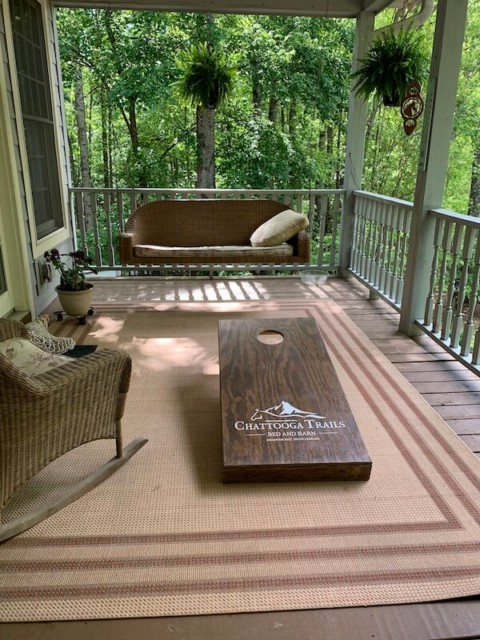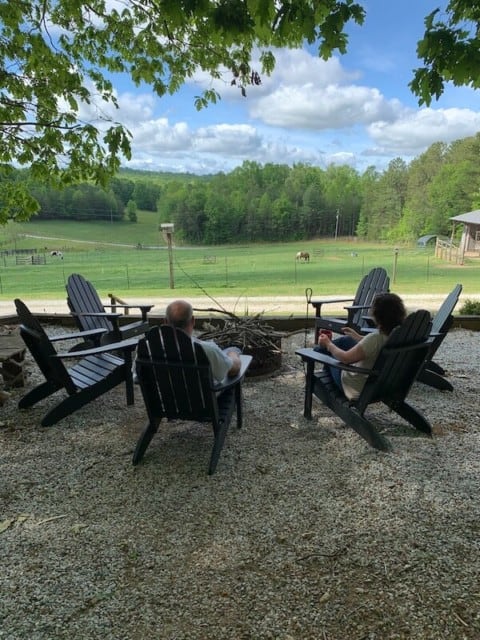 RV Sites
Chattooga Trails Bed & Barn can accommodate living quarter horse trailers up to 42′ and groups of 6 trailers traveling together.
Sites have water and power (no septic). RVs must be self-contained, as there is no bathhouse. The cost is $30 per night for RV sites.
Your Horses Will Love It!
Horse accommodations include options of paddocks, pasture, and barn stall.
Horses can stay outside the RV, or in their shaded paddock. Six oversize paddocks rent for $10 per horse per night.
Chattooga Trails B&B is ideally suited to accommodate 12 horses, 2 in each paddock, but the number of horses depends on how they interact with each other. People often bring electric roping to divide the paddocks if necessary.
The Trails
You can head out in the morning and ride all day!
You can ride 30 miles of designated horse trails managed by the U.S. Forest Service. Horse trail maps of the area need refinement, so get Kes and Jay to point you in the right direction.
Rocky Gap/Willis Knob Horse Trails*
Commonly referred to as "Whetstone Trail System," the Rocky Gap Horse Trails intertwine within the Sumter National Forest. You can ride from Chattooga Trails to these primitive mountainous trails that take you along the Wild and Scenic Chattooga River (which is the border between South Carolina and Georgia).
From where you're staying, you can head in various directions so you can choose different destinations each day.
You'll find small creeks and waterfalls along the trails, and there are three major ford crossings on the Chattooga River where you can cross into Georgia:
At Adeline Ford (northernmost crossing)
Big Island (middle crossing)
Earls Ford (farthest downriver crossing)
* Note: On the South Carolina side of the Chattooga River, the trails are part of the Rocky Gap Horse Trail. When you cross the Chattooga River into Georgia, you'll be on the Willis Knob Horse Trail.
If Chattooga Trails Bed and Breakfast sounds right for you, add it to your itinerary, along with other points of interest in the Mountain Rest area.
A truly unique place to stay!