You'll be surprised what can be found in these woods!
Upstate Mountain Adventures
Visit Stumphouse Park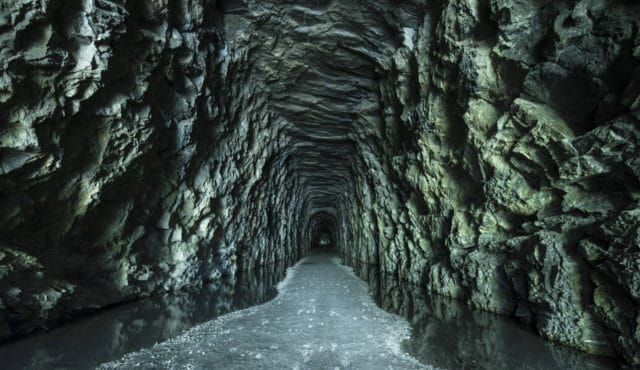 Stumphouse Tunnel is a neat place.  Bring a phone or  flashlight because once you step inside it gets dark pretty fast.
Tunnel construction began prior to the start of the Civil War but was never completed.  Irish immigrant laborers worked for nearly 20 years, but the tunnel–meant to connect a rail line from Anderson, SC to Knoxville, TN–was never finished.
Today visitors get a thrill venturing inside.  You'll marvel at how difficult it must have been to blast and drill through the granite without modern machines and power tools.  After all those years of hard work, they were only able to excavate 1,617 feet into the mountainside.
The Atlanta Journal-Constitution suggests that Issaqueena Falls and Stumphouse Tunnel make for two photographic adventures and we agree!
Go to our Stumphouse Park page for additional information about what the park offers including Issaqueena Falls.  We recently posted this article that highlights Stumphouse Mountain Bike Park.
Hike to Yellow Branch Falls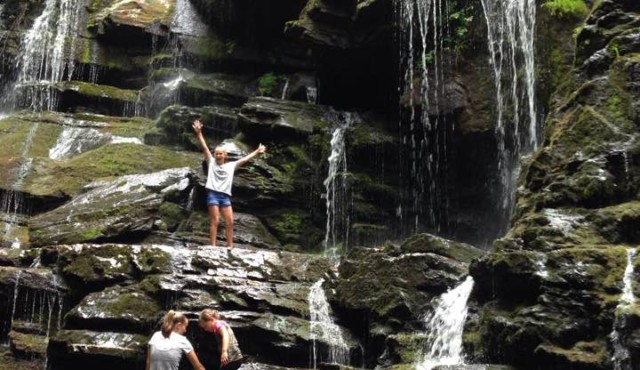 Yellow Branch Recreation Area is on the opposite side of the road from Stumphouse Park.
It's a 1.3 mile hike to the falls that takes approximately 45 minutes each way.  You'll cross over creeks and be in the shady Frances Marion and Sumter National Forests the whole time.
Once you arrive, the 50 foot waterfall will delight and amaze you!  Kids will want to scamper up the rocks, so keep a close eye on them.
Pack lunch or a snack for when you get to the waterfall.  Or picnic under the historic Civilian Conservation Corps (CCC) shelter which is located near the parking area.
Go Fishing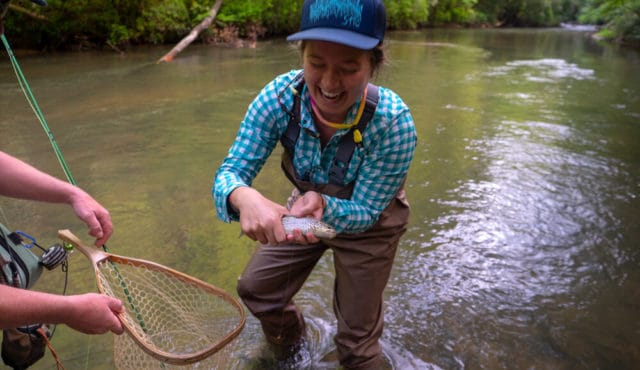 The Chauga River is stocked with Brown, Rainbow and Brook Trout raised at Walhalla State Fish Hatchery (which is also located in Mountain Rest).
There are numerous places to fish on the Chauga. It's a great river for fly fishing, spinning real or cane pole.
Don't know, but want to learn how to fly fish?  Hire a guide to take you to the river and provide all the gear, show you how to cast and you're sure to catch some trout before the day's end.
We recommend Chattooga River Fly Shop.  They offers guided fishing on both the Chauga and Chattooga Rivers.
More to do in Mountain Rest: