The Chattooga River is considered the Southeast's premier whitewater rafting adventure
According to Southern Living, "To experience the South's best water adventure, you need to raft South Carolina's Chattooga River."  (Take the Plunge is Listed #2 in the article 40 Things Every Southerner Ought To Do.)
We couldn't agree more!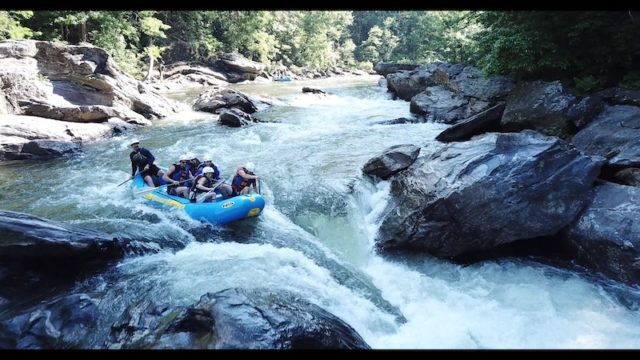 The Chattooga was federally protected in 1974 by the Wild & Scenic Rivers Act which means it is protected from development and will remain unchanged forever. Thank you, Congress!
There are numerous ways the public can experience the Chattooga River:
Fish it
swim it
canoe it
paddleboard it
duckie it
kayak it
raft it
Every way is a great way!
Rafting the Chattooga
It's hard to top a day spent with a rafts-eye view from the river gorge.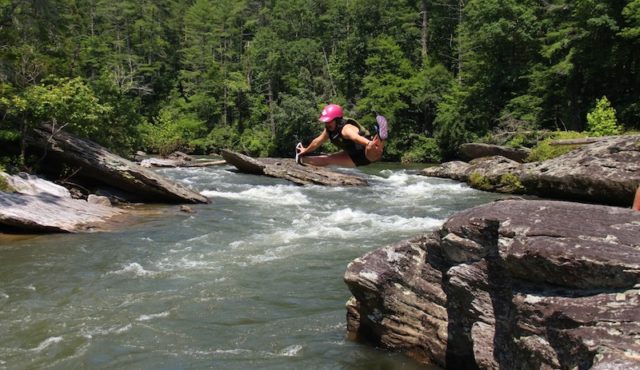 The scenery is amazing! There are huge boulders, riffles and rapids depending on where you are; there are calm stretches and cool places to get out and swim along the way; talking and visiting with raft mates…it's a full day of fun!
If you want to raft it, you can either go with a commercial outfitter or plan your own private raft trip.
Rafting Outfitters
The U.S. Forest Service regulates and oversees the operation of commercial outfitters on the Chattooga River. There are only three companies with permits allowing them to operate commercial rafting trips on the Chattooga.
When you go with a commercial outfitter, you'll be paying for their expertise and all the equipment will be provided. Raft guides go through extensive river training and are certified to administer first aid in case of emergencies.
Outfitters operating fully guided trips on Section III and Section IV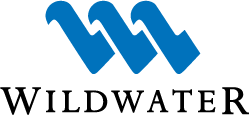 Wildwater operates 5 adventure centers in 4 states.  Their headquarters is in Long Creek near the Chattooga River.
Wildwater actively partners with Visit Oconee SC. They are the only outfitter offering a half-day Mini Trip on Section III. They have a climbing wall and offer zip line canopy tours at their Chattooga Adventure Center. Optional "Stay and Play" packages where guests can book onsite lodging at the Chattooga outpost.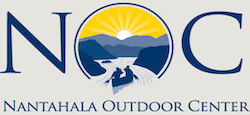 N.O.C. has been leading trips on the Chattooga River since their company's inception in 1972.  In fact, company founder, Payson Kennedy, was a stunt double in the move Deliverance.  N.O.C.'s Chattooga guides are amount the nation's most elite whitewater guides.
Rafting with a Commercial Outfitter
They will provide everything needed for an exciting and safe day:
Professional raft guide
Raft
Paddle
PFD (personal flotation device/life jacket)
Helmet
Weather-appropriate attire
Lunch on the river
Shuttle to the river put-in and back to the outpost from the river take-out
We hope you'll remember to tip your raft guide. It's hard work! They try their best to get everyone safely down the river and ensure you have a great time.
---
Overnight Raft Trips
Wildwater and Southeastern Expeditions both offer overnight camping/rafting options on the Chattooga River.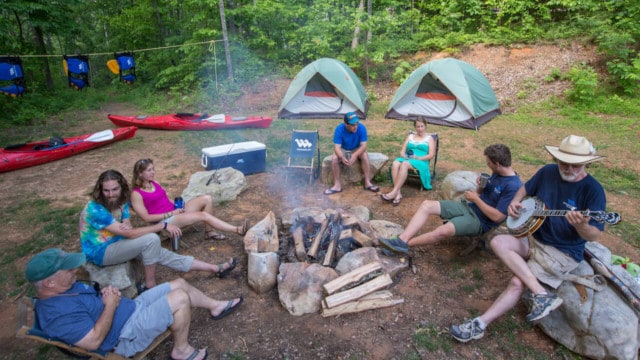 An overnighter is a two-day rafting excursion. You'll do Section III the first day, raft to a designated campsite, sleep by the river, and set out for Section IV the second day.
Tents will be set up when you arrive and dinner will be prepared for you. The outfitter will do the work so guests can sit back, visit, and enjoy themselves in the wilderness overlooking the river.
We suggest booking a rafting trip with a commercial outfitter for a safe, fun, and memorable adventure on the Chattooga River!