Wilderness Horse Trails
There are dozens of miles of public access horse trails that wind through the scenic Blue Ridge Mountains of South Carolina and Georgia. The terrain is mountainous with lush forest and wide river crossings that are enjoyable for horses and riders looking for a wilderness backcountry experience.
"Twenty five years of riding in the South Carolina area and I am convinced the Rocky Gap Trails are the most beautiful, the most 'back country' and the most rewarding in South Carolina."
Trail Notes:
Riders can follow trails that will put them in both South Carolina and Georgia.

Rocky Gap Trail (Oconee County, SC) is 19 miles long with several loops.

Willis Knob Trail (Rabun County, GA) is a continuous 15-mile loop.

There are three fords along the Rocky Gap Trail where riders can cross the Chattooga River from South Carolina on one side and be in Georgia on the other side.

Adeline Ford (northernmost crossing)
Big Island Ford (middle crossing)
Earl's Ford (furthest downriver crossing)
There are NO guided trail rides available in this area.
Things to Consider Before You Hit the Trail:
The Chattooga River is free-flowing, and water levels fluctuate widely depending on rainfall upstream.
If you plan to cross the river, use caution and be aware of the water level the day of your ride.
It is recommended NOT TO CROSS the Chattooga River if the level is higher than 2.0 feet.
Depending on the water levels, riders are likely to get wet during river crossings–dress appropriately.
The river bottom has drop-offs, and the current and depths frequently change, creating potential dangers for inexperienced horses and riders.
There are unmarked intersections along the trails.

Do not expect cell phone service along these trails, though you may receive a cell signal on some ridges.

It is recommended that horses be shod or booted to handle rocky terrain.

Summer riding is enjoyable early in the day but be prepared for heat, humidity, and occasional pop-up thunderstorms in the afternoon.
In the winter, plan on shorter trail rides to return before dark.
Horses are off-limits on hiking trails in the area.
The trails wind through the national forest, and it is recommended to wear orange or yellow apparel in the fall to be visible during hunting season.


---
Accommodations
Private RV Sites and Rooms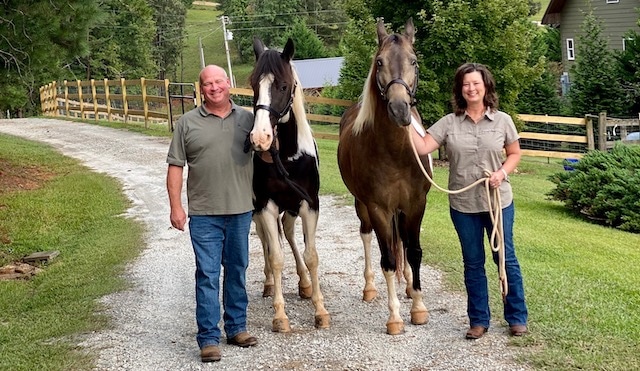 Chattooga Trails Bed and Barn is a small, private campground that borders Sumter National Forest Forest. It has direct access to the trails. Lodging options include rooms, a suite, a glamping wagon, and campsites with water and power hookups. Horses can stay in large shaded paddocks or a barn stall.
Primitive Camping
Expert Advice
Mike Kinsey, Chairman of Back Country Horsemen of South Carolina, offers details about what to expect along the Rocky Gap Trails:
"The trail and river crossings can seem intimidating for first-time visitors.
Along the trails, one will find creek beds and small waterfalls, heavy summer shade, occasional benches, and hitching posts for resting places or lunch. Doing a map recon and planning a route can be the first step in a successful ride. Consider the mileage. The rocky and somewhat rough terrain is going to slow down a ride. Horses need to be shod or booted for the ride. For on-kicking horses, rimmed shoes may be helpful over slicker 'keg' shoes. At some trail segments, the trail can be narrow and seem 'tight.' A few trail intersections continue to be unmarked. Back Country Horsemen of South Carolina has suggested sign placement. Report your plan to someone, including departure times, routes, and expected return times. 
Much of the trail system has NO cell phone coverage. However, some rides may find a cell signal. Updating your point of contact as to your ride progress can make rescue operations much quicker. Satellite phones and the relatively new Garmin InReach Tracker system work worldwide and allow for text messages and rescue notifications.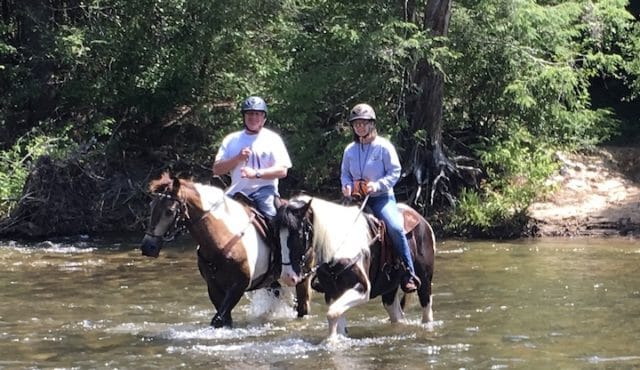 Riders can follow loops that include both South Carolina and Georgia. Riding the trail along the Chattooga River where the movie "Deliverance" was filmed, is a beautiful ride. Riding the ridge above Rocky Gap to Piney Knob puts riders on trails used by settlers 200 years ago. The trail on the South Carolina side between Big Island Ford and Adeline Ford takes one past the old Nicholson Spring. Evidence of the old homestead is seen by farming equipment remnants, and two small fields can be found along that trail.  
There are three fords for the Rocky Gap Horse trails. Unless the stage (level) is particularly low, a rider will likely get their boots and possibly legs wet. The West-South ford is Earl's Ford. Summer holidays often bring a crowd sunbathing, fishing, swimming, and four-wheeling on the Georgia side. Crossing from the trail entrance on the South Carolina side DIRECTLY to the 4×4 parking keeps one out of the deeper swimming hole just downstream on the Georgia side. Staying a bit above the direct line can be a bit shallower. It is a rocky crossing, so be patient with the inexperienced horse, and do not let them wander.  
The middle ford is Big Island Ford, named for the big Island just upstream. The crossing is somewhat shallow in the middle, so plan to get into the river, get to the middle, and then turn the horse upstream so inexperienced horses do not fixate on the moving water and get dizzy. That's when we let the horses drink their fill. The South Carolina side is a bit rocky, so be patient and direct for inexperienced horses. 
The East-Northeast Ford is Adeline. It seems to intimidate some riders just because it looks so wide. Again, it is rocky, but getting wet is just part of the experience, not a reason to panic.  
Check the US Geological Service Water Alert before going and crossing the Chattooga River. Follow the link https:/ aps.waterdata.usgs.gov/mapper/wateralert/ and then put in site number 02177000 for the nearest river information on the section of the river. Two feet of "stage" (depth) can be plenty challenging for many riders. Deeper can increase the risk as it also means faster flow.
Get rid of tie-downs. Horses need to have their heads and faces above the water should swimming become necessary. Tie-downs and panicky riders grabbing the reins jeopardize that ability. Just be ready to kick one's feet from the stirrups, roll away from the horse, catch the rein, smile at your friend's camera, and know that getting wet can add to the experience!  
Longer reins can be an advantage to allow a horse to get their head down to balance climbing and descending steep terrain and through the rocky river crossings. A chest band/breast collar can help keep saddles in place. Less experienced trail horses and trail riders can benefit from riding with an experienced local team in the lead. Saddlebags with water, a snack, a halter, and lead rope can allow rest break time to savor mountain views on top ridges and river crossing approaches.  
Be aware that summer riding provides a great opportunity in the early part of the day but be wary of heat, humidity, and occasional pop-up thunderstorms in the summer. Getting an overheated horse out can be an arduous issue. Winter riding brings the challenge of shortened days. Plan on shortened trail rides to return before the afternoon mountain shadows begin to build. Getting wet at a river crossing or falling in the river is not so amusing during the colder times. Down apparel is useless or worse when wet. Wool is not much better. Synthetic apparel that allows water to drain while maintaining insulating factor is a much better choice. 
The National Forest strongly suggests wearing bright apparel during hunting season. Having a yellow or orange slicker tied to the back of a saddle can be helpful for rainstorms or for finding a horse that has wandered off."
---
Resources