Want to visit?
Come on!  We've got lakes, rivers, state parks, county parks, a mountain bike park and dozens of forest trails where you can actively social distance and benefit from fresh mountain air.
Visitors love this area for boating, rafting, kayaking, swimming, scuba diving, fishing, hiking and mountain biking.  You really can take your pick when it comes to outdoor activities you'll have access to in Oconee County, SC.
If you've got gear, bring it.  Otherwise, shop our local outfitter stores, or plan to rent equipment from marinas and stores near the lakes.  You should be able to find just about anything you'll need.  To name a few rental options; kayaks, paddle boards, jet skis, motor boats from which you can wake board, ski or swim.  You can charter boats and hire guides who welcome the chance to show you the best places for your adventure.
Where to go after your big day?
Want to spend the night?
Good idea!
Oconee County, SC offers many great outdoor adventures but the area is widespread.  We want to help you find a place to stay close to where you'll be.  It's always better to spend time having fun and less time driving.  We've cut to the chase to help you find lodging in towns near different points of interest in Oconee County, SC.
Seneca, SC Lake Keowee, Lake Hartwell, South Cove County Park, High Falls County Park, Clemson University
Salem, SC Lake Jocassee
West Union, SC Lake Keowee
Fair Play, SC Lake Hartwell
Mountain Rest Oconee State Park, Stumphouse Park, Chattooga & Chauga Rivers, area waterfalls
Long Creek Chattooga River, Chauga River, Chattooga Belle Farm event venue, trails & waterfalls
Westminster, SC Chau Ram County Park
Note: There are too many places to list on our website.  We recommend searching the towns on AirBnB or VRBO for additional vacation rentals.
Come for the weekend or just for a day!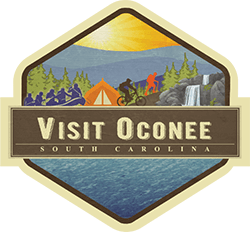 * Approximate drive times from regional metropolitan areas
From Greenville, SC: 50 minutes
From Columbia, SC: 2.5 hours
From Charlotte, NC: 3 hours
From Atlanta, GA: 2 hours
From Charleston, SC: 4 hours 30 minutes
From Raleigh-Durham, NC: 5 hours