Historic Downtown Offers Shopping, Dining, and Date Night Opportunities!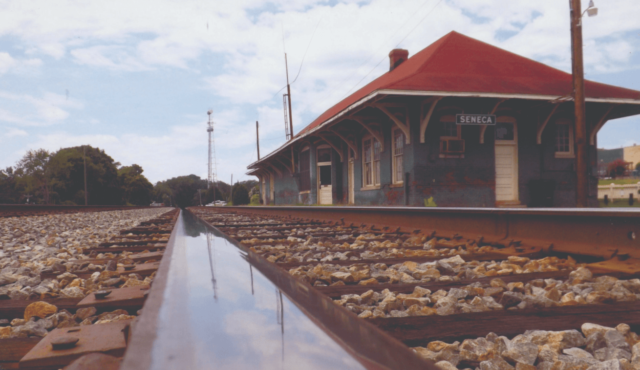 Seneca is the largest of our small towns.  It has big box stores and restaurants.  But the the thing that really sets Seneca apart is the charming downtown — which is off the main drag, away from the commercial sprawl that has popped up over the past several decades. Hwy. 123 by-passed the city's original hub and many visitors don't realize the historic area is just up the road with unique places for people looking for more memorable experiences.
A taste of the south with a small town appeal
Seneca is enjoying a revival with city planners focused on rejuvenating the downtown area.  It is a tourist destination for visitors coming to Lakes Keowee and Hartwell, as well as nearby Clemson University.
What about that strange name "Ram Cat Alley"?
Seneca's most popular street is Ram Cat Alley.  Back in the early 1900's, when the buildings housed fish and meat markets, so many cats roamed the street people would say: "You can't ram another cat into that alley!"  Surprisingly, the term stuck.
Ram Cat Alley still bustles with activity, but these days it's people that flock to this street!
Explore

Head over to the quaint part of town where you'll find interesting shops with lots of variety.  Places are popping up all the time! It's best to catch them during the day as most businesses are open till 5 PM.
In addition to shopping and restaurants, the city has recently embraced the arts. New murals are painted on buildings, and visitors are encouraged to find alley cat art "sCATtered" in locations around downtown Seneca.
You can also visit two interesting residential sites close to downtown: Lunney Museum and Bertha Lee Strickland Cultural Museum.
Play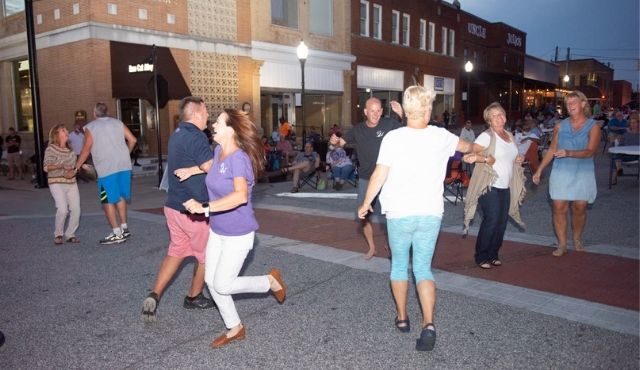 Stick around into the evening, or make a point to go downtown on Thursday nights (April through October). Ram Cat Alley is closed to cars, and Jazz on the Alley takes over the street.
This free opportunity is perfect for families, friends, and couples who enjoy music, dancing, dining, and being outdoors in an easy-going atmosphere.
Eat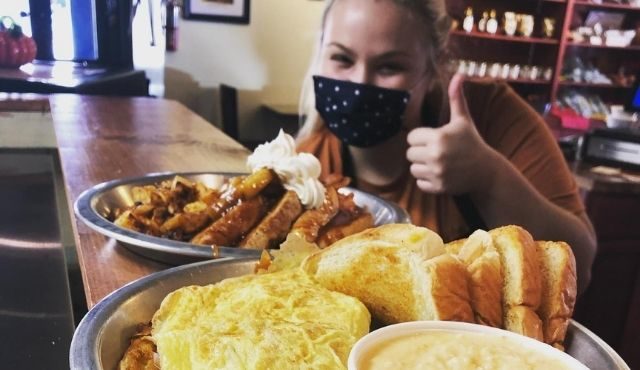 Delicious restaurants are waiting for you, so plan to eat while you're downtown. Mayberry's (photo above) is a great casual place with homemade specials.  Vangeli's Bistro is a wonderful fine dining experience for a special date night.
Brews on the Alley, The Spot on the Alley, Bonaterra Scratch Kitchen, Hogs & Hops and Walnut Street Bakery are right in the middle of the action. Keowee Brewing Company and next-door neighbor G's Pizza House are up the street.
Strickland's Restaurant is a few blocks from downtown and they serve breakfast and lunch daily (even Sunday & Monday!) Dimas Brothers Cafe is in a residential neighborhood near downtown.  They serve breakfast and lunch Tuesday-Saturday.
---
Tips if you're heading to Historic Seneca
Suggested lodging downtown: The Nest, The Lofts On Townville, Hampton Inn & Suites.
If you stop by on a Thursday (April through October), stick around for Jazz on the Alley with various bands playing from 6:30-9 p.m.
North Thompson Park is a public green space by the old depot building; it's a nice place for a picnic and is where most of the city's festival take place.