Mountain grown peaches, grapes, apples, berries and more
The northwestern corner of South Carolina is a mountainous region well suited to producing fruit.
Long Creek & Mountain Rest are home to several orchards and by mid summer they're harvesting tree ripened peaches, blueberries, grapes and early varieties of apples. Chattooga Belle Farm also grows "exotic" fruit which includes: arctic kiwis, figs, pawpaws, pears and persimmons that will be ready to harvest in August.
Closer to September you'll be able to purchase lots of apple varieties, as well as muscadines and grapes.
Plan a day visiting the area where you can play on the Chattooga or Chauga Rivers, or hike to incredible waterfalls. Before you leave, be sure to stop by the fruit stands so you can take home delicious Oconee grown fruit.
---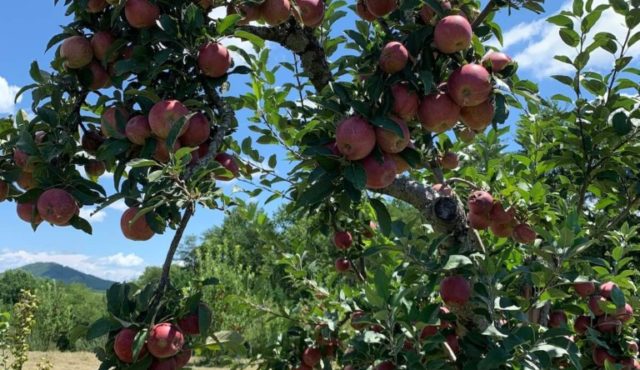 Treat yourself to the sweet taste of summer!
Roadside Stands, Markets and U-Pick Orchards:
ABLES ORCHARD
Hwy. 76 in Long Creek (near Humble Pie)
864-647-2201
Apples, peaches, homemade jams, jellies & caramel sauce
July 15 through early November
BLUE HAVEN ORCHARDS
Hwy. 76 across from Long Creek Volunteer Fire Dept.
864-647-8070
Apples, peaches, canned goods, homemade sweets
March to mid-December
Will ship apples
BRYSON'S U-PICK
1011 Chattooga Ridge Rd., Mountain Rest
http://www.brysonsappleorchard.com  864-647-9427
Apples & peaches, cider, jams & jellies, honey from their bees, sorghum syrup and seasonal vegetables 
U-Pick or They-Picked
August 15 – November 15
CHATTOOGA BELLE FARM
454 Damascus Church Rd., Long Creek
www.chattoogabellefarm.com  864-647-9768
Fruit, jams, wines, farm raised angus beef, specialty items and souvenir gifts
U-Pick or They-Picked seasonal fruit
Chattooga Belle Farm is a 138-acre working farm and event venue with scenic views of rolling countryside, and forest covered mountains in the distance.
Farm Store and U-Pick: Seven days a week 9 – 5
Belle's Bistro Breakfast: Friday – Sunday 9 – 11
Belle's Bistro Lunch: Thursday – Sunday 11 – 2
Distillery: Monday – Saturday 10 – 6 (closed Sundays)
Hardware Store: Monday – Saturday 9 – 6
GNAT HILL ORCHARD
Wall Spring Rd. just off Hwy. 76, Mountain Rest
864-723-2410
Several varieties of apples, fresh apple cider and local honey. Wholesale grower.
August through September
HOLLIFIELD'S ORCHARD
Hwy. 76 across from Long Creek General Store
864-638-3695
4th generation apple grower
Variety of apples, apple cider, peaches, homemade apple butter, apple cider vinegar, chow chow, relish, and honey
Seasonal hours
MOUNTAIN REST APPLE ORCHARD
475 Hwy. 107 in Mountain Rest, SC
864-638-2232
Apples and apple cider
Seasonal hours
---
South Carolina Apple Festival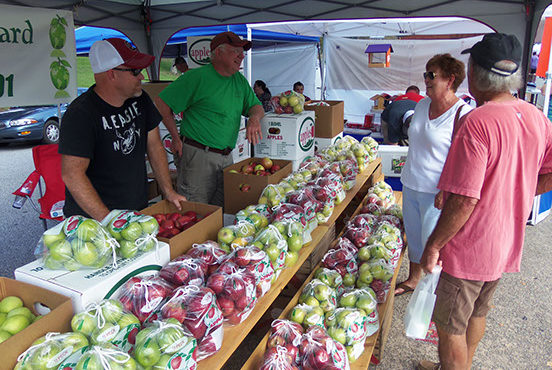 September 9-10, 2022
Westminster, SC
For six decades the orchard growers in Long Creek and Mountain Rest have participated in the annual SC Apple Festival that takes place up the road in Westminster, SC.
The Apple Festival is a fun outing where you can stroll down Main Street and shop at vendor booths selling apples, handmade arts, crafts, jewelry and more.
You can expect food trucks serving festival fare, along with fun and games for the kids–bouncy houses and rides.
---
What else is there to do in the area?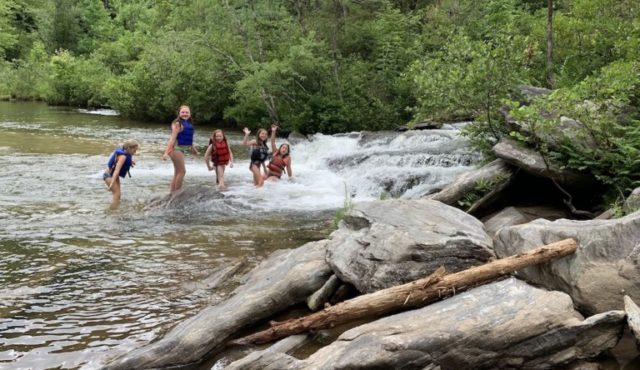 Play
In Long Creek you can cool off by swimming in the Chattooga River.  Two popular places to access the river are by hiking 1/4 mile from the Bull Sluice or Woodall Shoals parking lots.
If you're looking for a full day on the water, read our Chattooga River Rafting article.
Like to hike? Long Creek Falls, Opossum Creek Falls, Brasstown Falls and Riley Moore Falls are popular trails in/near Long Creek.
Mountain Rest has even more waterfalls to explore!  Oconee State Park is there and Stumphouse Park has a cool tunnel, Issaqueena Falls and mountain bike trails.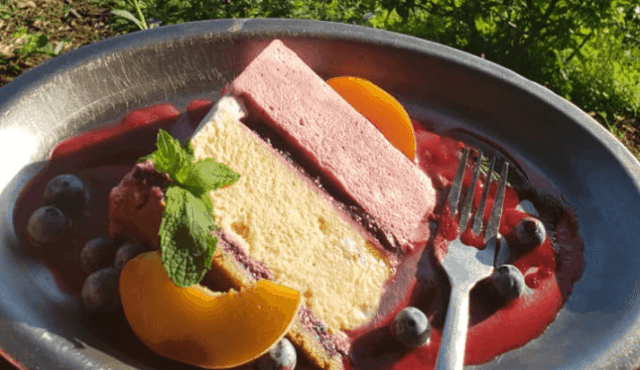 Eat
Stop by one of the roadside markets for farm fresh fruit and homemade treats. Peaches, nectarines and blueberries should be available for a few more weeks; a wide variety of apples will be ready after mid-August through October.
When your stomach starts rumbling for more than fruit, head to Belle's Bistro, Humble Pie, Willie's Tavern or Brasstown Creek Gathering Place BBQ.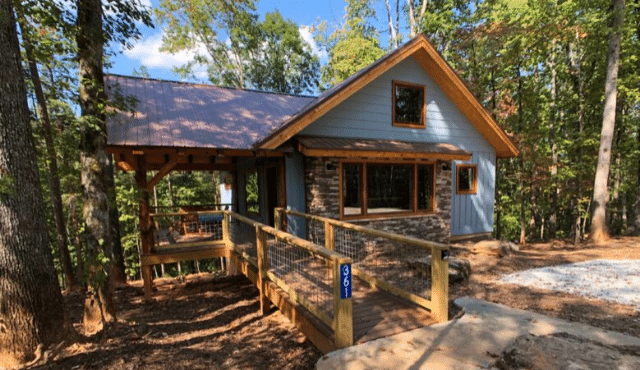 Stay
The area is rural which means there isn't an abundance of places to stay. But you can find camping, unique accommodations and vacation rentals in both Long Creek and Mountain Rest.