Adventure-Loving Couples–this is for you!
The following was submitted by adventure travel writer Anna Cook. You can follow her adventures on the website Stuck On the Go.
If you and your partner are outdoor adventure lovers, then spending a weekend in Oconee County is a perfect romantic getaway.
With plenty of adventures to go on, great places to eat, and incredible scenery, you'll love visiting…and there's no better place to spend quality time together!
While a weekend is a great way to get a taste of this area, to truly experience everything it has to offer, you'll want to spend a whole week. 
Friday: Dinner & Drinks in Seneca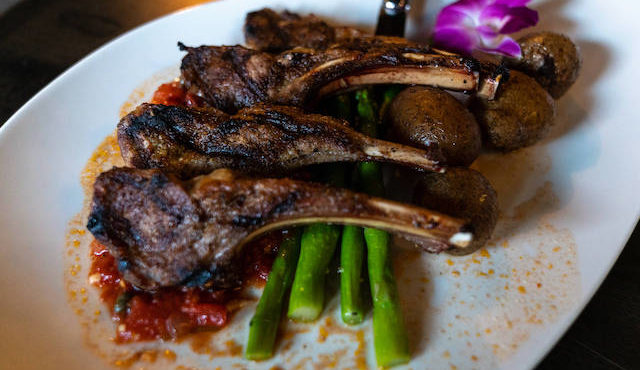 Have Dinner at Vangeli's
Start the weekend with a bang at Vangeli's Bistro, located on Ram Cat Alley – the heart of downtown Seneca.
If you can leave work a little earlier and get there before dinner time, this is a great area to walk around and shop in the local boutiques.
Vangeli's is an upscale restaurant focusing on fresh, local ingredients and unique dishes. They also have a superb selection of wines and a great cocktail list. Make sure you save room for dessert!
This is a very popular restaurant so you'll want to make a reservation in advance.
After-Dinner Drinks in Seneca
Seneca offers a number of different places for after-dinner drinks, depending on your preference. The best part is that all of these suggestions are within walking distance of Vangeli's!
If you love beer, stop by Seneca's local brewery – Keowee Brewing Company where they have a wide selection of different types of beer plus wine, seltzers, and slushies.
Another option is BREWS on the Alley where they have 20 taps of different craft beers to choose from. Is wine more your thing? Ram Cat Cellars is a new wine bar in town that also serves beautiful charcuterie boards.
Birds of a Feather Cocktail Bar is the best place to go for mixed drinks and a relaxed atmosphere reminiscent of the early 1900s.
---
Saturday: Whitewater Rafting on the Chattooga River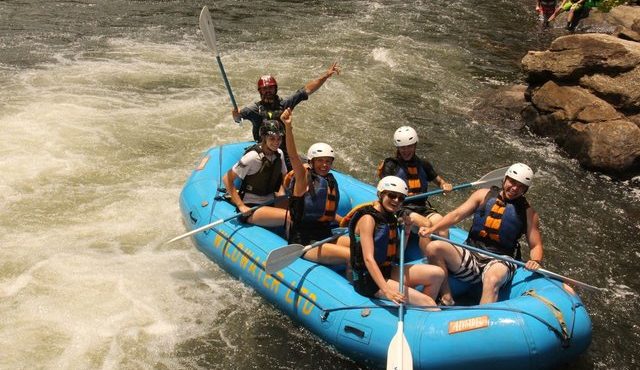 Whitewater rafting is a fun activity to do as a couple and makes for a very interesting date!
You have two options for trips on the Chattooga River. The first is Section 3, which is the easier of the two, but you'll still encounter Class III and IV rapids. The other option is Section 4, where you'll encounter the famous Five Falls, which consists of five Class V rapids back to back. Both trips include a picnic lunch on the river, and all the necessary equipment will be provided.
Show up at the outpost 30 minutes before your trip time, so you have a chance to sign in and get ready. The rafting outfitter will go through a safety presentation, hand out gear, and then load everyone on the bus to go to the put-in location.
The Chattooga is designated as a National Wild & Scenic River so there is no development within ¼-mile of the river bank–which means vehicles can't drive right up to the river. Everyone needs to help carry the gear and rafts down to the river from where the bus stops in the parking area. Then you're off!
You'll have so much fun as your guide helps you navigate through the rapids of the Chattooga. Enjoy your beautiful surroundings as you're completely immersed in nature.
When you take out, there is another ¼-mile hike to get all the gear from the river banks back up to where the bus will pick you up. As you can see, a reasonable level of fitness is required for this trip. Expect to be pretty tired when you get off the river!
Chattooga Belle Farm
If you're up for it, head over to Chattooga Belle Farm where you can have a tasting at their distillery. This was the first legal distillery in Oconee County.
If you aren't interested in a tasting, they also serve mixed drinks and the views of the Blue Ridge Mountains are out of this world.
You can also browse their farm store while you're there and find all kinds of great stuff from food to T-shirts to home goods.
Dinner at Solé Grill & Sushi Bar
After a full day, dinner at a casual spot will be the perfect end to the night. At Solé, they have a unique menu with options for new American food and sushi.
Their specialty sushi rolls will make any sushi lover happy, and their burgers are also highly recommended.
Wind down with one of their signature cocktails that taste the best after being outside all day.
---
Sunday: Lake Jocassee Tour & Waterfall Hikes
Get Breakfast To-Go from Strickland's
With a bit of an early start this morning, you may want to grab breakfast on the go. Strickland's makes some of the best breakfast sandwiches you'll find.
The prices are incredibly reasonable too. The bacon, egg, & cheese on Challa bread is incredible – very cheesy.
Eat it on the way to the trailhead, or pack it in your daypack to eat at the base of the waterfall when you get there.
Morning Waterfall Hike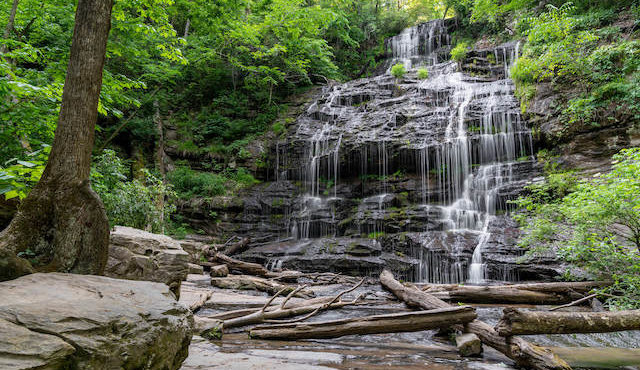 There are so many waterfall hikes you can do in the area that it will be hard to pick just one! Since you only have the morning, though, you'll want to hike somewhere a reasonable distance from your afternoon destination–and pick a place that doesn't take up too much time.
An easy, accessible option is Station Cove Falls near Oconee Station Historic Site. This is an out-and-back trail, and the total distance is around 1.5 miles.
If you want a little more of a challenge, then head out earlier to give yourself plenty of time at Yellow Branch Falls. This one is almost 3-miles and an out-and-back trail as well but rated as a moderate hike. Well worth it once you see the falls, though!
Spend the Afternoon With Jocassee Lake Tours
Taking a tour with Jocassee Lake Tours really is an incredible experience. The lake is in the middle of the mountains, so mountain peaks rise up around you in every direction.
There are a number of waterfalls that flow right into the lake that you can reach by boat, and you'll see a few of them on your tour.
The guides are so knowledgeable about the local plant and animal life that not only do you get to experience the beauty of this place, but you also have an educational experience as well.
You can pack a cooler to bring food and drinks and wear your swimsuit if you want to swim under the waterfalls. Make sure you wear water shoes if you plan to get off the boat as well.
Note that where you meet for the lake tour is inside Devils Fork State Park so you'll have to pay the entrance fee for the park. This fee is not included in the price of your lake tour.
Dinner at Trailhead Tavern
For your last meal in town, have burgers and beers at the Trailhead Tavern in Walhalla. They also have great chunky guacamole for an appetizer.
If the weather is nice, you'll want to sit outside on their patio, where they also have darts, corn hole, and ax-throwing.
It's a great place to have a few drinks and hang out for a while if you have the time. You won't want the weekend to end.