It's another glorious fall season with amazing leaf color!
See the sights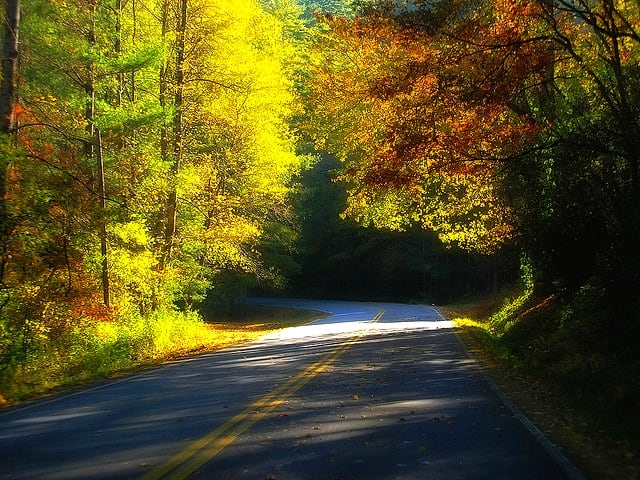 If you enjoy cruising country roads, spend an afternoon driving these places known for amazingly colorful trees! You can stay in your car and bypass the excursions, but if you like the idea of physical activity, you'll have opportunities to stretch your legs with optional walks through the woods to some of our most scenic destinations.
We've plotted routes and included restaurants where you can break for a bite to eat along the way.
Driving Route #1
Devils Fork State Park (Salem, SC) to Oscar Wigington Overlook (Tamassee, SC)
Start the day at Devils Fork State Park (park entry fees required) where you can stroll along the shore or walk the Oconee Bell Nature Trail and take in the colorful woodsy landscape. Hop back in the car and head to Oconee Station State Historic Site (no cost). Get out and it's a short walk to view two historic buildings. Then up the road, there's a trailhead leading to Station Cove Falls (no cost). It's an easy 30-minute walk (each way) through the forest to reach an impressive waterfall. Once you're back in the car, head to Highway 28 and wind up the mountain.
Depending on your time frame and activity level, Yellow Branch Falls (free) is incredibly picturesque–especially when the leaves have changed to yellow! This side hike is pretty rigorous and takes about 1.5 hours round trip. Just past Yellow Branch, you'll come to Stumphouse Park ($5 park entry fee). This offers a two-for-one excursion with Stumphouse Tunnel and Issaqueena Falls. Both of these sites can be seen within 30 minutes and you'll be on the road again.
Continue along the route and drive into Oconee State Park (admission required) where you can wander through the park or walk down to the lake. From OSP, you can keep driving to Oscar Wigington Overlook (free) which is right near the border of South Carolina and North Carolina. There's a lookout spot where you can see Lake Jocassee from a completely different vantage point.
We suggest bringing a picnic lunch to enjoy at one of these sites or eat at Mountain Rest Cafe and Scoops Ice Cream on the way to Oconee State Park.
Google Maps – Driving Route #1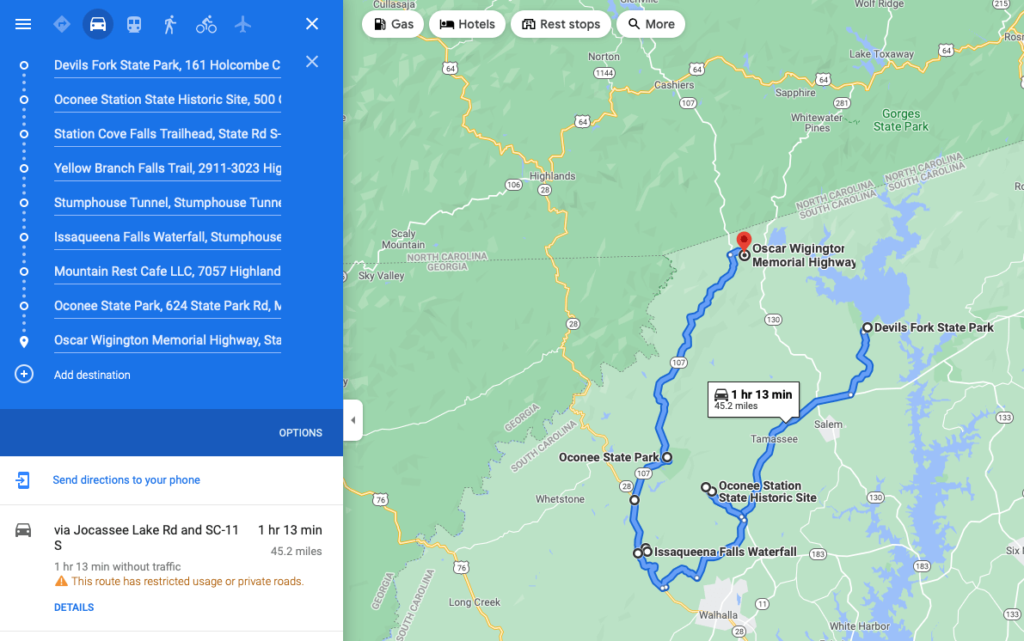 ---
Driving Route #2
Lake Hartwell State Park (Fair Play, SC) to Chattooga River (Mountain Rest, SC)
Lake Hartwell State Park is close to I-85, which makes it a great place to start a scenic drive if you're coming from more urban cities in the Southeast. Cruise through the state park (no charge) then follow the route up to Chau Ram County Park ($3 entry per car) outside of Westminster, SC. You'll be able to view Ramsey Falls from your car. You can walk along the Chauga River and Ramsey Creek or let the kids play at the playground.
From there, head up Highway 76 to Brasstown Falls (no cost) in Long Creek. It takes about an hour to walk the trails at Brasstown and see three amazing waterfalls. If you plan it right, you can eat at Brasstown Creek Gathering Place (Friday or Saturday evenings). Or continue on Hwy. 76 up to Chattooga Belle Farm. This is a wonderfully scenic location that offers sweeping views of the forested Blue Ridge Mountains. Allow enough time to enjoy a variety of offerings found there: onsite restaurant, Belle's Bistro serves lunch Thursday – Sunday, there's a Farm Store and Distillery if you're up for a tasting. After you've enjoyed this setting, continue towards Highway 76 Chattooga River Access (no cost). From the parking lot, it's a 10-minute walk through the woods down to the river. You can walk to Bull Sluice Rapid and/or a sandy beach area. If you've worked up an appetite, Humble Pie is a great place to enjoy pizza, salads, wings, and cold beverages after all the activity!
Google Maps – Driving Route #2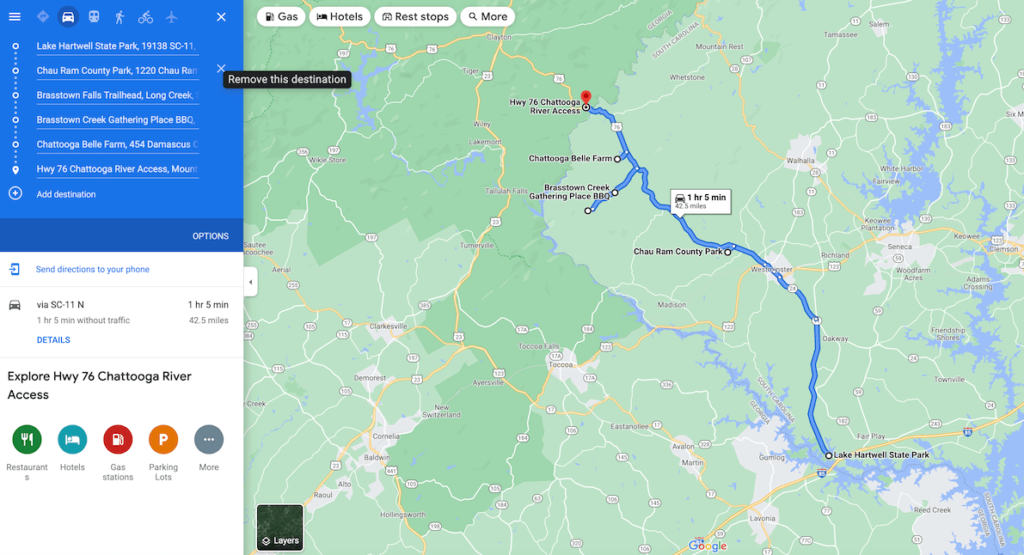 ---
---
Author: Chanda Morrison
Chanda has worked for Visit Oconee SC since 2013.  She handles the website and writes articles for the blog.  She produces the monthly email newsletter highlighting tourism opportunities, events and outdoor recreation in Oconee County, South Carolina.
Chanda Lives in Mountain Rest, one of the more rural parts of Oconee County.  She grew up in an Atlanta suburb, but has lived in Mountain Rest since 1999.  She appreciates the slow pace and easy going lifestyle found in Oconee County, SC.  She has three daughters and her husband owns a custom woodworking business.  She enjoys promoting local happenings, waterfall hikes and playing on the Chattooga River.