If you Visit Oconee County, SC in November, these top picks are ways to enjoy one of our favorite seasons:
Leaf looking
Forest hiking
Trout fishing
Lake/river boating
Seasonal cooking
---
1. Leaf Looking
Beginning in mid-October, our vast hardwood forests become showy with autumn color. You'll see orange, yellow and red leaves galore! We've mapped two suggested fall foliage driving routes that will lead you to roads known for their vibrant views. Even after the leaves have peaked, the forest remains aglow with the bonus of seeing further through the trees.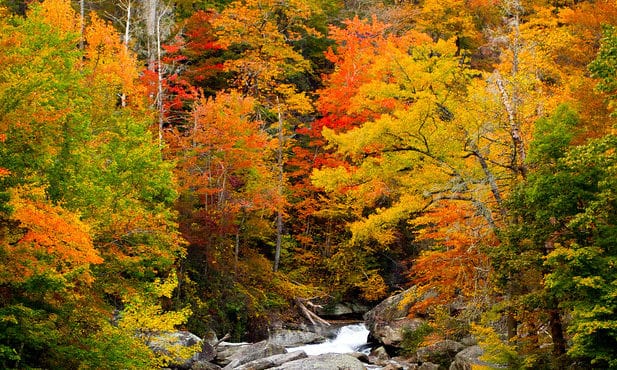 2. Forest Hiking
This time of year is perfect for traipsing through the woods. The forest landscape is ablaze with color, and cooler temperatures mean being active is even more invigorating. There are dozens of hiking trails on public land throughout Oconee County, and many trails will lead you to amazing waterfalls.
3. Trout Fishing
Fall and winter are prime times to go fishing!  It's trout season. Lake Jocassee and the Chattooga River are well known to anglers looking to catch trout. Head out alone or go with local fishing guides who will do their best to ensure you have a fresh catch to take home for dinner. We recommend Jocassee Charters, Chattooga River Fly Shop, and Southern Outlaw Adventures.
4. Lake or River Boating
Whether you enjoy bundling up for a motorboat ride on one of our lakes or prefer to self-power your own craft on the Chattooga River, it's a great time to get on the water! Public parking areas are less crowded, and the shoreline views from the water are glorious and picturesque. Simply enjoying peace in natural scenic settings like Lake Jocassee is reason enough for visiting this time of year.
5. Seasonal Cooking
With cooler temperatures, we're more likely to be home indoors, which is comforting especially when surrounded by autumn scents and seasonal treats! Stop by roadside markets in Long Creek, SC for locally grown apples or visit the Foothills Heritage Market on Saturday mornings for pumpkins, winter squash, apples, muscadines, homemade products, and artisanal gifts. The days are shorter, and being in the kitchen trying new recipes or preparing family favorites is what autumn is all about! For inspiration, find apple dessert recipes on our Taste of Oconee page.